Listed below are selected teacher resources, picture books, fiction, and non-fiction related to media literacy and media studies.
Teacher Resources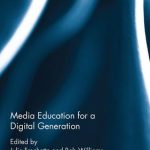 Media education for a digital generation, edited by Julie Frechette and Rob Williams
Grades: 6-12. This book argues that the goals for comprehensive and critical digital literacy require grasping the means through which communication is created, deployed, used, and shared, regardless of which tools or platforms are used for meaning making and social interaction. Drawing upon the intersecting matrices of digital literacy and media literacy, the volume provides a framework for developing critical digital literacies by exploring the necessary skills and competencies for engaging students as citizens of the digital world. (E-book only)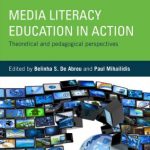 Media literacy education in action: Theoretical and pedagogical perspectives, edited by Belinha S. DeAbreu and Paul Mihailidis
Grades: K-12. Featuring a mix of perspectives, this book explores the divergent ways in which media literacy is connected to educational communities and academic areas in both local and global contexts. The volume is structured around seven themes: Media Literacy: Past and Present; Digital Media and Learning; Global Perspectives; Public Spaces; Civic Activism; Policy and Digital Citizenship; and Future Connections. (E-book only)
Media literacy, social networking, and the Web 2.0 environment for the K-12 educator, by Belinha S. DeAbreu
Grades: K-12. This book uses the theme of media literacy as a lens through which to view and discuss social networking and Web 2.0 environments. There is ongoing and positive research on the participatory culture created by youth who are heavily involved in the new digital technologies, yet schools tend to avoid these mediums for fear of the unknown. Can students learn within this context? This book posits that indeed they can, using media literacy as a way to provide a framework for these mediated environments.
Global media literacy in a digital age: Teaching beyond borders, edited by Belinha S. DeAbreu and Melda N. Yildiz
Grades: K-12. How do we connect with one another? How do the media portray different cultures and beliefs? What messages are often omitted from media? How do we connect what we see in the worldwide media to the classroom? This book, divided into four parts, serves to answer many of these questions. This resource provides a look at how media literacy education has become a global and interconnected dialogue brought about by the evolution of technology.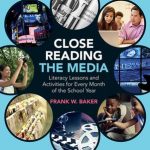 Close reading the media: Literacy lessons and activities for every month of the school year, by Frank W. Baker
Grades: 6-9. This book will help teachers work with middle school students to become savvy consumers of the TV, print, and online media bombarding them every day. Students will learn to think critically about photos, advertisements, and other media and consider the intended purposes and messages. Topics include helping students detect fake news, unraveling the messages in TV advertising, and looking at truth vs propaganda in political ads and debates. (E-book only)
Media literacy: New agendas in education, edited by Kathleen Tyner
Grades: K-12. This volume explores how educators can leverage student proficiency with new literacies for learning in formal and informal educational environments. It also investigates critical literacy practices that can best respond to the proliferation of new media in society, and what sorts of media education are needed to deal with the rapid influx of intellectual and communication resources. (E-book only)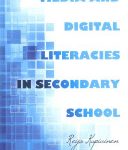 Media and digital literacies in secondary school, by Reijo Kupiainen
Grades: 9-12. Young people bring their own media and literacy practices to the school as an important part of an identity, taste, and social life. This book highlights youth's media production practices, from photography and video making to fan fiction writing and online role-playing, and shows how these practices make a dialog between informal and formal learning and that teachers have an important part in collaborative relationships with pupils when teachers encourage and motivate pupils and help them to understand media phenomena.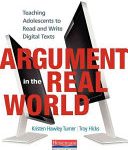 Argument in the real world: Teaching adolescents to read and write using digital texts, by Kristin Hawley Turner and Troy Hicks
Grades: 9-12. Digital texts influence what students buy, who they vote for, and what they believe about themselves and their world. In this book, the authors draw from real world texts and samples of student work to share insights and practical strategies in teaching students the logic of argument, whether those arguments are streaming in through a Twitter feed, a viral videos, or internet memes.
Fiction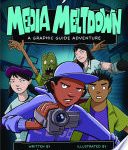 Media meltdown: A graphic guide adventure, written by Liam O'Donnell, illustrated by Mike Deas
Grades: 4-8. When Karl Reed, Owner of Oasis Developments, tries to force the sale of a local fruit farm — through whatever means necessary — Pema, Bounce and Jagroop decide to expose him through the media. Little do they realize that when it comes to the news and the advertisers who make it possible, the truth is not always part of the story and nothing can be taken at face value.
Non-Fiction
Power of the media, by Brooke Moore and Tara Smith
Grades: 6-9. Part of the Issues 21 series, which examines contemporary issues in society in order to develop students' skills in the areas of critical thinking, creativity, communication, collaboration, ethical citizenship and activism. Includes 6 student books and a teacher's guide.
Digital world, by Glenn Downey
Grades: 6-9. This book explores how to evaluate the effect of digital technologies on the way we think and interact. Part of the Issues 21 series. Includes 6 student books and a teacher's guide.

–
Choosing news: What gets reported and why, by Barb Palser
Grades: 5-8. More news sources are available to us than ever before. But who decides what is news? Learn to identify good news sources and watch for slant. Don't be fooled! Make sure your sources tell the real story. Part of the Exploring media literacy series.
–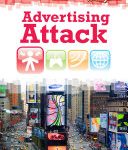 Advertising attack, by Laura J. Hensley
Grades: 5-8. From simple signs to risky stunts, advertising takes many forms. Sometimes the message is confusing; sometimes it's unforgettable. This book explores, the strategies, techniques, and tricks companies use to influence what we buy.
–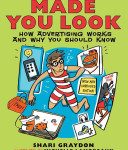 Made you look: How advertising works and why you should know, written by Shari Graydon, illustrated by Michelle Lamoreaux
Grades: 5-8. From the earliest roots of advertising to the undercover marketers of the 21st century, the authors shows where ads come from, how they work, and why kids need to be informed. Bursting with real-life examples, thought-provoking questions, and plenty of tips to empower young consumers, this book is every kid's ultimate guide to the advertising universe.
–
---
Finding More Resources
To find more resources in this area, try the following:
Search using the General tab on the UBC Library website to look for material in all UBC Library branches.
Search using "Search Education Resources" box in the left hand bar on the Education Library website to limit your results to materials in the Education Library.
Use specific search terms to narrow your results, such as "digital media", "social media", "effect of technological innovations on popular culture", "media literacy – study and teaching", or "mass media in education".
To find lesson plans, include "lesson plans", "lesson planning", or "activity programs" in your search terms.
For more help with searching, please visit the Library Service Desk or e-mail ed.lib@ubc.ca.