Listed below are selected teacher resources, picture books, fiction, and non-fiction related to connections to land in Indigenous literature and education.
Teacher Resources
Aboriginal worldviews and perspectives in the classroom: Moving forward, by the BC Ministry of Education
Grades: K-12. This resources is designed to answer a number of questions, including what is meant by Aboriginal education and by Aboriginal worldviews and perspectives; what is required of teachers and of the education system in order to provide appropriate and authentic teaching in line with the First Peoples Principles of Learning; and where teachers can turn for guidance and support in modifying their practice to incorporate new content and approaches. Specifically discusses connection to land as a characteristic of Aboriginal worldviews and perspectives and the need to incorporate this in the classroom. (eBook)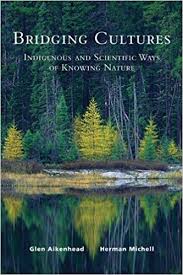 Bridging cultures: Scientific and indigenous ways of knowing nature, by Glen Aikenhead and Herman Michell
Grades: K-12. This book supports science teachers, teacher candidates, and science educators preparing to implement science curricula that recognize Indigenous knowledge as a foundational way to understand the physical world.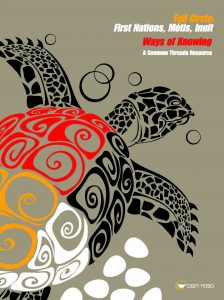 Full circle: First Nations, Métis, Inuit ways of knowing, by Ontario Secondary School Teachers' Federation.
Grades 8-12. Lesson plans which encourage teachers to incorporate First Nations, Métis, and Inuit ways of knowing into the classroom in the four thematic areas of identity, health, Residential Schools, and land. Includes lesson plans directly related to Indigenous peoples' connection to land.
Picture Books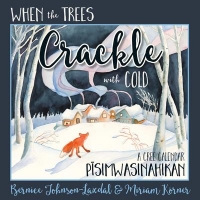 When the trees crackle with cold: A Cree calendar, written by Bernice Johnson-Laxdal, illustrated by Miriam Körner
The calming rhythm of the words echoes the rhythm of the land in this picture book about the moon calendar of the northern Cree. Highlights how we are all connected to the seasons and the cycle of nature. Written in English and northern Plains Cree y-dialect.

Dipnetting with dad, written by Willie Sellars, illustrated by Kevin Easthope
Set in the e Cariboo Chilcotin region, Dipnetting With Dad is a delightful and colourful story of a father teaching his son the Secwepemc method of fishing known as dipnetting. Together they visit the sweat lodge, mend the nets, select the best fishing spot and catch and pack their fish through rugged bush back to the family home for traditional preparation.

A day with Yayah, words by Nicola I. Campbell, words, pictures by Julie Flett
A grandmother, or Yayah, passes down her language and knowledge to her grandchildren while foraging for herbs and mushroom in Nicola Valley, British Columbia.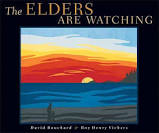 The elders are watching, written by Dave Bouchard, illustrated by Roy Henry Vickers
Through its poems and illustrations The Elders are Watching  illuminates the experiences of a boy who learns through his elders about his cultural roots, his connection to the land, animals, water, and sky. Emphasizes the need to respect the environment.
The water walker, written and illustrated by Joanne Robertson
The story of a determined Ojibwe Grandmother (Nokomis) Josephine Mandamin and her great love for Nibi (water). Nokomis walks to raise awareness of our need to protect Nibi for future generations, and for all life on the planet. By her example Josephine invites us all to take up our responsibility to protect our water, the giver of life, and to protect our planet for all generations.
Nipêhon (I wait), written by Caitlin Dale Nicholson with Leona Morin-Neilson
A young child, her grandmother and mother are going out to pick wild yarrow. As Grandmother gets ready, the child and her mom wait. Grandmother leads the way to the field of blossoms, where they can finally start to pick … only now they have to wait for Mom! The simple story, written in Cree and English and accompanied by rich acrylic illustrations, shows the patience, love and humor involved as three generations accommodate one another on a family outing.
Fiction
Relatives with roots: A story about Métis women's connection to the land, written and illustrated by Leah Marie Dorion, translated in Michif-Cree by Rita Flamand
Grades: 3-5. A Métis grandmother takes her granddaughter out onto the land to teach her about how to pick traditional medicines.The granddaughter learns about the Métis connection to the land and the traditional Métis beliefs and stories of plants as food and medicine. Text in English and Michif-Cree. Comes with CD of the book narrated in English Michif-Cree.
Non-Fiction
The sockeye mother, written by Hetxw'ms Gyetxw (Brett D. Huson), illustrated by Natasha Donovan
Grades: 2-3. To the Gitxsan people of Northwestern British Columbia, the sockeye salmon is more than just a source of food. Over its life cycle, it nourishes the very land and forests that the Skeena River runs through and where the Gitxsan make their home. The Sockeye Mother explores how the animals, water, soil, and seasons are all intertwined.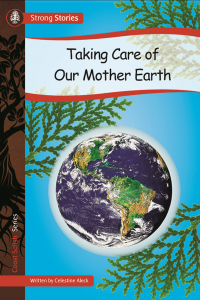 Taking care of our Mother Earth, by Celestine Aleck
Grades: 2-4. This book explains how each Coast Salish family played a traditional role in taking care of our Mother Earth. From controlled burning to ethical hunting and fishing practices, the Coast Salish people were, and still are, taught by their elders to respect Mother Earth.
 We Are The Land, part of the Take Action for Reconciliation series
Grades: 3-8. Created by Indigenous educators and advisors from across Canada, these inquiry-based books explore how First Nations, Inuit, and Métis communities are connected to the land they live on. Includes 16 student books and a teacher's guide.
Stewardship, by Anita Yasuda
Grades: 4-6. From the past and into the future, this book reveals the role of Indigenous peoples in taking care of the land and using it responsibly. Part of the Indigenous Life in Canada series.
 A Stó:lō-Coast Salish historical atlas, edited by Keith Thor Carlson, with cultural advisor Albert Jules McHalsie and others
Grades: 9-12. Through words, archival photographs, and 86 full-color maps, the book details the mythic beginnings of the St :lo people and how white settlement turned their homeland into the bustling metropolis of Vancouver.
Everyday exposure: Indigenous mobilization and environmental justice in Canada's chemical valley, by Sarah Marie Wiebe
Grades: 11-12. Near the Ontario-Michigan border, Canada's densest concentration of chemical manufacturing surrounds the Aamjiwnaang First Nation. This book reveals how the colonial legacy of inflicting harm on Indigenous bodies persists through a system that fails to adequately address health and ecological suffering in First Nations communities, including a failure to acknowledge and respect Indigenous connections to land and place. (eBook)
---
Finding More Resources
To find more resources in this area, try the following:
Consult the Xwi7xwa Library's guide to Indigenous Children's Literature.
Search using the General tab on the UBC Library website to look for material in all UBC Library branches.
Search using "Search Education Resources" box in the left hand bar on the Education Library website to limit your results to physical materials in the Education Library.
To find lesson plans, include "lesson plans", "lesson planning", or "activity programs" in your search terms.
To find picture books, include "children's books", "juvenile literature", "juvenile fiction" or "picture books in your search terms.
Use specific search terms, such as: "First Nations", Indigenous, Aboriginal, Musqueam (or any nation), "traditional ecological knowledge", Nature
For more help with searching, please visit the Library Service Desk or e-mail ed.lib@ubc.ca.