Listed below are selected teacher resources, picture books, fiction, and non-fiction related to dance.
Teacher Resources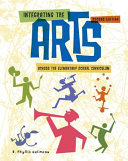 Integrating the arts across the elementary school curriculum, by R. Phyllis Gelineau
Grades: K-7. This book's concise chapters focus on the practical application and integration of arts in the elementary curriculum. Each chapter explores a different discipline in arts education, including drama, music, dance, and art, and provides easy to implement activities that can be adapted to different subjects, classrooms, and ages.
The art of dance in education, by Jacqueline M. Smith-Autard
Grades: K-12. This book provides a framework that is both theoretical and practical for teaching dance education through the discussion of composing, performing, and appreciating different forms of dance. Also stresses the role of dance in developing students' understanding of the arts more broadly.
–
–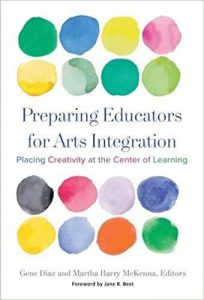 Preparing educators for arts integration: Placing creativity at the center of learning, edited by Gene Diaz and Martha Barry McKenna
Grades: K-12. This resource examines professional development approaches from across the United States to help schools and allied arts groups integrate the arts into the K–12 curriculum. Emphasizes the value of collaboration among teachers, artists, educational leaders, and community partners. Includes a chapter on "Dance Literacy".
Picture Books
Jingle dancer, written by Cynthia L. Smith, illustrated by Cornelius Van Wright and Ying-Hwa Hu
Jenna, a member of the Muscogee (Creek) Nation, is excited about performing the jingle dance at the powwow, but where will she get enough jingles for her dress? This story highlights the joy and power of dance, and the importance of community. Includes a note about the jingle dance tradition and regalia.
Dancing in the wings, written by Debbie Allen, illustrated by Kadir Nelson
Sassy is worried that she's not right for dance. She wonders if her feet are too big, or her legs are too long, or that maybe she has too much to say. But, when a famous directer comes to her dance class Sassy learns that the things that make us stand out are what make us special.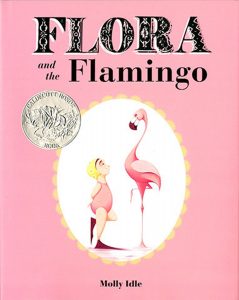 Flora and the flamingo, by Molly Idle
In this beautiful interactive wordless picture book Flora and flamingo learn about friendship through dancing together.
–
–
Powwow dancing with family, written and illustrated by Perry Smith
Drumming, singing, and dancing are all part of being at a Powwow. Perry and his family travel all over North America to participate in these family and community gatherings. Join Perry's two boys as they share their treasured memories of being at Powwows with their family and learning how to dance.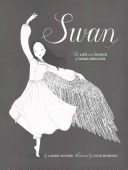 Swan: The life and dance of Anna Pavlova, by Laurel Snyder
After attending the ballet with her mother one night, Anna's life was changed forever. This book follows the life of Anna Pavlova, one of the most famous ballerinas of all time, and the joy, beauty, and bravery she found through dance.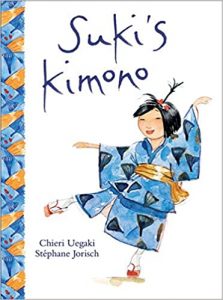 Suki's kimono, written by Chieri Uegaki, illustrated by Stephanie Jorisch
On the first day back to school Suki can't wait to wear the blue cotton kimono her obachan gave her and tell her classmates all about doing the circle dance at the street festival. While sharing her summer with her class, Suki starts to hum and dance, bringing joy and movement to her classmates!
Fiction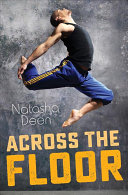 Across the floor, by Natasha Deen
Luc has his eyes set on the NFL and will do anything to get there so when his coach insists he takes a contemporary dance class, Luc begrudgingly agrees. It's not long before Luc realizes his passion for dance, but is he willing to leave behind his coach, teammates, and the game he loves to pursue dance?
Spin the sky, by Jill MacKenzie
Magnolia Woodson is longing to get her and her sister out of their small town and the prying eyes in it, but it seems like a lofty goal. That is until a nationwide televised dance competition is holding tryouts nearby. Mags has to grapple with the pressures of competing against her best friend, proving herself to the town, and securing a better future for her and her sister while competing for prize money that could change everything.
Non-Fiction
Learn to speak dance: A guide to creating, performing, and promoting your moves, by Ann-Marie Williams and Jeff Kulak
Grades: 4-8. What is dance and why do we do it? How can you shake off the nerves? How can you put on your own dance show? Learn to Speak Dance explores these questions and encourages kids to express themselves through dance.
Dynamic women dancers, by Anne Dublin
Grades: 4-8. Through captivating profiles this book showcases some of the women around the world who have become masters of dancing and choreographing, many of whom use their talents to create change in the world. Includes profiles of Geeta Chandran who is a master of Indian Bharatanatyam, Pearl Primus who brought Caribbean and African influence to modern dance, and Judith Marcuse whose choreography explores important issues such as teen suicide.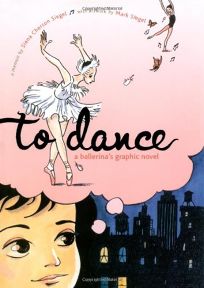 To dance: A ballerina's graphic novel, written by Siena Cherson Siegel, artwork by Mark Siegel
Grades: 4-9. This graphic novel memoir details Cherson Siegel's journey from a young ballerina in Puerto Rico to her debut with the New York City Ballet. Siegel's story of perseverance and triumph will serve as an inspiration to aspiring dancers.
---
Finding More Resources
To find more resources in this area, try the following:
Search using the General tab on the UBC Library website to look for material in all UBC Library branches.
Search using "Search Education Resources" box in the left hand bar on the Education Library website to limit your results to materials in the Education Library.
Use specific search terms to narrow your results, such as "Dance–Fiction", "Dance–Juvenile fiction", "Ballet–Juvenile fiction".
To find lesson plans, include "lesson plans", "lesson planning", or "activity programs" in your search terms.
For more help with searching, please visit the Library Service Desk or e-mail ed.lib@ubc.ca.