Listed below are selected picture books by Indigenous Canadians.
Picture Books

You hold me up, written by Monique Gray Smith, illustrated by Danielle Daniel
Gray Smith and Daniel created this book to prompt a dialogue among young people, their care providers and educators about reconciliation and the importance of the connections children make with their friends, classmates and families. This is a foundational book about building relationships, fostering empathy and encouraging respect between peers, starting with our littlest citizens.
Sometimes I feel like a fox, by Danielle Daniel
In this introduction to the Anishinaabe tradition of totem animals, young children explain why they identify with different creatures such as a deer, beaver or moose. Delightful illustrations show the children wearing masks representing their chosen animal, while the few lines of text on each page work as a series of simple poems throughout the book.
Wild berries = Pikaci-Mīnisa, by Julie Flett, translated by Earl N. Cook
Clarence and his grandmother pick wild blueberries and meet ant, spider, and fox in a beautiful woodland landscape.
–
–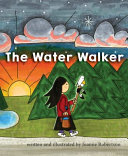 The water walker, by Joanne Robertson
This is the story of a determined Ojibwe Grandmother (Nokomis) Josephine Mandamin and her great love for Nibi (Water). Nokomis walks to raise awareness of our need to protect Nibi for future generations, and for all life on the planet. Her story is a wonderful way to talk with children about the efforts that the Ojibwe and many other Indigenous peoples give to the protection of water – the giver of life.

A day with Yayah, written by Nicola I. Campbell, illustrated by Julie Flett
On an outing in Nicola Valley, British Columbia, a Native American family forages for herbs and mushrooms while the grandmother passes down her language and knowledge to her young grandchildren.
–
How Raven stole the sun, written by Maria Williams, illustrated by Felix Vigil
A long time ago, Raven was pure white, like fresh snow in winter. This was so long ago that the only light came from campfires, because a greedy chief kept the stars, moon, and sun locked up in elaborately carved boxes. This engaging Tlingit story is brought to life in painterly illustrations that convey a sense of the traditional life of the Northwest Coast peoples.
Akilak's adventure, written by Deborah Kigjugalik Webster, illustrated by Charlene Chua
When Akilak must travel a great distance to another camp to gather food, she's not sure she will be able to make it. But with a little help from her grandmother's spirit, and her own imagination to keep her entertained, Akilak manages to turn a long journey into an adventure.
Powwow dancing with family, written and illustrated by Perry Smith
Drumming, singing, and dancing are all part of being at a Powwow. Perry and his family travel all over North America to participate in these family and community gatherings. Join Perry's two boys as they share their treasured memories of being at Powwows with their family and learning how to dance.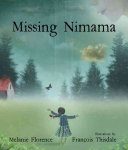 Missing Nimâmâ, written by Melanie Florence, illustrated by François Thisdale
A young mother, one of the many missing Indigenous women, watches over her small daughter as she grows up without her nimama, experiencing important milestones – her first day of school, first dance, first date, wedding, first child – from afar. A free verse story of love, loss, and acceptance told in alternating voices. Missing Nimama shows the human side of a tragic set of circumstances.

Kamik's first sled, written by Matilda Sulurayok, illustrated by Qin Leng
All Jake wants is to raise his puppy into a strong, fast sled dog, but Kamik is far from ready to pull a sled with a dog team. With some advice and a little help from his grandmother, Jake learns basic principles of how to begin training a dog to pull. Kamik finally has his first sled, and he and Jake can finally begin exploring the tundra together.

Dragonfly kites, written by Tomson Highway, illustrations by Julie Flett
Dragonfly Kites refers to "kites" made by tying a string around the middles of dragonflies. Two Cree brothers in northern Manitoba fly these kites during the day, but at night fly themselves in their dreams.
–
Mwâkwa talks to the loon: a Cree story for children, written and illustrated by Dale Auger
The timeless story of Kayas, a young Cree man who is blessed with the ability to hunt well and provide for his People. With the help of the Elders and the Beings that inhabit the water, young Kayas is taught to respect his abilities and to realise that in order to live a life of success, fulfillment and peace, we must always remember to cherish and respect the talents and skills we have been given. Includes Cree words and phrases, along with a glossary and Cree pronunciation guide.

Spirit bear and children make history: Based on a true story, written by Cindy Blackstock and Eddy Robinson, illustrated by Amanda Strong
When Spirit Bear's mom tells him about an important human rights case happening in Ottawa, Ontario, he makes the long trip to go and watch, and to stand up for First Nations kids. And he isn't the only one. Lots of children come too — to listen, and to show they care. Spirit Bear knows that children can change the world because he's there to see it happen.
The sharing circle, written by Theresa "Corky" Larsen-Jonasson, illustrated by Jessika Von Innerebner
When two red foxes have an argument which breaks apart their community, a gentle buffalo decides to take a braid of sweetgrass to a local elder and asks her to help with a sharing circle for all the animals. Includes teacher's guide.
Sixties scoop, by Inez Cook
For decades "scooping up" (taking) indigenous children from their families for placement in foster homes or adoption, was commonplace. This is a story of one of those 20,000 children
---
Finding More Resources
To find more resources in this area, try the following:
Consult the Xwi7xwa Library's guide to Indigenous Children's Literature.
Search using the General tab on the UBC Library website to look for material in all UBC Library branches.
Search using "Search Education Resources" box in the left hand bar on the Education Library website to limit your results to physical materials in the Education Library.
To find lesson plans, include "lesson plans", "lesson planning", or "activity programs" in your search terms.
To find picture books, include "children's books", "juvenile literature", "juvenile fiction" or "picture books in your search terms.
Use specific search terms, such as:

"First Nations"
Indigenous
Aboriginal
"Indians of North America"
Musqueam (or any nation).
For more help with searching, please visit the Library Service Desk or e-mail ed.lib@ubc.ca.