Listed below are selected teacher resources, picture books, and non-fiction related to spring.
Teacher Resources
Learn every day about seasons: 100 best ideas from teachers, edited by Kathy Charner, illustrated by Deb Johnson
Grades: K-1. Numerous activities which explore seasonal changes. Each activity includes learning objectives, related vocabulary, related children's books, materials needed, instructions for the activity, and an assessment component.
–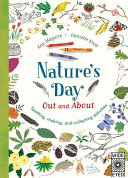 Nature's day out and about: Spotting, making, and collecting activities, written by Kay Mcguire, illustrated by Danielle Kroll
Grades: K-3. An activity book for all four seasons. Sow seeds in spring, go pond dipping in summer, collect leaves in fall, and make an ice sculpture when it's cold in winter. With lots of spotting collecting, making, and coloring activities, this book is the perfect way to connect with nature, whatever the season.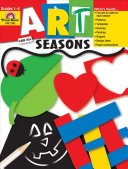 Art for all seasons, written by Joy Evans and Jo Ellen Moore, illustrated by Jo Larsen
Grades: 1-4. Art project ideas that correspond with the four seasons, and the weather and holidays associated with each.
–
–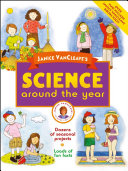 Science around the year, by Janice VanCleave
Grades: 3-7. Presents experiments and activities in such fields as astronomy, biology, chemistry, earth science, and physics that are related to one of the four seasons.
–
–
Picture Books
Taffy time, written by Jennifer Lloyd, illustrated by Jacqui Lee
Spring has arrived at Sugar Hill Farm. Big sister Audrey is busy helping Dad as he makes maple syrup. Younger sister Kate also wants to contribute but it seems that she is just too little. Will she find a way to do her part?
–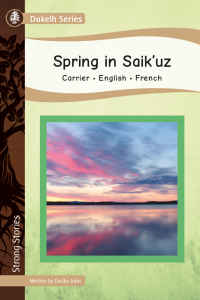 Spring in Saik'uz, written by Cecilia John
Come north to Saik'uz (sigh-kuz) located within the Dakelh (dah-kay-lth) Territory and see the trees bud and the birds come back! A triple-language resource written in Carrier, English and French. Pronunciation guide for the Carrier words in the story available here. Part of the Dakelh series.
–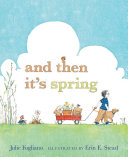 And then it's spring, written by Julie Fogliano, illustrated by Erin E. Stead
Simple text reveals the anticipation of a boy who, having planted seeds while everything around is brown, fears that something has gone wrong until, at last, the world turns green.
–
Spring things, written by Bob Raczka, illustrated by Judy Stead
Winter melts into spring with the sights and sounds of hopping and skipping, sowing and mowing, and blading and lemonading.
–
Fletcher and the springtime blossoms, written by Julia Rawlinson, illustrated by Tiphanie Beeke
When Fletcher the fox finds the ground covered in white, he rushes to warn the other animals that spring snow has fallen, but when they follow him back to the meadow they find something much more fun.
–
Spring song, written by Barbara Seuling, illustrated by Greg Newbold
When new leaves sprout, buds appear, cocoons burst open, and other signs announce the coming of spring, various animals from bears to bullfrogs respond to the warmth of the season.
–
Farm, by Elisha Cooper
Describes the activities on a busy family farm from the spring when preparations for planting begin to the autumn when the cats grow winter coats and the cold rains begin to fall.
–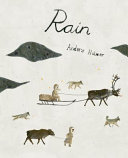 Rain, by Anders Holmer
The spare, lyrical text describes a series of short vignettes, each of them taking place in a different kind of rain, from thunderstorms to falling flower petals. The poems–some serious, some gently humorous–depict scenes from all over the globe: a horse struggling to plow a field, a father changing a tire while his children play, and two friends making up after a fight.
–
I see spring, written by Charles Ghigna, illustrated by Ag Jatkowska
Illustrations and easy-to-read, rhyming text show what makes spring special, from raindrops and robins to bluebells and butterflies.
–
–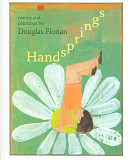 Handsprings: Poems & paintings, by Douglas Florian
Twenty–nine poems about spring are illustrated–from those muddy puddles and emerging bulbs to rain showers and rainbows and that first day without mittens.
–
–
Ready for spring, by Martha Jocelyn
Labeled illustrations suggest various garments suitable for wearing in the springtime.
–
–
Non-Fiction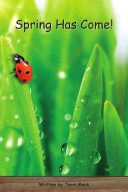 Spring has come!, by Terri Mack
Grades: K-1. Spring is the season between winter and summer. The months of spring are March, April and May. What are some activities that you and your family do during the spring months?Part of Strong Nations' Strong Readers leveled reading series which is full of science, numeracy, social responsibility, language arts and oral language teachings. The entire series is interconnected and follows the cultural values of frog, bear, eagle and raven throughout. For more in the series, click here.

Exploring spring, by Terri DeGezelle
Grades: K-2. Introduces basic concepts of spring such as, new life, changing seasons, daylight, and the water, trees, animals, and people in spring.
–

How do we know it is spring?, by Molly Aloian
Grades: K-3. Explore some of the changes that come when spring arrives, like warmer temperatures, budding plants and flowers, and the appearance of baby animals.
–
---
Finding More Resources
To find more resources in this area, try the following:
Search using the General tab on the UBC Library website to look for material in all UBC Library branches.
Search using "Search Education Resources" box in the left hand bar on the Education Library website to limit your results to materials in the Education Library.
Use specific search terms to narrow your results, such as "spring–juvenile literature", "seasons–juvenile literature", "spring–fiction".
To find lesson plans, include "lesson plans", "lesson planning", or "activity programs" in your search terms.
For more help with searching, please visit the Library Service Desk or e-mail ed.lib@ubc.ca.