Listed below are selected teacher resources, picture books, and non-fiction related to summer.
Teacher Resources
Summer activities, by Fiona Watt and Ray Gibson
Grades: K-1. Step-by-step instructions for things to make and do, from paper flowers and picnic food to ideas for cards and postcards.
–
–
–
Learn every day about seasons: 100 best ideas from teachers, edited by Kathy Charner, illustrated by Deb Johnson
Grades: K-1. Numerous activities which explore seasonal changes. Each activity includes learning objectives, related vocabulary, related children's books, materials needed, instructions for the activity, and an assessment component.
–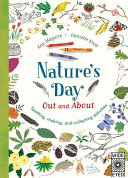 Nature's day out and about: Spotting, making, and collecting activities, written by Kay Mcguire, illustrated by Danielle Kroll
Grades: K-3. An activity book for all four seasons. Sow seeds in spring, go pond dipping in summer, collect leaves in fall, and make an ice sculpture when it's cold in winter. With lots of spotting collecting, making, and coloring activities, this book is the perfect way to connect with nature, whatever the season.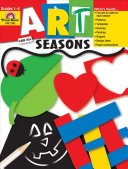 Art for all seasons, written by Joy Evans and Jo Ellen Moore, illustrated by Jo Larsen
Grades: 1-4. Art project ideas that correspond with the four seasons, and the weather and holidays associated with each.
–
–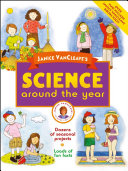 Science around the year, by Janice VanCleave
Grades: 3-7. Presents experiments and activities in such fields as astronomy, biology, chemistry, earth science, and physics that are related to one of the four seasons.
–
–
Picture Books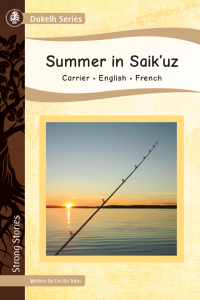 Summer in Saik'uz, written by Cecilia John
Come north to Saik'uz (sigh-kuz) located within the Dakelh (dah-kay-lth) Territory and see the berries and animals! A triple-language resource written in Carrier, English and French. Pronunciation guide for the Carrier words in the story available here. Part of the Dakelh series.
–
–

Pinny in summer, written by Joanne Schwartz, illustrated by Isabelle Malenfant
On a long, lazy summer day, Pinny searches for a wishing rock, watches the clouds and picks wild blueberries with her friends, feeds a seagull and bakes a cake. This engaging story reveals the joy to be found in nature and an unstructured life.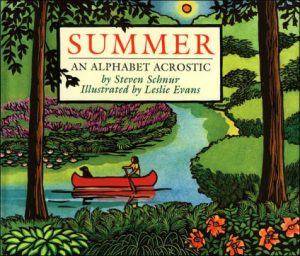 Summer: an alphabet acrostic, written by Steven Schnur, illustrated by Leslie Evans
Sandy beaches, juicy watermelons, and porch swings are just a few of the warm-weather delights featured in this inventive alphabet of acrostic poems about summer. Contains twenty-six poems, each revealing a playful acrostic when read vertically.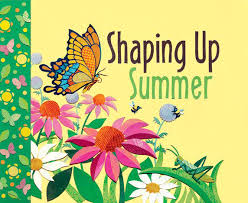 Shaping up summer, written by Lizann Flatt, illustrated by Ashley Barron
As young readers journey into the natural world, they discover that numbers, patterns, shapes, and much more! These can be found in everyday plants and animals. What if animals and plants knew math, just like us? Would spiders draw pictures in their webs? Would narwhals sort blocks of ice by shape? For more in the Math in Nature series, click here.
See you next year, written by Andrew Larsen, illustrated by Todd Stewart
Summer vacations can be magical. Especially when you go back to the same place every year. A place where nothing ever changes and where each long, lazy day unfolds just as it did the year before. See You Next Year is the story of one such place. Only this year, something does change. And sometimes, change turns out to be a good thing.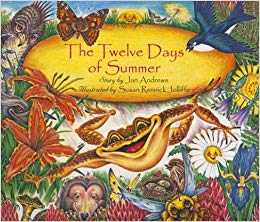 The twelve days of summer, story by Jan Andrews, illustrations by Susan Rennick Jolliffe
Patterned on the popular carol, The Twelve Days of Summer takes readers on a joyous journey into summer, from the first discovery of three eggs in a sparrow's nest to the day when those eggs hatch.
–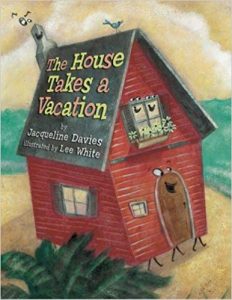 The house takes a vacation, by Jacqueline Davies, illustrated by Lee White
While the Petersons are away, their house decides to take a trip to the sea to watch the "Dance of the Sunlight," despite some groaning from the chimney and the basement's refusal to rise to the occasion.
–
–

Hot day on Abbott Avenue, written by Karen English. illustrated by Javaka Steptoe
It's the hottest, stickiest day of the summer. A fat-sun-in-the-sky day. An eating-ice-pops-on-the-porch day. And for Kishi and Renée, it's a best-friends-breakup day. Each girl sits on her own front porch, waiting for the other to apologize, even though they know they'll never speak to each other again, no matter how bored they get. But then the sounds of feet slapping the pavement and voices chanting double-dutch rhymes drift up the avenue, and neither one can resist going out in the street to play.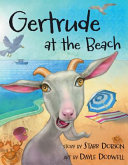 Gertrude at the beach, written by Starr Dobson, illustrated by Dayle Dodwell
Everyone's favourite goat, Gertrude Allawishes, is back! School is out for the summer, and Starr and her family, even Gertrude, are heading to the cottage. Starr's mom is worried Gertrude will get into trouble. But it isn't long before Gertrude proves she is one loyal goat and saves the day!
–
Rules of summer, Shaun Tan
Two boys explain the occasionally mysterious "rules" they learned over the summer, like never eat the last olive at a party, never ruin a perfect plan, and never give your keys to a stranger.
–
Non-Fiction
Summertime, written by Terri Mack
Grade: K-1. Summer is the season between spring and fall. The months of summer are June, July and August. What are some activities that you and your family do during the summer months? Part of Strong Nations' Strong Readers leveled reading series which is full of science, numeracy, social responsibility, language arts and oral language teachings. The entire series is interconnected and follows the cultural values of frog, bear, eagle and raven throughout. For more in the series, click here.

How do we know it is summer?, by Molly Aloian
Grades: K-3. Discover the characteristics that make summer unique: the warmest temperatures of the year, the changes in water and plants, and the effects on people and animals.
–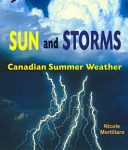 Sun and storms: Canadian summer weather, by Nicole Mortillaro
Grades: 2-4. Using full colour photographs and easy-to-understand language, this book explains simple weather concepts as they relate to Canadian summers. Children will learn how rain is formed and why we have things like thunderstorms and tornadoes. Part of the Canada close up series.
–
---
Finding More Resources
To find more resources in this area, try the following:
Search using the General tab on the UBC Library website to look for material in all UBC Library branches.
Search using "Search Education Resources" box in the left hand bar on the Education Library website to limit your results to materials in the Education Library.
Use specific search terms to narrow your results, such as, "summer–juvenile literature", "summer–fiction", "seasons–juvenile literature".
To find lesson plans, include "lesson plans", "lesson planning", or "activity programs" in your search terms.
For more help with searching, please visit the Library Service Desk or e-mail ed.lib@ubc.ca.