Listed below are selected teacher resources and non-fiction related to incorporating principles of truth and reconciliation with Indigenous peoples into the classroom.
Teacher Resources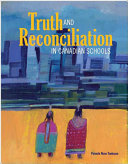 Truth and reconciliation in Canadian schools, by Pamela Rose Toulouse
Grades: K-12. This book provides current information, personal insights, authentic resources, interactive strategies and lesson plans that support Indigenous and non-Indigenous learners in the classroom. Toulouse presents a culturally relevant and holistic approach that facilitates relationship building and promotes ways to engage in reconciliation activities.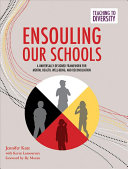 Ensouling our schools: A universally designed framework for mental health, well-being, and reconciliation, by Jennifer Katz, with Kevin Lamoureux
Grades: K-12. The authors share methods of creating schools that engender mental, spiritual, and emotional health while developing intellectual thought and critical analysis, as well as Indigenous approaches to mental and spiritual health that benefit all students and address the Truth and Reconciliation Commission Calls to Action.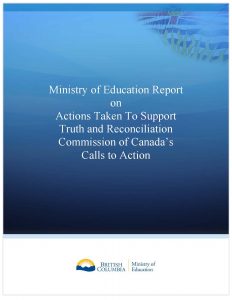 Ministry of Education report on actions taken to support Truth and Reconciliation Commission of Canada's calls to action, by the BC Ministry of Education
A brief report on the BC Ministry of Education's efforts to implement several calls to action regarding truth and reconciliation in education. (Online only)
The residential school system in Canada: Understanding the past, seeking reconciliation, building hope for tomorrow, by Government of Northwest Territories, Government of Nunavut, and the Legacy of Hope Foundation
Grade: 10. A teacher guide with twelve activities, each of which helps students examine and develop an understanding of aspects of the history and legacy of the residential school system and participate in the journey towards reconciliation.
Beyond 94, by the CBC Indigenous Unit
Grades: 9-12. CBC's Beyond 94 is an immersive, interactive and comprehensive website that monitors the progress of the Truth and Reconciliation Commission's 94 Calls to Action. Beyond 94 highlights concrete suggestions, resources and examples of what reconciliation is, and how Indigenous and non‐Indigenous Canadians can work together on the path of reconciliation. Includes short documentaries available through Curio and a comprehensive teacher's guide.
–
Non-Fiction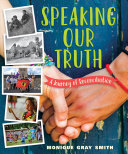 Speaking our truth: A journey of reconciliation, by Monique Gray Smith
Grades: 4-8. Guided by acclaimed Indigenous author Monique Gray Smith, readers will learn about the lives of residential school survivors and listen to allies who are putting the findings of the Truth and Reconciliation Commission into action. (Teacher's guide also available.)
Truth and reconciliation, by Simon Rose
Grades: 4-6. Explores the impact of residential schools on the Indigenous people of Canada as well as efforts by the Canadian government to mend the damaged relationships caused by these schools. Part of the Indigenous Life in Canada series.
–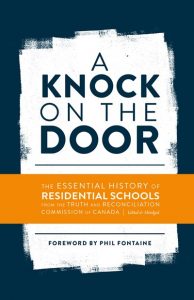 A knock on the door: The essential history of residential schools from the Truth and Reconciliation Commission of Canada, by the National Centre for Truth and Reconciliation
Grades: 9-12. Explores a range of areas studied by the TRC, including the history of residential schools, the students' experiences, the schools' legacy, and reconciliation and calls to action. (E-book only)
–
Truth and indignation: Canada's Truth and Reconciliation Commission on Indian residential schools, by Ronald Niezen
Grades: 10-12. Using interviews with survivors and oblate priests and nuns, as well as testimonies, texts, and visual materials produced by the Commission, Niezen raises some very important questions: What makes Canada's TRC different than others around the world? What kinds of narratives are emerging and what do they mean for reconciliation, justice, and conceptions of traumatic memory? And what happens to the ultimate goal of reconciliation when a large part of the testimony–that of nuns, priests, and government officials–is scarcely evident?
In this together: Fifteen stories of truth & reconciliation, edited by Danielle Metcalfe-Chenail
Grades: 10-12. Reflective and personal pieces from both Indigenous and non-Indigenous journalists, writers, academics, visual artists, filmmakers, city planners, and lawyers, all of whom share their personal light-bulb moments regarding when and how they grappled with the harsh reality of colonization in Canada, and its harmful legacy. This book acts as a call for all Canadians to make reconciliation and decolonization a priority. (eBook edition)
Moving Forward: A collection about truth and reconciliation, by Tracey MacDonald (On order, coming soon)
Grades: 10-12. This collection includes short stories, poems, essays, and art created by First Nations, Inuit, and Métis authors and artists on the topics of truth and reconciliation as they relate to residential schools. Each selection includes before, during, and after questions and activities that support English Language Arts grades 10 to 12 curricula from across the country. (Teacher's Resource also available)
Original reports from the Truth and Reconciliation Commission of Canada (online):
Honouring the truth, reconciling for the future: Summary of the final report of the Truth and Reconciliation Commission of Canada (Grades 10-12)
A summary of the final report of the Truth and Reconciliation Commission (TRC) of Canada. Includes a summary of the commission's activities, a detailed account of the history and legacy of residential schools, the challenges of reconciliation, and 94 calls to action.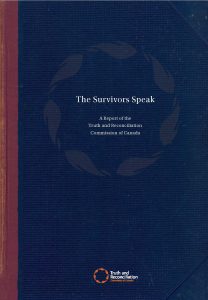 Survivors speak: A report of the Truth and Reconciliation Commission of Canada
Grades: 10-12. As part of its work, the Truth and Reconciliation Commission of Canada provided former students—the Survivors of residential schools—with an opportunity to provide a statement on their experience of residential schooling. This is a volume of excerpts from those statements that was published as part of the Commission's final report.
---
Finding More Resources
To find more resources in this area, try the following:
Search using the General tab on the UBC Library website to look for material in all UBC Library branches.
Search using "Search Education Resources" box in the left hand bar on the Education Library website to limit your results to materials in the Education Library.
Use specific search terms to narrow your results, such as "Truth and Reconciliation Commission of Canada", "Truth commissions — Canada", "Indigenous peoples – Canada – Residential schools", "Native peoples – Canada – Residential schools", "

Indigenous peoples–Education–Canada".

To find lesson plans, include "lesson plans", "lesson planning", or "activity programs" in your search terms.
For more help with searching, please visit the Library Service Desk or e-mail ed.lib@ubc.ca.