Listed below are selected teacher resources, picture books, and non-fiction related to winter.
Teacher Resources
Learn every day about seasons: 100 best ideas from teachers, edited by Kathy Charner, illustrated by Deb Johnson
Grades: K-1. Numerous activities which explore seasonal changes. Each activity includes learning objectives, related vocabulary, related children's books, materials needed, instructions for the activity, and an assessment component.
–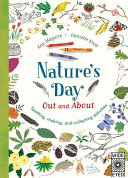 Nature's day out and about: Spotting, making, and collecting activities, written by Kay Mcguire, illustrated by Danielle Kroll
Grades: K-3. An activity book for all four seasons. Sow seeds in spring, go pond dipping in summer, collect leaves in fall, and make an ice sculpture when it's cold in winter. With lots of spotting collecting, making, and coloring activities, this book is the perfect way to connect with nature, whatever the season.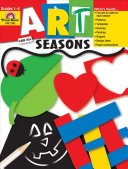 Art for all seasons, written by Joy Evans and Jo Ellen Moore, illustrated by Jo Larsen
Grades: 1-4. Art project ideas that correspond with the four seasons, and the weather and holidays associated with each.
–
–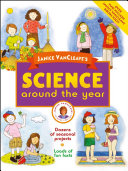 Science around the year, by Janice VanCleave
Grades: 3-7. Presents experiments and activities in such fields as astronomy, biology, chemistry, earth science, and physics that are related to one of the four seasons.
–
–
Picture Books
Winter in Saik'uz, written by Cecilia John
Come north to Saik'uz (sigh-kuz) located within the Dakelh (dah-kay-lth) Territory and see what happens on cold winter days! A triple-language resource written in Carrier, English and French. Pronunciation guide for the Carrier words in the story available here. Part of the Dakelh series.
–
Wolf in the snow, by Matthew Cordell
When a wolf cub and a little girl are both lost in a snowstorm, they must help each other to find their way home.
–
Bear's winter party, written by Deborah Hodge, illustrated by Lisa Cinar
Bear loves his forest home, but sometimes he gets lonely. It's hard being the biggest animal around. As the days grow shorter and autumn turns to winter, Bear springs into action and comes up with a festive plan to make friends with all the other forest creatures.
Tracks in the snow, by Wong Herbert Yee
A little girl follows tracks outside her window after a fresh snowfall, only to realize that the tracks in the snow are her own from the day before—and that they lead her home.
–

In the snow, by Peggy Collins
A young boy wakes up to discover it has snowed during the night. He and his father bundle up to venture out into the snow, learning about animal tracks and how to feed the birds. They meet rabbits and squirrels along the way, and build an enormous snowman complete with a wrench, a screwdriver, and a carrot.
Over and under the snow, written by Kate Messner, illustrated by Christopher Silas Neal
Over the snow, the world is hushed and white, but under the snow is a secret world of squirrels and snowshoe hares, bears and bullfrogs, and many others who live outside in the woods during the winter.
–
Singing away the dark, written by Caroline Woodward, illustrated by Julie Morstad
It's a cold, windy winter morning and a little girl has to walk a mile to catch the school bus. Along the way, she faces wire gates, dark shadowy woods, a bull grazing with the cattle and many other scary things. Will she be able to sing her way through the dark morning?
The snowy day, by Ezra Jack Keats
The classic story of the adventures of a little boy in the city on a very snowy day, and his attempts to keep the wonder of the day forever.
–
–

Straight to the pole, by Kevin O'Malley
A lone figure battles for every step in a terrible storm, determined to reach the distant Pole. Nothing will stop him from reaching his goal—except his own overactive imagination. Who will win the battle of boy against blizzard?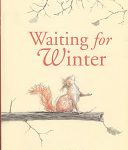 Waiting for winter, by Sebastian Mechsenmoser
Squirrel has never seen it snow, and this year he is determined not to miss it. He wants his friends, Hedgehog and Bear, to see it snow too, but it's hard to stay awake. Finally, winter arrives, and snow is falling…or is it?
–
The snow knows, written by Jennifer McGrath, illustrated by Josée Bisaillon
A lyrical prose poem which celebrates the joys of winter, wilderness, and animals of all kinds. With whimsical hide-and-seek illustrations, readers will love following footprints and catching a glimpse of an owl's wing or pheasant's feathers, suggesting what appears on the following page.
–
Non-Fiction
How do we know it is winter?, by Molly Aloian
Grades: K-3. Discover the characteristics of winter: the changes in temperature, water, and light, and their effects on animals, plants, and people.
–
Bugs and bugsicles: Insects in the winter, written by Amy S. Hansen, illustrated by Robert C. Kray
Grades: K-3. Every fall, insects disappear. And every spring, they return. Where do they go? The dragonfly dies, leaving its young safe in the muddy bottom of a stream. The monarch butterfly sails the air to dry mountains in Mexico. And the Arctic woolly bear caterpillar becomes a "bugsicle"–it freezes solid, then thaws out to live another day. The honeybee, praying mantis, field cricket, ladybug, and pavement ant also use awe-inspiring tricks to outwit the killing frosts of winter.
The winter book, collected and illustrated by Rotraut Susanne Berner
Grades: K-8. This book is a celebration of winter in all its glory. From the late days of fall and Halloween to Groundhog and Valentine's days and the earliest days of spring, this collection of stories, songs, poems and information is sure to bring joy and inspiration to the year's coldest months.
–

Why do geese fly south in the winter? A book about migration, by Kathy Allen
Grades: 1-3. A brief explanation of migration, including what it is, why and how animals migrate, and how people affect migration.
–
The shortest day: Celebrating the winter solstice, written by Wendy Pfeffer, illustrated by Jesse Reisch
Grades: 1-4. The beginning of winter is marked by the solstice, the shortest day of the year. Long ago, people grew afraid when each day had fewer hours of sunshine than the day before. Over time, they realized that one day each year the sun started moving toward them again. This book explains what the winter solstice is and how it has been observed by various cultures throughout history. Includes simple science activities and ideas for celebrating the day in school and at home.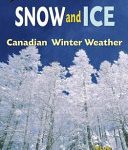 Snow and ice: Canadian winter weather, by Nicole Mortillaro
Grades: 2-4. This book explains simple weather concepts as they relate to unpredictable Canadian winters. Learn how snow is formed, why we have blizzards and ice storms, and what Chinooks are.Also included are extreme and unusual weather conditions, and the havoc they can sometimes wreak on Canadian communities. Part of the Canada close up series.
Snowy science: 25 cool experiments, written by Shar Levine and Leslie Johnstone, illustrated by Patricia Storms
Grades: 2-6. Science is fun all year round! Kids can try these simple experiments inside, inspired by the freezing weather outside. Learn to make ice cream, create an indoor avalanche and pick up an ice cube with just a piece of string. Also included are fun facts about icebergs, frost, "orange" snow, and more.
–
---
Finding More Resources
To find more resources in this area, try the following:
Search using the General tab on the UBC Library website to look for material in all UBC Library branches.
Search using "Search Education Resources" box in the left hand bar on the Education Library website to limit your results to materials in the Education Library.
Use specific search terms to narrow your results, such as "winter–juvenile literature" or "seasons–juvenile literature", "snow–juvenile fiction".
To find lesson plans, include "lesson plans", "lesson planning", or "activity programs" in your search terms.
For more help with searching, please visit the Library Service Desk or e-mail ed.lib@ubc.ca.