Listed below are selected teacher resources and picture books related to phonemic and phonological awareness.
Teacher Resources
Phonemic awareness: A step by step approach for success in early reading, by Idalia Rodriguez Perez
Grades: K-3. This guide presents phonemic awareness as one of the most sophisticated branches of phonological awareness through interactive activities that allows children to succeed in learning the sounds represented by the letters of the alphabet.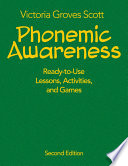 Phonemic awareness : Ready-to-use lessons, activities, and games, by Victoria Groves Scott
Grades: K-6. The second edition of this book contains an updated collection of 48 lessons for children in Grades K-3, or students in Grades 4-6 who have difficulty reading. The activities are sequenced around particular phonemes or sounds, but can be organized or sequenced according to skills such as identification, blending, rhyming, segmentation, deletion, or manipulation.
A sound start: Phonemic awareness lessons for reading success, by Christine E. McCormick et al.
Grades: K-3. The authors present three sets of phonemic awareness lessons, complete with scripted directions and reproducible learning materials and assessment tools. Included are developmentally sequenced lessons for the whole class and small groups, more intensive lessons for children struggling with phonemic awareness, and class lessons on the consonant phonemes.
Teaching phonemic awareness through children's literature and experiences, by Nancy Allen Jurenka
Grades: K-2. This book provides educators with creative strategies for integrating word study with children's picture books. Each lesson includes a read-aloud book description, literacy experience activity, direct instruction, follow-up activities, recommended poem, and related reading. The lessons build skills in phonemic awareness, morphemic analysis, letter identification, rhyming, and sight words.
How to increase phonemic awareness in the classroom, by Lynn Settlow and Margarita Jacovino
Grades: K-3. The authors offer a quick and easy informal assessment measure for teachers to pinpoint their students' instructional needs; classroom activities that are brief, fun, and easy to implement; and literature-based activities to build phonemic awareness through nursery rhymes, poetry, and children's books. Each chapter features one level of the phonemic awareness developmental continuum along with three types of activities.
Teaching systematic synthetic phonics in primary schools, by Wendy Jolliffe and David Waugh with Angela Carss
Grades: K-3. The first part of this book discusses essential subject knowledge for teachers in the areas of discriminating sounds and phonemes, grapheme-phoneme correspondences, and moving from phonics to spelling. The second part discusses effective pedagogical techniques for teaching phonics, with phonemics in mind.
Sing a song of poetry: A teaching resource for phonemic awareness, phonics, and fluency, Grade 2, by Irene C. Fountas and Gay Su Pinnell
Grades: 2. The 225 poems in this book immerse students in rich, rhythmical language, providing age appropriate opportunities to enjoy language through shared reading, stimulate oral language development, connect words, and much more.
Word study that sticks: Best practices, K-6, by Pamela K. Koutrakos
Grades: K-6. The author discusses how to implement best practices in word study in the classroom, including how to set up the physical classroom and launch routines, and how to instill curiosity and a self-starting attitude in learners about word study. The book covers all facets of words study, including phonemic awareness, phonics, meaning, spelling, and high-frequency word work.
Phonological skills and learning to read, by Usha Goswami and Peter Bryant
Grades: K-6. This new edition of a classic work brings together the latest research in the link between phonological skills and reading. The authors describe three causal factors which can account for children's reading and spelling development: pre-school phonological knowledge of rhyme and alliteration, the impact of alphabetic instruction on knowledge about phonemes, and links between early spelling and later reading. (E-book only)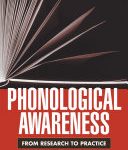 Phonological awareness: From research to practice, by Gail T. Gillon
Grades: K-12. This book provides a comprehensive review of knowledge about phonological awareness, together with practical guidance for helping children acquire needed skills. The author synthesizes findings on the development of phonological awareness; its role in literacy learning; and how it can be enhanced in children at risk for reading difficulties and those with reading disorders or speech or language impairments. Methods and activities are described for working with preschoolers to adolescents, including those with special learning needs.
–
Picture Books

Llama, llama red pajama, by Anna Dewdney
At bedtime, a little llama worries after his mother puts him to bed and goes downstairs. When will she come back?
–
–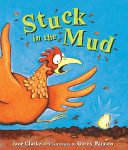 Stuck in the mud, written by Jane Clarke, illustrated by Garry Parsons
When one of Hen's chicks gets stuck in the mud, the other farm animals come to help. How many farmyard friends will it take to get Chick out?
–
–

Bear snores on, written by Karma Wilson, illustrated by Jane Chapman
One by one, different animals and birds find their way into Bear's cave to warm up. But even after the tea has been brewed and the corn has been popped, Bear just snores on…
–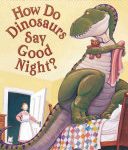 How do dinosaurs say good night?, written by Jane Yolen, illustrated by Mark Teague
Mother and child think about the different ways a dinosaur can say goodnight, from slamming his tail and pouting to giving a big hug and kiss.
–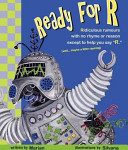 Ready for R: Ridiculous rumors with no rhyme or reason except to help you say "R", written by Marian MacDougall, illustrated by Silvana Bevilacqua
Ready for R includes colour-coded R-word lists, fun and easy teaching tips, and with silly stories that will make students want to keep practicing. Ready for R is designed to spark speech, language and literacy development, inspire story-telling and encourage ESL students.
–
Miss Mousie's blind date, written by Tim Beiser, illustrated by Rachel Berman
A story told in rhyme about Miss Mousie's preparations for her date with Mole. What will he think when he sees her – in fact, will he even see her?
–
–

Four fur feet, written by Margaret Wise Brown, illustrated by Woodleigh Marx Hubbard
A furry little creature wanders the world, taking in all the fascinating sights and sounds. Round and round he goes, as a rhythmic text describes what he sees and hears along the way.
–
---
Finding More Resources
To find more resources in this area, try the following:
Search using the General tab on the UBC Library website to look for material in all UBC Library branches.
Search using "Search Education Resources" box in the left hand bar on the Education Library website to limit your results to materials in the Education Library.
Use specific search terms to narrow your results, such as "reading – phonetic method", "English language – phonemics – study and teaching", or "stories in rhyme".
To find lesson plans, include "lesson plans", "lesson planning", or "activity programs" in your search terms.
For more help with searching, please visit the Library Service Desk or e-mail ed.lib@ubc.ca.