Listed below are teacher resources, picture books, fiction and non-fiction books that address anti-racism.
Teacher Resources related to Anti-racism
How to be an Anti-racist  by Ibram X. Kendi
This book discusses concepts of racism and provides proposals for anti-racist individual actions and systemic changes. It was described by the New York Times as "the most courageous book to date on the problem of race in the Western mind."
–
–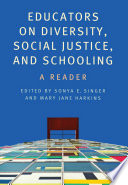 Educators on Diversity, Social Justice, and Schooling, Edited by Sonia E. Singer and Mary Jane Harkins
This book invites educators to reflect on school practices as a contextualised and social process, and to recognise the systemic and cultural impact of race, gender, class, sexuality and ability on the everyday lives of students.
–
Brave New Teachers: Doing Social Justice Work in Neoliberal Times , Edited by R. Patrick Solomon, Jordan Singer, Arlene Campbell, and Andrew Allen, with the assistance of John P. Portelli
A critical Canadian perspective offering an investigation of democratic teacher practice in culturally diverse school systems. "Brave New Teachers" investigates the extent to which graduates of a teacher education program grounded in democratic principles can hold true to these principles after graduation.
–
Challenging Stories: Canadian Literature for Social Justice in the Classroom, Edited by Anne Burke, Ingrid Johnston and Angela Ward
This book examines how Canadian educators can begin to instill cultural sensitivity and social awareness in elementary and secondary school students.
–
–
Is Everyone Really Equal?: An Introduction to Key Concepts in Social Justice Education by Ozlem Sensoy & Robin DiAngelo
Based on the authors' experiences in a range of settings in the United States and Canada, this book addresses the most common stumbling blocks to understanding social justice.
–
–
Teaching Fairly in an Unfair World (2nd ed.), by Kathleen Gould Lundy
This book offers opportunities for students to connect with social justice issues through inventive language exploration and the active examination of all forms of media. It encourages teachers to evaluate their core teaching beliefs and recognize the realities of their students' lives for a richer understanding of our world.
–
Interrupting Racism: Equity and Social Justice in School Counseling , by Rebecca Atkins and Alicia Oglesby
An overview of racial equity in schools and ideas that a school-level practitioner can put into action. Chapters include interrupting racism case studies and stories about incorporating stakeholders into the work of racial equity.
–
Black Appetite. White Food: issues of race, voice, and justice within and beyond the classroom, by Jamila Lysicott
Asks educators to explore the manifestations of white privilege in and beyond the classroom, and provides tools that teachers can use to inspire action around racial injustice and inequality.
–
–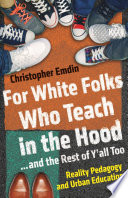 For white folks who teach in the hood and the rest of y'all too by Christopher Emdin
Combines real stories with research, theory, and practice to explain how teachers can build communities within the classroom using culturally relevant strategies. Emdin draws on his own experiences feeling invisible in the classroom, and offers a new perspective on teaching and learning in urban schools while challenging the traditional top-down pedagogy of urban education.
–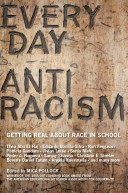 Everyday Anti Racism: Getting real about race in school, Edited by Mica Pollock
This book asks the question, "which acts by educators are "racist" and which are "antiracist?"" Experienced educators grapple with challenging questions about race in school, offer advice, and explore how to constructively discuss complex issues of race with students and colleagues.
–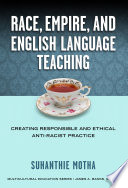 Race, Empire, and English Language Teaching: Creating responsible and ethical anti-racist practice, by Suhanthie Motha
This book explores how language is used to create hierarchies of cultural privilege in public schools, by drawing on the experiences of four ESL teachers who pursued anti-racist pedagogical practices during their first year of teaching.
–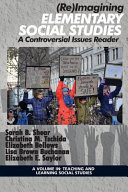 Re-Imagining Elementary School Social Studies, by Sarah B. Shear, Christina M. Tschida, Elizabeth Bellows, Lisa Brown Buchanan, and Elizabeth E. Saylor
This book offers a collection of approaches aimed at teaching controversial issues in elementary social studies.
–
–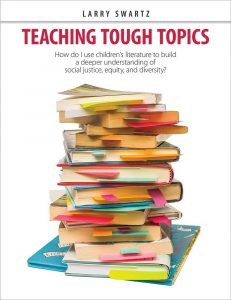 Teaching Tough Topics: How do I use children's literature to build a deeper understanding of social justice, equity, and diversity? by Larry Swartz
Shows teachers how to lead students to become caring citizens as they read and respond to quality children's literature. It focuses on topics that can be challenging or sensitive, yet are significant in order to build understanding of social justice, diversity, and equity. Racism, Homophobia, Bullying, Religious Intolerance, Poverty, and Physical and Mental Challenges are just some of the themes explored.
–
Picture Books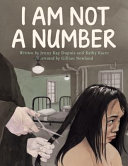 I am not a Number, by Jenny Kay Dupuis
Grades 3-6: Based on the true story of Jenny Kay Dupuis' grandmother, "I am Not a Number" tells the story of a young Indigenous girl's experiences living in a residential school and striving to hold on to her identity.
–
–
The Proudest Blue: A Story of Hijab and Family, by Ibtihaj Muhammad
Grades k-3: It's Faizah's first day of school, and her sister's first day of hijab – but not everyone sees hijab as beautiful. "The Proudest Blue" is ultimately a story about new experiences, the bond between sisters and being proud of who you are in the face of hurtful words.
–
All are Welcome, by Alexandra Penfold
Grades K-2: Follows a group of children through a day in their school, where kids in patkas, hijabs, and yamulkes play side-by side with friends in baseball caps. This book celebrates diversity and lets children know that, no matter what, they are welcome in their school.
–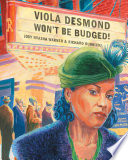 Viola Desmond Won't be Budged!, by Jody Warner
Grades 1-4: This book tells the story of Viola Desmond, an African Canadian woman who, in 1946, challenged a Nova Scotia movie theater's segregation policy by refusing to move from her seat to an upstairs section designated for use by blacks.
–

Lila and the Crow, by Gabrielle Grimard
Grades K-3: Having moved to a new town and started at a new school, Lila is sadder and lonelier than ever. At her lowest point, a magical encounter with a crow opens Lila's eyes to the beauty of being different, and gives her the courage to proudly embrace her true self.
–

A is for Activist, by Innosanto Nagara
Grades K – 1 This is an ABC board book for families that are unapologetic about activism and social justice.
–
–

The Youngest Marcher, by Cynthia Levinson
Grades 1 – 4: Based on the true story of Audrey Faye Hendricks, the youngest known child to be arrested for a civil rights protest in Birmingham, Alabama, 1963, this picture book proves you're never too little to make a difference.
–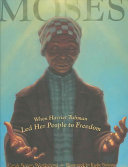 Moses: When Harriet Tubman Led her People to Freedom, by Carole Boston Weatherford, illustrated by Kadir Nelson
Grades 2-4: A unique portrait describing Harriet Tubman's spiritual journey north to freedom through the Underground Railroad.
–
–
Not My Girl, by Christie Jordan-Fenton and Margaret Pokiak-Fenton
Grades 2-5: Adapted for children from the award-winning memoir "A Stranger at Home," this book tells the story of Margaret's return home and readjustment to life after two years at a residential school. It is a sequel to the book "When I was Eight."
–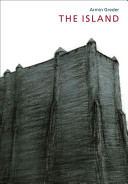 The Island (recommended for ages 9+), by Armin Greder
Grades 4 and up: This is a chilling allegory about refugees, xenophobia, racism, multiculturalism, social politics, and human rights.
–
–
–
Juvenile Fiction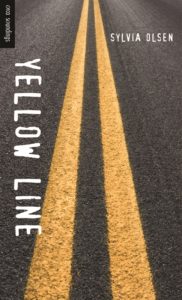 Yellow Line, by Sylvia Olsen
Grades 6 and up: The line separating Indigenous and White begins to blur for Vince as he finds himself falling for a First Nations girl.
–
–
–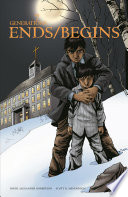 Ends/Begins, by David Robertson
Grades 10 and up: In 1964, two brothers are taken from the warm and loving care of their grandparents, and spirited away to a residential school, miles from home. Ends/Begins is book 3 in the graphic novel series 7 Generations.
–
–
A Big Dose of Lucky, by Marthe Jocelyn
Grades 6 and up: Malou has just turned sixteen, and all she knows for sure is that she's mixed-race and was left in an orphanage as a newborn. In search of answers, she's lead to the town of parry Sound, where she's surprised to see many young brown faces like hers- could they be her relatives?
–
–
Up North, by Jeff Ross
Grades 8-12: One night after a party in northern Ontario, Rob and some friends end up in a van speeding through a First Nations reserve. The driver of the van has a deep hatred for Indigenous people, and he lobs rotten fruit at a group of young men gathered in front of a community centre. The young men chase them down, and Rob's friend Alan is injured and ends up in a coma. Now the police are pressuring Rob to identify their prime suspect.
–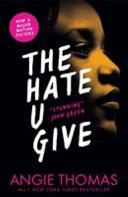 The Hate U Give, by Angie Thomas
Grades 8 and up: When Starr witnesses the fatal shooting of her childhood best friend at the hands of a police officer, her world is shattered. Now she's the only person who knows the truth of what happened, but speaking up could put herself and her community at risk. Inspired by the Black Lives Matter movement, this is the story about one girl's struggle for justice.
–
New Kid, by Jerry Craft
Grades 3 – 6: Jordan Banks' parents have enrolled him in a prestigious private school, where Jordan is one of the few kids of colour in his entire grade. This is a graphic novel about starting over at a new school where diversity is low and fitting in is hard.
–
–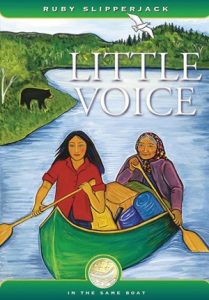 Little Voice, by Ruby Slipperjack
Grade 4: A young Ojibway girl, struggling over the fact that her father has died, spends summers in the bush with her grandmother and finds her own identity and voice.
–
–
–

Slay, by Brittney Morris
Grades 6 and up: Kiera Johnson joins thousands of Black gamers who duel as Nubian personas in the secret online role-playing card game, SLAY. When a teen in Kansas City is murdered over a dispute in the SLAY world, the game is labeled a racist and violent hub. No one knows Kiera is the game developer– until an anonymous troll threatens to sue Kiera for "anti-white discrimination." Can she protect her game without losing herself in the process?
–
Cherry Blossom Baseball (e-book), by Jennifer Maruno
Grades 6-9: Michiko is the only Japanese student in her school, and making friends is hard. She surprises an older student with her baseball skills, who encourages her to try out for the local team. But when she decides to try out, everyone mistakes her for a boy. Michiko has to decide between quitting to avoid the teasing, or pitching like she's never pitched before.
–
–
Last Days in Africville, by Dorothy Perkyns
Grades 3-6: This book tells the story of one girl's experience growing up in Africville, a small community of African Canadians on the shores of the Bedford Basin in Halifax. Twelve-year-old Selina is struggling with what it means to be the only Black student in her grade six class, but she takes comfort in her loving and vibrant neighbourhood. When city authorities appear, rumours begin to spread about the fate of her home.
–
Away Running, by David Wright and Luc Bouchard
Grade 6: Matt, a white quarterback from Montreal, Quebec, flies to France to play football where he meets Freeman, a black football player from San Antonio, Texas. Matt and Freeman join the Diables Rouges, a team playing American football in a rough, low-income suburb. They make friends with the other players, who come from many different ethnic groups. Racial tension erupts into riots, and when some of their Muslim teammates get in trouble with the police, Matt and Free have to decide whether to get involved and face arrest and violence.
–
Juvenile Non-Fiction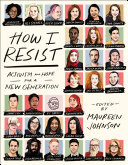 How I Resist: Activism and Hope for a New Generation, edited by Maureen Johnson
Grades 7 and up: A collection of essays, songs, illustrations, and interviews about activism and hope, How I Resist offers readers hope and support through voices that are at turns personal, funny, and instructive.
–
–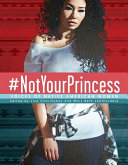 #NotYourPrincess, Edited by Lisa Charleyboy, Mary Beth and Leatherdale
Grades 6 and up: A collection of poems, essays, interviews, and art that combine to express the experience of being a Native woman.
–
–
–
Speaking Our Truth, by Gray Smith
Grades 4-7: This nonfiction book examines how we can foster reconciliation with Indigenous people at individual, family, community and national levels.
–
–
–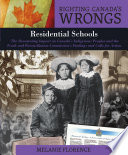 Righting Canada's Wrongs: Residential Schools: The Devastating Impact on Canada's Indigenous People and the Truth and Reconciliation Commission's Findings and Calls for Action, by Melanie Florence
Grades 8-12: Documents the history of residential schools in an accessible format for young people. Through historical photographs, documents, and first-person narratives from First Nations, Inuit, and Metis people who survived residential schools, this book provides an account of the injustice of this period.
–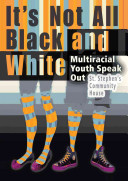 It's Not All Black and White: Multiracial Youth Speak Out, by St. Stephen's Community House
A group of young people describe being biracial, multiracial, or of mixed race. Themes include navigating mixed-race relationships, dealing with prejudice and the assumptions people make based on appearances, and working through identity confusion to arrive at a strong and positive sense of self.
–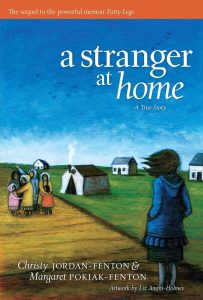 A Stranger at Home by Christy Jordan-Fenton
The true story of 10-year-old Margaret Pokiak's return home after two years at a residential school, highlighted by archival photos and artwork.
–
–
–
–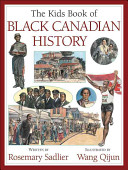 The Kids Book of Black Canadian History by Rosemary Sadler, illustrated by Wang Qijun
Grades 3-7: In this overview, kids will discover the inspiring stories and events of Black Canadians who have played an important role in Canada's history.
–
–
Brown Girl Dreaming by Jaqueline Woodson
Grades 4 and up: Through poetry, Jaqueline Woodson shares what it was like to grow up as an African American in the 1960s and 70s, living with the remnants of Jim Crow and her growing awareness of the Civil Rights Movement.
–
–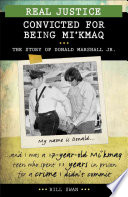 Real Justice: Convicted for Being Mi'Kmaq by Bill Swan
Grades 8 and up: Tells the story of Donald Marshall Jr's wrongful conviction, for which he spent 11 years in prison. Donald became a First Nations activist and was often referred to as the "reluctant hero" of the Mi'kmaq community.
–
–

The Black Power Salute: How a Photograph Captured a Political Protest, by Danielle Smith-Llera
Grades 5-7: A documentation of the story of two American athletes, who made history at the 1968 Summer Olympics when they staged a silent protest against racial injustice. A Life magazine photograph seen by millions would ensure that the silent protest was remembered as a symbol of the battle for equality and civil rights.
–
Finding more resources: 
To find more resources in this area, try the following:
Search using the General tab on the UBC Library website to look for material in all UBC Library branches.
Search using "Search Education Resources" box in the left hand bar on the Education Library website to limit your results to physical materials in the Education Library.
Use specific search terms to narrow your results, such as "racism", "social justice," "diversity", "activism" or "racial relations."
To find lesson plans, include "lesson plans", "lesson planning", or "activity programs" in your search terms.