Listed below are dual language picture books in French and English.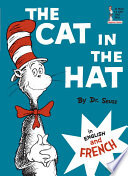 The Cat in the Hat= Le Chat au Chapeau, by Dr. Seuss
A zany but well-meaning cat brings a cheerful, exotic, and exuberant form of chaos to a household of two young children one rainy day while their mother is out. Perfect for teaching beginning readers simple, conversational French or English, the story is here on each page in the language the reader already knows, to guide him or her in the language they are learning. The repetition makes it ideal for learning new words, and the hilarious plot makes it easy to read again and again. Learning a new language has never been so much fun!
–
Little Red Hen and the Grains of Wheat, illustrated by Jago; French translation by Annie Arnold
The little red hen finds none of her lazy friends willing to help her plant, harvest, or grind wheat into flour, but all are eager to eat the bread she makes from it.
–
Le Foulard Qui Tourbillonne: The Swirling Hijaab, by Nilesh Mistry; French translation by Martine Michaelides
Enter the imaginary world of a little girl playing with her mother's hijaab. With a swirl of the hijaab, she is at once a brave warrior queen, an adventurous nomad in the desert, a beautiful bride, or inside a Bedouin tent.
–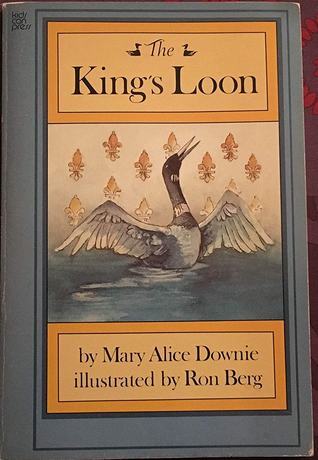 The King's Loon: Un Huart Pour le Roi, by  Mary Alice Downie; illustrated by Ron Berg
A young boy named Andre stows away on Count Frontenac's expedition to meet the Iroquois at Katarakoui. An adventure follows which almost leads Andre to the court of the Sun King in France. Kids Canada series.
–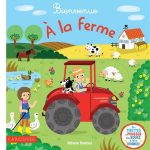 À la Ferme: At the Farm, Illustrated by Paul Davis
Every summer, John and George go to their grandfather's farm. There they have animals to play with, a colt to learn to ride, and plenty of things to keep them busy even on rainy days. English on the left-hand page and in French in matching positions on each right-hand page.
–
Finding More Resources
To find more Dual-Language (Bilingual) Picture books, try the following:
Search using the General tab on the UBC Library website to look for material in all UBC Library branches.
Choose Subject Terms from the drop down menu and type "bilingual"
On the next line, choose AND and find Subject Terms from the drop down menu again and type "fiction"
Click Search
To limit your results to materials in the Education Library, use "Search Education Resources" box in the left hand bar on the Education Library website and search for "bilingual" AND "fiction"
For bilingual books in French and English use the subject heading French language materials.
For more help with searching, please visit the Library Service Desk or e-mail ed.lib@ubc.ca.