Vous trouverez ci-dessous des livres d'images bilingues en français et en anglais, ainsi que des livres multilingues qui incluent le français.
Listed below are bilingual language picture books in French and English, and multilingual books which include French.
Livres bilingues – Bilingual Books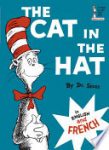 The Cat in the Hat= Le Chat au Chapeau,
by Dr. Seuss
A zany but well-meaning cat brings a cheerful, exotic, and exuberant form of chaos to a household of two young children one rainy day while their mother is out. Perfect for teaching beginning readers simple, conversational French or English, the story is here on each page in the language the reader already knows, to guide him or her in the language they are learning. The repetition makes it ideal for learning new words, and the hilarious plot makes it easy to read again and again. Learning a new language has never been so much fun!
Little Red Hen and the Grains of Wheat,
illustrated by Jago; French translation by Annie Arnold
The little red hen finds none of her lazy friends willing to help her plant, harvest, or grind wheat into flour, but all are eager to eat the bread she makes from it.

Le Foulard Qui Tourbillonne: The Swirling Hijaab,
by Nilesh Mistry; French translation by Martine Michaelides
Enter the imaginary world of a little girl playing with her mother's hijaab. With a swirl of the hijaab, she is at once a brave warrior queen, an adventurous nomad in the desert, a beautiful bride, or inside a Bedouin tent.
written by Alex Rider; illustrated by Paul Davis
Every summer, John and George go to their grandfather's farm. There they have animals to play with, a colt to learn to ride, and plenty of things to keep them busy even on rainy days. English on the left-hand page and in French in matching positions on each right-hand page.
My First Book of French words,
by Katy R. Kudela; translation by translations.com
How do you say hello in French? Explore the pages of this French English picture dictionary to learn new words and phrases. Colorful photographs and simple labels make learning French fun.
Livres multilingues – Multilingual Books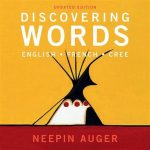 Discovering Words: English, French, Cree,
by Neepin Auger
Playful and bold, this dynamic series will educate and entertain preschoolers, parents, and teachers alike on the discover of words. In addition to the English words presented, the French and Cree equivalents are also given, making these some of the most dynamic and useful board books on the market, perfectly suitable for the classroom, library, and nursery.
Discovering People: English, French, Cree,
by Neepin Auger
Part of the series of Neepin Auger's board books focused on educating preschooler, parents, and teachers alike. Includes English words as well as French and Cree equivalents on the topic of people.

Discovering Animals: English, French, Cree,
by Neepin Auger
The third book in this colourful and unique series introduces preschool and kindergarten classrooms interested in learning English, French or Cree as a second language to everyday words related to animals, by using original and vibrant illustrations.

Discovering Numbers: English, French, Cree,
by Neepin Auger
Another book in Neepin Auger's series steeped in multilingual and bilingual support. This board book details numbers in Arabic numerals alongside English, French, and Cree translations for ease of learning.

Don't Move! = Ne bouge pas! = ¡No te muevas!,
by Anne-Sophie Tilly; Julien Chung; traducido por Yanitzia Canetti
Don't Move! is the companion book to Hurry Up, where simple one word pages and bold illustrations help multilingual and bilingual children learn common and uncommon animal names in English, French, and Spanish.
Hurry Up! = Dépêche-toi! = ¡Apúrate!,
by Anne-Sophie Tilly; Julien Chung; traducido por Yanitzia Canetti
With only one word per page, simple, bold illustrations, and a surprise ending this book can be used to expose toddlers to the names of animals in English, French, and Spanish. Those featured include common ones like lion or monkey, but there are also ones that may be new to children, like iguana or pink flamingo.
---
Finding More Resources
To find more Dual-Language (Bilingual) Picture books, try the following:
Search using the General tab on the UBC Library website to look for material in all UBC Library branches.
Choose Subject Terms from the drop down menu and type "bilingual"
On the next line, choose AND and find Subject Terms from the drop down menu again and type "fiction"
Click Search
To limit your results to materials in the Education Library, use "Search Education Resources" box in the left hand bar on the Education Library website and search for "bilingual" AND "fiction"
For bilingual books in French and English use the subject heading French language materials.
For more help with searching, please visit the Library Service Desk or e-mail ed.lib@ubc.ca.