Listed below are teacher resources, fiction and non-fiction picture books, middle grade and young adult books relevant to Black History in Canada and the United States.
Teacher Resources
I Have a Dream: Writings and Speeches that Changed the World by Martin Luther King, Jr.
Martin Luther King's twenty most memorable writings and speeches are presented in this concise and convenient book. The editor provides head notes for each selection that give a running history of the Civil Rights movement and related events.
.
.
Putting the Movement Back Into Civil Rights Teaching: A Resource Guide for Classrooms and Communities edited by Deborah Menkart, Alana D. Murray, & Janice L. View
A resource book that emphasizes the power of people through a diversity of stories, perspectives, essays, photographs, graphics, interviews, and interactive and interdisciplinary lessons. With sections on education, economic justice, citizenship, and culture, it connects the African-American Civil Rights Movement to Native American, Latina, Asian-American, gay rights, and international struggles; while highlighting the often-ignored roles of women in social justice movements.
.
Teaching the American Civil Rights Movement: Freedom's Bittersweet Song edited by Julie Buckner Armstrong and others
This book offers perspectives on presenting the civil rights movement in different classroom contexts, strategies to make the movement come alive for students, and issues highlighting topics that students will find appealing. Including sample syllabi and detailed descriptions from courses that prove effective, this work will be useful for all instructors, both college and upper level high school, for courses in history, education, race, sociology, literature and political science.
.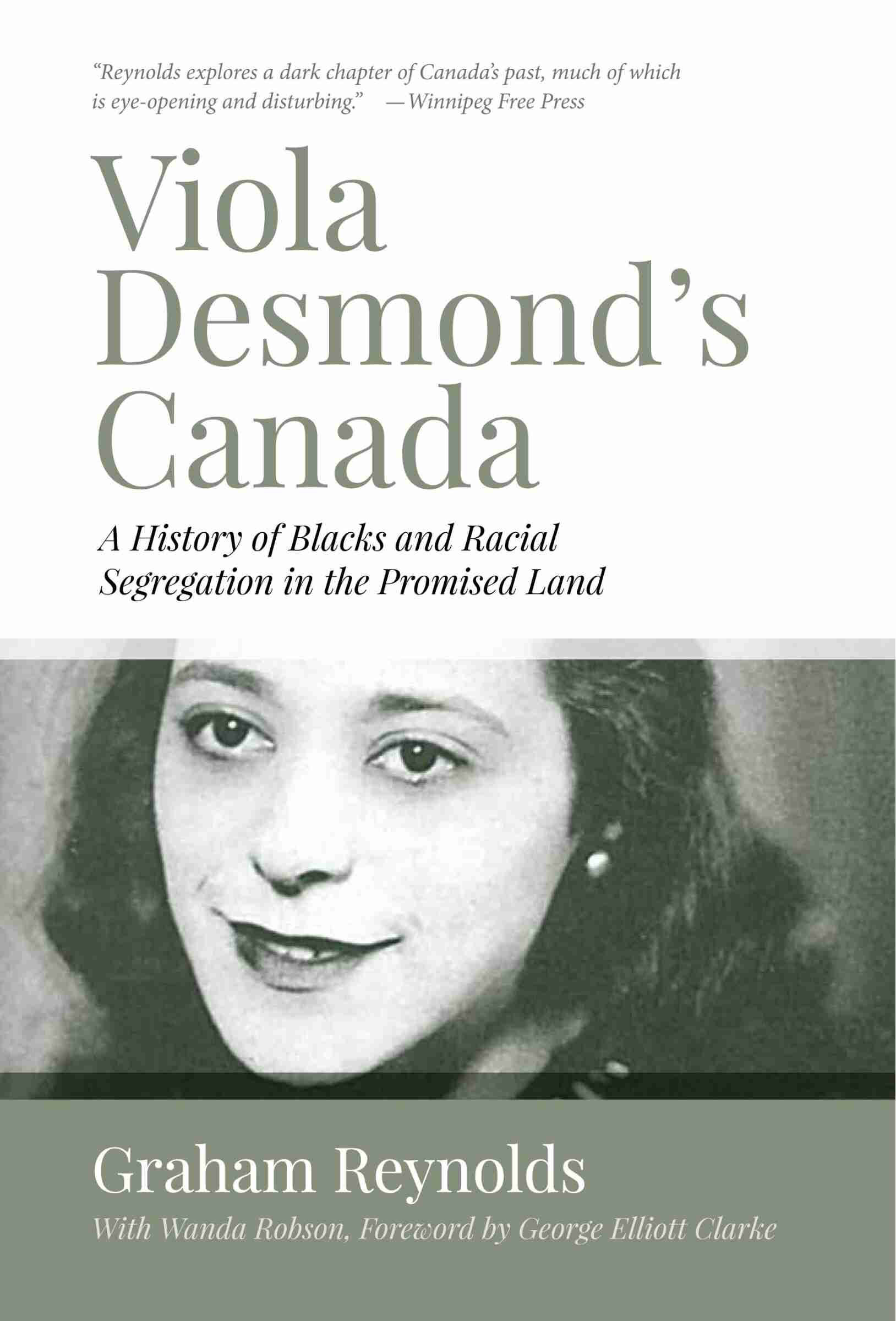 Viola Desmond's Canada: A History of Blacks and Racial Segregation in the Promised Land by Graham Reynolds with Wanda Robson
This book provides both general readers and students of Canadian history with a concise overview of the narrative of the Black experience in Canada, from slavery under French and British rule in the eighteenth century to the practice of racial segregation and the fight for racial equality in the twentieth century. Included are personal recollections by Wanda Robson, Viola Desmond's youngest sister, together with important but previously unpublished documents and other primary sources in the history of Blacks in Canada.
.
Picture Books
Africville by Shauntay Grant
When a young girl visits the site of Africville, in Halifax, Nova Scotia, the stories she's heard from her family come to mind. She imagines what the community was once like – the brightly painted houses nestled into the hillside, the field where boys played football, the pond where all the kids went rafting, the bountiful fishing, the huge bonfires.
.
A Change of Heart by Alice Walsh
Tragedy strikes the USS Truxtun one February night off the southeastern coast of Newfoundland, and Lanier is the lone black survivor of the terrible shipwreck. When he arrives onshore, the community's kindness and humanity bring him back to health and change his outlook on life.
.
Black Women Who Dared by Naomi M. Moyer
Short biographies of ten Black women from Canada and the United States, ranging from 1793 to the present. Anti-slavery activists, business women, community organizers, and educators; they were, and are, leaders committed to uplifting their communities.
.
Coretta Scott by Ntozake Shange
Poetry. The story of Coretta Scott and how she yearned for equality while experiencing the unfairness of segregation. She and Martin Luther King Jr. fight for change through nonviolent resistance. Beautifully detailed paintings coupled with poetic text honour the inspirational Coretta Scott.
.
.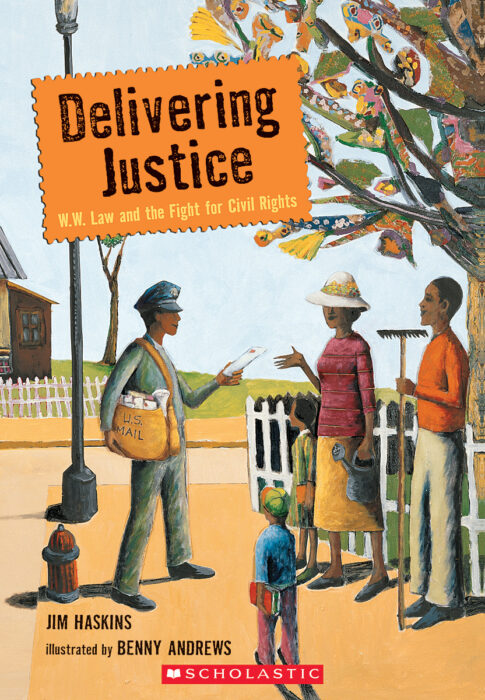 Delivering Justice: W.W. Law and the Fight for Civil Rights by Jim Haskins
This book is about the life of W.W. Law whose efforts to register black voters and lead a successful business boycott resulted in Savannah, Georgia, being the first city in the south to end racial discrimination. Each section of text has a heading, which makes the story easier to follow along.
.
Famous Black Canadians by Ramona Heikel
This information book discusses the life and accomplishments of Black Canadians from Canada's earliest days to the present, exploring the struggles that many early settlers faced, and the continuing struggle for equal treatment. It is a part of a series on Black History in Canada by Coast 2 Coast 2 Coast.

.
The First Lady of Civil Rights: Rosa Parks by Bruce Bednarchuk
The illustrated song text tells the story of the African American woman Rosa Parks, who in 1955 refused to give up her bus seat and became "the first lady of civil rights." Includes glossary, sheet music, CD, and activity questions.
.
Hidden Figures: The True Story of Four Black Women and the Space Race by Margot Lee Shetterly with Winifred Conkling
Four intelligent and persistent African American mathematicians, Katherine, Dorothy, Mary, and Christine, accomplished the math for NASA that would one day send the United States into space for the very first time.
.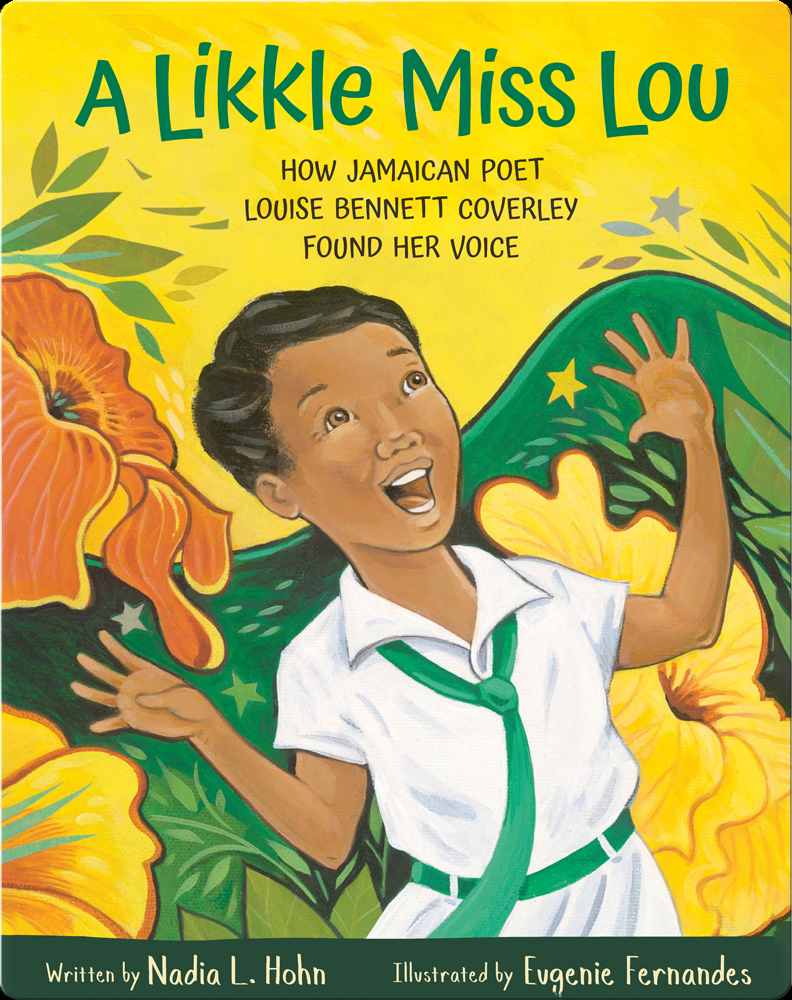 A Likkle Miss Lou: How Jamaican Poet Louise Bennett Coverley Found Her Voice by Nadia L. Hohn
The story of Young Miss Lou who struggled to find her voice and eventually became an iconic poet and entertainment in Jamaica's cultural legacy. Includes a brief biography of Miss Lou and a glossary to help readers less familiar with Jamaican Patois.
.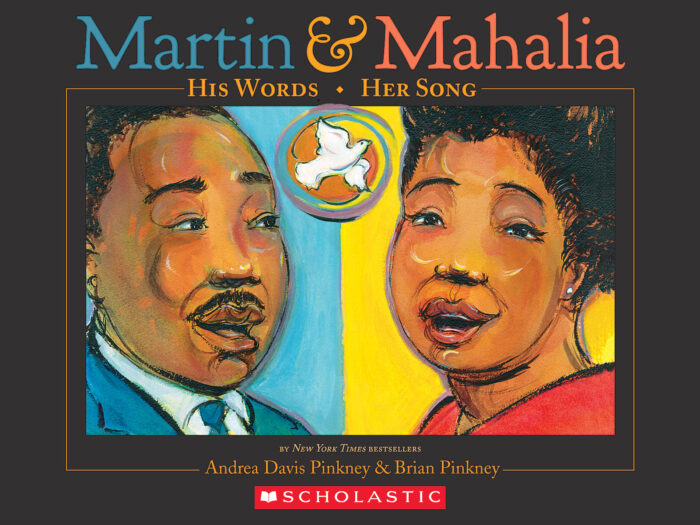 Martin & Mahalia: His Words, Her Song by Andrew Davis Pinkney & Brian Pinkney
Explores the intersecting lives of civil rights leader Martin Luther King, Jr. and gospel singer Mahalia Jackson at the historic moment when their joined voices inspired landmark changes. Back matter includes further information, including a timeline and other resources.

.
Moses: When Harriet Tubman Led Her People to Freedom by Carole Boston Weatherford
Based on the spiritual journey of Harriet Tubman as she hears the voice of God guiding her north to freedom on that very first trip to escape the brutal practice of forced servitude.
.
Nina: A Story of Nina Simone by Traci N. Todd
This biography tells about the life of Nina Simone, an African American musician born in 1933 by the name of Eunice Kathleen Waymon. She became well recognized for her piano skills, but was discriminated for being Black. During the Civil Rights Movement, her music became iconic as she wrote songs of protest and fought for freedom with her lyrics.
.
The Stone Thrower by Jael Ealey Richardson
Describes the childhood of Chuck Ealey, who dreamed of becoming a football quarterback despite the prejudices he faced as an African American.
.
The Undefeated by Kwame Alexander
Poetry. Originally performed for ESPN's The Undefeated, this poem is a love letter to black life in the United States. It highlights the unspeakable trauma of slavery, the faith and fire of the civil rights movement, and the grit, passion, and perseverance of some of the world's greatest heroes. Back matter provides historical context and additional detail for those wishing to learn more.
.
Unspeakable: The Tulsa Race Massacre by Carole Boston Weatherford
On May 31 and June 1, 1921, an armed mob looted homes and businesses as Black families fled. The police did nothing to protect Greenwood, and as many as three hundred African Americans were killed, most buried in unmarked graves. Thousands were left homeless. No official investigation occurred until seventy-five years later. Unspeakable helps young readers understand the events of the Tulsa, Oklahoma race massacre, one of the worst incidents of racial violence in our nation's history
.
Viola Desmond Won't Be Budged! by Jody Nyasha Warner
In 1946 with racial segregation, Viola Desmond went to see a movie at the theatre when the Caucasian staff demanded her to move to the balcony, but Viola stood her ground on the main floor. The aftermath led to Viola's unjust trial and other battles against racism, but her courage and persistence empowered many African Canadians to fight for their rights.
.
We Wait for the Sun by Dovey Johnson Roundtree & Katie McCabe
Autobiography. The late Civil Rights attorney and activist shares a poignant moment from her childhood beside her wise grandmother, who taught Roundtree the values of self-worth, strength and justice that inspired the co-author's boundary-breaking career.
.
The Youngest Marcher: The Story of Audrey Faye Hendricks, a Young Civil Rights Activist by Cynthia Levinson
Meet nine-year-old Audrey Faye Hendricks, the youngest known child to be arrested for a civil rights protest in Birmingham, Alabama, 1963. This inspirational story shows you're never too little to make a difference.
.
Middle Grade and Young Adult Books
Brown Girl Dreaming by Jacqueline Woodson
Poetry. Raised in South Carolina and New York, Woodson always felt halfway home in each place. In vivid poems, she shares what it was like to grow up as an African American in the 1960s and 1970s, living with the remnants of Jim Crow and her growing awareness of the Civil Rights movement.
.
.
Claudette Colvin: Twice Toward Justice by Phillip Hoose
Presents the life of the 15-year-old Alabama teenager, Claudette Colvin, who played an integral role in the Montgomery bus strike, once by refusing to give up a bus seat, and again, by becoming a plaintiff in the landmark civil rights case against the bus company. Interspersed with photographs and text features for an immersive and engaging read.

.
.
Freedom Summer: The 1964 Struggle for Civil Rights in Mississippi by Susan Goldman Rubin
An account of the civil rights crusade in Mississippi 50 years ago that brought on shocking violence and the beginning of a new political order. Interspersed with photographs, the chapters follow the timeline of the events making the book easy to follow along.

.
Hand in Hand: Ten Black Men Who Changed America by Andrea Davis Pinkney & Brian Pinkney
Presents the stories of ten African-American men from different eras in American history, organized chronologically to provide a scope from slavery to the modern day.
.
.
Heart and Soul: The Story of America and African Americans by Kadir Nelson
A simple introduction to African-American history, from Revolutionary-era slavery up to the election of President Obama. This large book is adorned with awe-inspiring paintings on each page with easy-to-understand text.
.
I Came As A Stranger: Underground Railroad by Bryan Prince
A powerful history and a valuable guide to sites and communities that commemorate the courage and suffering of a time not so very long ago. Contains many black and white photographs, a timeline, and suggested further reading.
.
.
The Kids Book of Black Canadian History by Rosemary Sadlier
From the first Black person who came to Canada about 400 years ago to the most recent wave of African immigrants, Black Canadians have played an important role in our country"s history. In this informative overview, kids will discover the inspiring stories and events of a people who fought oppression as they searched for a place to call their own. Featuring fact boxes, mini-profiles, a timeline and more, this book in the acclaimed Kids Book of series offers a glimpse into an often-overlooked part of Canadian history.
.
Martin Luther King Jr. by Laurie Calkhoven
Biography for kids ages 8-12 about MLK – from his early family life and experiences in education, to his untimely death and the worldwide mourning and riots that followed. Filled with photographs, illustrations, definition boxes, information sidebars, fun facts, maps, inspiring quotes, and other nonfiction text features engaging for young learners.

.
The Mighty Miss Malone by Christopher Paul Curtis
With love and determination befitting the "world's greatest family," twelve-year-old Deza Malone, her older brother Jimmie, and their parents endure tough times in Gary, Indiana, and later Flint, Michigan, during the Great Depression. An inspiring and engaging fictional story with a focus on family, poverty, and a great heroine.

.
This Promise of Change: One Girl's Story in the Fight for School Equality by Jo Ann Allen Boyce and Debbie Levy
In 1956, 14-year-old Jo Ann Allen was one of twelve African-American students who broke the color barrier and integrated Clinton High School in Tennessee. This is the heartbreaking and relatable story of her four months thrust into the national spotlight and as a trailblazer in history. Based on original research and interviews and featuring back matter with archival materials and notes from the authors on the co-writing process.
.
We Are One: The Story of Bayard Rustin by Larry Dane Brimmer
Captures a story of passion, courage, and triumph through Bayard's own words and archival photographs, and through spirituals and protest songs that Bayard often sang. The book contains large text, numerous images, and thorough information without being too dense.

.
We've Got a Job: The 1963 Birmingham Children's March by Cynthia Levinson
Discusses the events of the 4,000 African American students who marched to jail to secure their freedom in May 1963. Combining extensive research and in-depth interviews with protestors, the author recreates the events of the Birmingham's Children's March from a new and personal perspective, with large text and numerous images.

–
Finding more resources: 
To find more resources in this area, try the following:
Search using the General tab on the UBC Library website to look for material in all UBC Library branches.
Search using "Search Education Resources" box in the left hand bar on the Education Library website to limit your results to physical materials in the Education Library.
Use specific search terms to narrow your results, such as "Black Canadians" or Black history in Canada.
To find lesson plans, include "lesson plans", "study and teaching", or "activity programs" in your search terms.