May is Asian Heritage Month in Canada. Celebrate with these picture books by Asian Canadian authors and/or illustrators:
Picture Books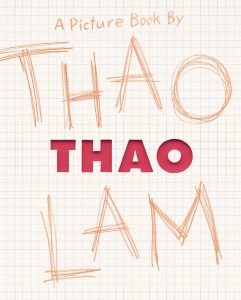 "Thao" seems like a simple enough name. Only four letters–all of them belonging to many other names! And yet Thao had been called everything from "Tail" to "Theo" to "Towel." At one point, completely fed up, she decided it was time to try another name. Something "easy." Something like "Jennifer." But trying to be someone else only works for so long. And eventually "Jennifer" is swayed back to being herself when she opens her lunchbox and finds her mother has packed her Gȯi cuõn (also known as Vietnamese spring rolls)! Thao's favourite! Her name is pronounced "Tow" like the English word "how." While simple on the surface, this story of cultural assimilation and celebration of cultural pride runs deep. It is a personal one for Thao. And it will strike a chord with readers who have struggled to fit within a mainstream mold–then realized it was just more comfortable to be themselves. Visually, this book will also be a personal reflection of Thao in that she will be incorporating childhood photos into her usual cut-paper collage style! She has also opted to minimize the number of illustrations and instead play with type and typography as a way to highlight her name–and the many variations of it that appear in the book!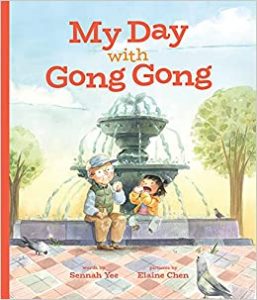 My Day With Gong Gong words by Sennah Yee; pictures by Elaine Chen
A day in Chinatown takes an unexpected turn when a bored little girl makes a connection with her grandpa. May isn't having fun on her trip through Chinatown with her grandfather. Gong Gong doesn't speak much English, and May can't understand Chinese. She's hungry, and bored with Gong Gong's errands. Plus, it seems like Gong Gong's friends are making fun of her! But just when May can't take any more, Gong Gong surprises her with a gift that reveals he's been paying more attention than she thought. With lighthearted, expressive illustrations by Elaine Chen, this charming debut expertly captures life in the city and shows how small, shared moments of patience and care–and a dumpling or two–can help a child and grandparent bridge the generational and cultural gaps between them. A glossary at the end of the book features translations of the Chinese words from the story into Chinese characters and English.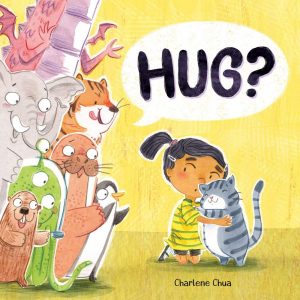 Hug? by Charlene Chua
A little girl finds herself giving hug after hug until, all of a sudden, she's had enough!
How many hugs is too many? After coughing up a hairball, a girl's cat doesn't feel well. She gives her cat a hug, which makes the cat feel much better. A dog notices and asks for a hug, too. And then some ducks come along. And a skunk . . . and a bear — and a porcupine! One animal after another asks the girl for a hug until she's simply had enough. How much more of this can she take? Sometimes a hug is just what you need. And sometimes, it's just NOT!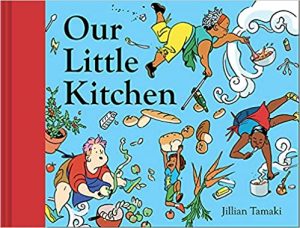 Our little kitchen by Jillian Tamaki
Tie on your apron! Roll up your sleeves!
Pans are out, oven is hot, the kitchen's all ready!
Where do we start?
In this lively, rousing picture book from Caldecott Honoree Jillian Tamaki, a crew of resourceful neighbors comes together to prepare a meal for their community. With a garden full of produce, a joyfully chaotic kitchen, and a friendly meal shared at the table, Our Little Kitchen is a celebration of full bellies and looking out for one another. Bonus materials include recipes and an author's note about the volunteering experience that inspired the book.
The Barnabus Project by Terry, Eric & Devin Fan
In a world built for Perfect Pets, Barnabus is a Failed Project, half mouse, half elephant, kept out of sight until his dreams of freedom lead him and his misfit friends on a perilous adventure. A stunning picture book from international bestsellers The Fan Brothers, joined by their brother Devin Fan.
Deep underground beneath Perfect Pets, where children can buy genetically engineered "perfect" creatures, there is a secret lab. Barnabus and his friends live in this lab, but none of them is perfect. They are all Failed Projects. Barnabus has never been outside his tiny bell jar, yet he dreams of one day seeing the world above ground that his pal Pip the cockroach has told him about: a world with green hills and trees, and buildings that reach all the way to the sky, lit with their own stars. But Barnabus may have to reach the outside world sooner than he thought, because the Green Rubber Suits are about to recycle all Failed Projects . . . and Barnabus doesn't want to be made into a fluffier pet with bigger eyes. He just wants to be himself. So he decides it's time for he and the others to escape. With his little trunk and a lot of cooperation and courage, Barnabus sets out to find freedom — and a place where he and his friends can finally be accepted for who they are.
This suspenseful, poignant, and magical story about following your dreams and finding where you truly belong will draw readers into a surreal, lushly detailed world in which perfection really means being true to yourself and your friends.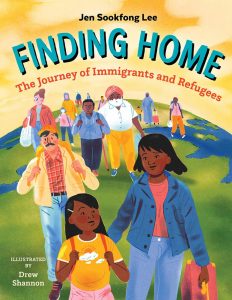 Finding Home: The Journey of Immigrants and Refugees by Jen Sookfong Lee; illustrated by Drew Shannon.
What drives people to search for new homes? From war zones to politics, there are many reasons why people have always searched for a place to call home. In Finding Home: The Journey of Immigrants and Refugees we discover how human migration has shaped our world. We explore its origins and the current issues facing immigrants and refugees today, and we hear the first-hand stories of people who have moved across the globe looking for safety, security, and happiness. Author Jen Sookfong Lee shares her personal experience of growing up as the child of immigrants and gives a human face to the realities of being an immigrant or refugee today.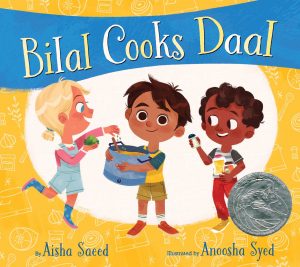 Bilal Cooks Daal by Aisha Saeed; illustrated by Anoosha Syed (Illustrator is Pakistani-Canadian)
Six-year-old Bilal is excited to help his dad make his favorite food of all-time: daal! The slow-cooked lentil dish from South Asia requires lots of ingredients and a whole lot of waiting. Bilal wants to introduce his friends to daal. They've never tried it! As the day goes on, the daal continues to simmer, and more kids join Bilal and his family, waiting to try the tasty dish. And as time passes, Bilal begins to wonder: Will his friends like it as much as he does?
This debut picture book by Aisha Saeed, with charming illustrations by Anoosha Syed, uses food as a means of bringing a community together to share in each other's family traditions.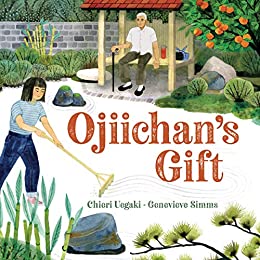 Ojiichan's gift by Chieri Uegaki; illustrated by Genevieve Simms
A heartwarming story about the relationship between a girl and her grandfather.
When Mayumi was born, her grandfather built her a garden. It had no flowers or vegetables in it. Instead, Ojiichan made it out of stones: "big ones, little ones, and ones in-between." Every summer, Mayumi visits her grandfather in Japan, and they tend the garden together. Raking the gravel is her favorite part. But then one summer, everything changes. Ojiichan has grown too old to care for his home and the garden. He has to move. Can Mayumi find a way to keep the memory of their garden alive?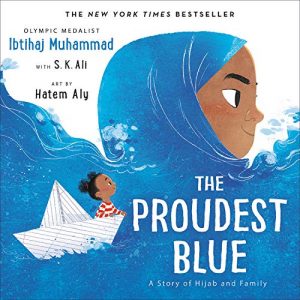 The Proudest Blue: A Story of Hijab and Family by Ibtihaj Muhammad; with S. K. Ali; art by Hatem Aly
(co-author S.K. Ali is Indian-Canadian)
A powerful, vibrantly illustrated story about the first day of school–and two sisters on one's first day of hijab–by Olympic medalist and social justice activist Ibtihaj Muhammad.
With her new backpack and light-up shoes, Faizah knows the first day of school is going to be special. It's the start of a brand new year and, best of all, it's her older sister Asiya's first day of hijab–a hijab of beautiful blue fabric, like the ocean waving to the sky. But not everyone sees hijab as beautiful, and in the face of hurtful, confusing words, Faizah will find new ways to be strong.
Paired with Hatem Aly's beautiful, whimsical art, Olympic medalist Ibtihaj Muhammad and Morris Award finalist S.K. Ali bring readers an uplifting, universal story of new experiences, the unbreakable bond between siblings, and of being proud of who you are.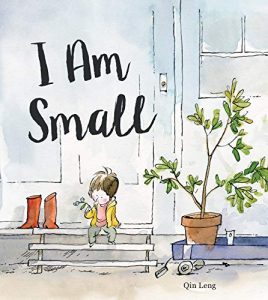 I Am Small by Qin Leng
With beautifully composed watercolor illustrations, Qin Leng recalls her own childhood in this story about a little girl who has always been the smallest: smallest of the family, smallest in school, smallest in a crowd. The girl faces her own set of challenges, but her loving parents and an unexpected visitor might change her perception for good.
A very big story about a very small girl. Mimi is so much littler than everyone, –I might as well be called Mini," she says. Everyone is taller than her, even the family dog! Though there are advantages ã like fitting into the best hiding places ã to Mimi, being small is the worst. But then one day, a surprise shows up at home. A very little surprise. And Mimi begins to realize that being little is just a matter of perspective. The perfect book for any child trying to find their place in the world.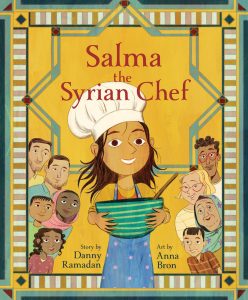 Salma the Syrian chef story by Danny Ramadan; art by Anna Bron
Newcomer Salma and friends cook up a heartwarming dish to cheer up Mama. All Salma wants is to make her mama smile again. Between English classes, job interviews, and missing Papa back in Syria, Mama always seems busy or sad. A homemade Syrian meal might cheer her up, but Salma doesn't know the recipe, or what to call the vegetables in English, or where to find the right spices! Luckily, the staff and other newcomers at the Welcome Center are happy to lend a hand–and a sprinkle of sumac. With creativity, determination, and charm, Salma brings her new friends together to show Mama that even though things aren't perfect, there is cause for hope and celebration.
Syrian culture is beautifully represented through the meal Salma prepares and Anna Bron's vibrant illustrations, while the diverse cast of characters speaks to the power of cultivating community in challenging circumstances.
They say blue by Jillian Tamaki
In captivating paintings full of movement and transformation, Tamaki follows a young girl through a year or a day as she examines the colors in the world around her. Egg yolks are sunny orange as expected, yet water cupped in her hands isn't blue like they say. But maybe a blue whale is blue. She doesn't know, she hasn't seen one. Playful and philosophical, They Say Blue is a book about color as well as perspective, about the things we can see and the things we can only wonder at.
This first picture book from celebrated illustrator Jillian Tamaki will find equal appreciation among kids and collectors.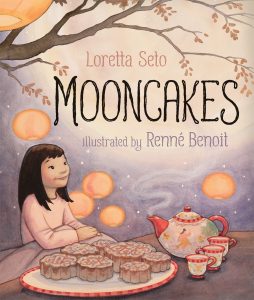 Mooncakes by Loretta Seto; illustrated by Renné Benoit
Mooncakes is the lyrical story of a young girl who shares the special celebration of the Chinese Moon Festival with her parents. As they eat mooncakes, drink tea and watch the night sky together, Mama and Baba tell ancient tales of a magical tree that can never be cut down, the Jade Rabbit who came to live on the moon and one brave woman's journey to eternal life. With a gentle focus on the importance of family, Mooncakes is a perfect book for parent and child to read together, while its educational aspect makes it ideal for school libraries that wish to provide an insight into a unique cultural holiday.