We are excited to announce an upcoming symposium on June 10, 2019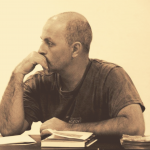 Invited Speaker: Dr. Walter Kohan, Professor of Philosophy of Education at the State University of Rio de Janeiro. 

This session is titled after Dr. Kohan's book, Paulo Freire: More than Ever?!, which will address the impossibility of education, time, and emancipation. Please see attached flyer for more information. 

We look forward to seeing you on Monday, June 10th from 2:00-4:00 pm at Scarfe 310.