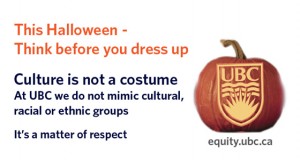 Halloween is easily one of my favourite holidays of the year. However cultural appropriation is no fun, and should be taken very seriously.
On the theme of Halloween outfits – here is a good piece by Hannah Barath, a student assistant from UBC Access  & Diversity:
Hip vs Horrible Halloween Outfits 
And if you're unsure whether or not if your costume is racist, here's a piece by Kat Lazo of Everyday Feminism.
The UBC Equity & Inclusion Office can connect you to more resources on how to be respectful of other people's cultures, especially during this time of year.