Robot Made 2022: Mille-feuille Pavilion
The Mille-feuille Pavilion is a robotically fabricated temporary pavilion installed at the University of British Columbia. The pavilion is the result of a workshop hosted by the School of Architecture and Landscape Architecture (SALA) and the Centre for Advanced Wood Processing (CAWP). The workshop took place from June 4-8, 2022 and was led by Assistant Professor David Correa of the University of Waterloo, Oliver David Krieg of Intelligent City, and Associate Professor AnnaLisa Meyboom from UBC SALA.
The installation explores how complex shapes can be designed and built using a traditional material such as wood. Wood has traditionally been used in hierarchically arranged straight sections however wood is a material that is easily machined into a diversity of shapes and its' material characteristics also allow it to be elastically bent.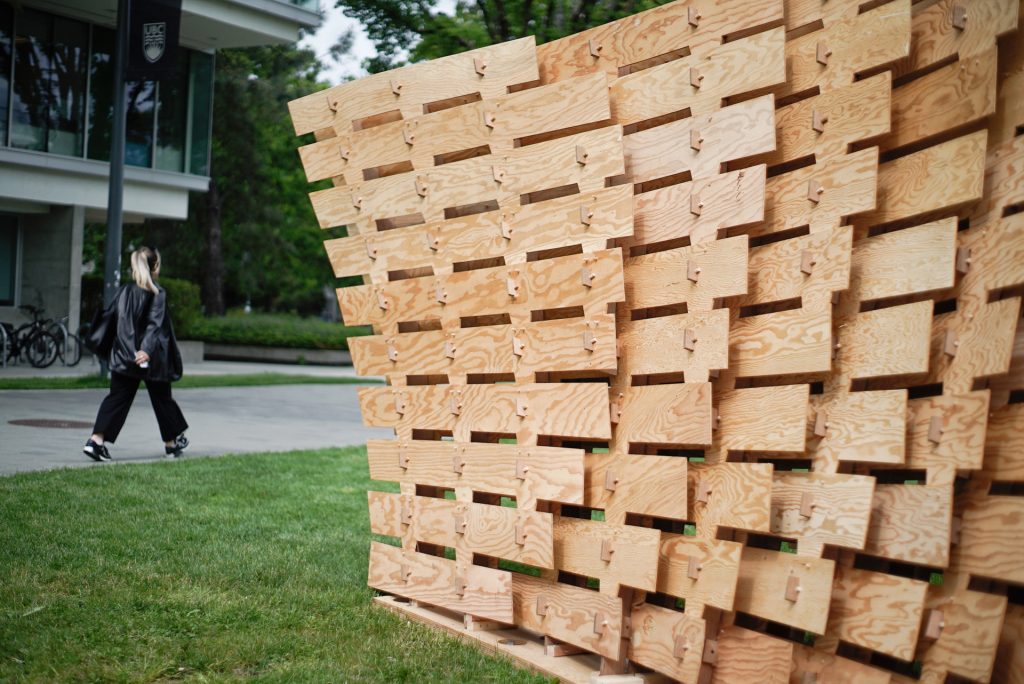 Millefeuille investigates the idea of laminating a structure once the structure curves more than the natural bending radius of the material it is made with. Many engineered wood products are created using lamination. The lamination allows smaller elements to be assembled to create a larger element and also allows the grain of wood to be customized to the desired structural behaviour. Lamination has also been used to produce curvature – as in curved plywood chairs by Eames. This structure laminates at a larger scale: planks are bent along a control line and once the structure curves more than the natural bending radius of the material it is made with, the structure adds a lamination on the side to continue the curvature and meet the desired curvature of the base plane. Laminations in this case are created using only wood connections, with connection shear blocks and moisture activated dowels.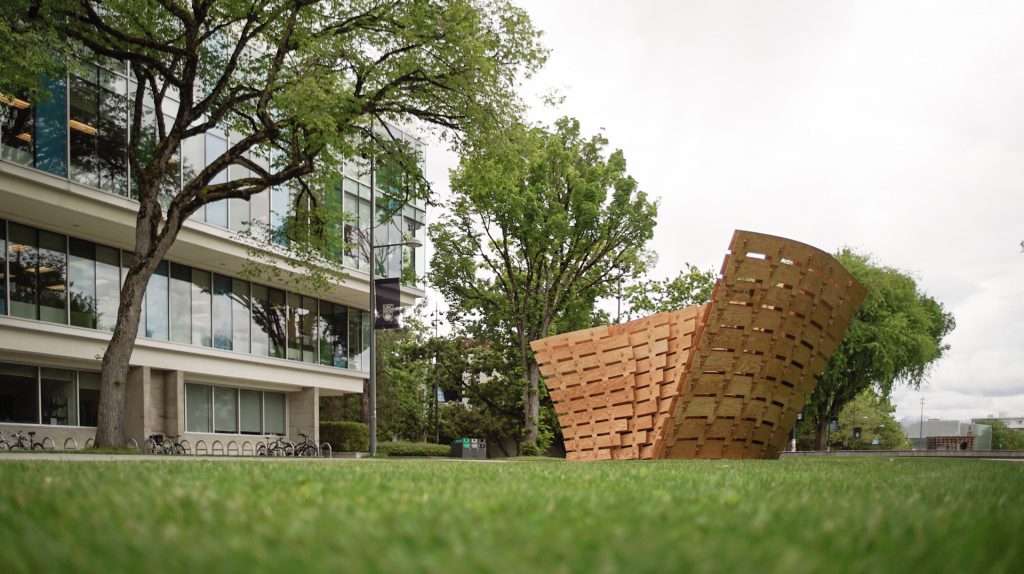 Starting with parametric design tools, structural principles for wood construction, robotic CNC milling and digital workflow management, workshop participants were provided with a unique insight into the new opportunities and challenges of advanced design-to-fabrication processes for timber structures. Parametric design and robotic fabrication are disruptive new technologies in architecture that allow us to build high performance structures of unprecedented formal complexity. Wood is a natural partner for these technologies because of the ability to easily mill and shape it with robotically controlled cutting tools. Wood is also highly sustainable – not only is it a renewable resource but it also stores carbon – making it one of the most sustainable building materials in the world. This experimental structure demonstrates the new capabilities of the technology to develop innovative material applications that harness the unique properties of wood to animate public spaces.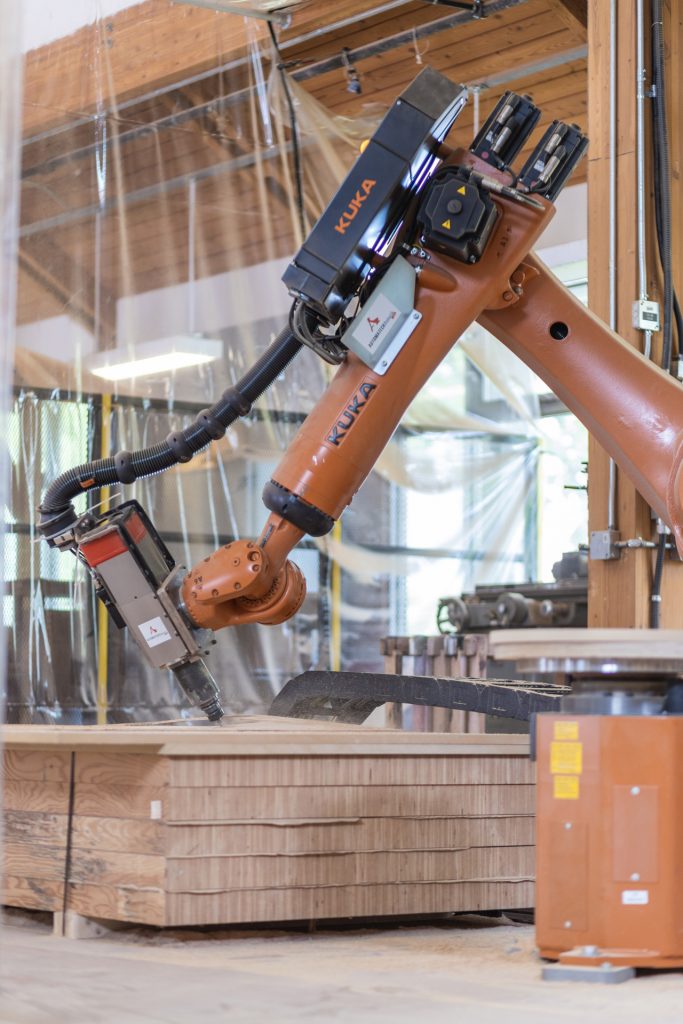 Fabricated and assembled over three days, the pavilion is conceived as an adaptable design-to-fabrication system that can be customized to suit local material availability and fabrication tools. The output geometry also included enough detail to give instructions on the placement of every subsequent piece, thus allowing assembly to proceed very quickly. Built using the state-of-the-art eight-axis industrial robot at CAWP, the pavilion demonstrates how old materials and new technologies can reshape our built environment.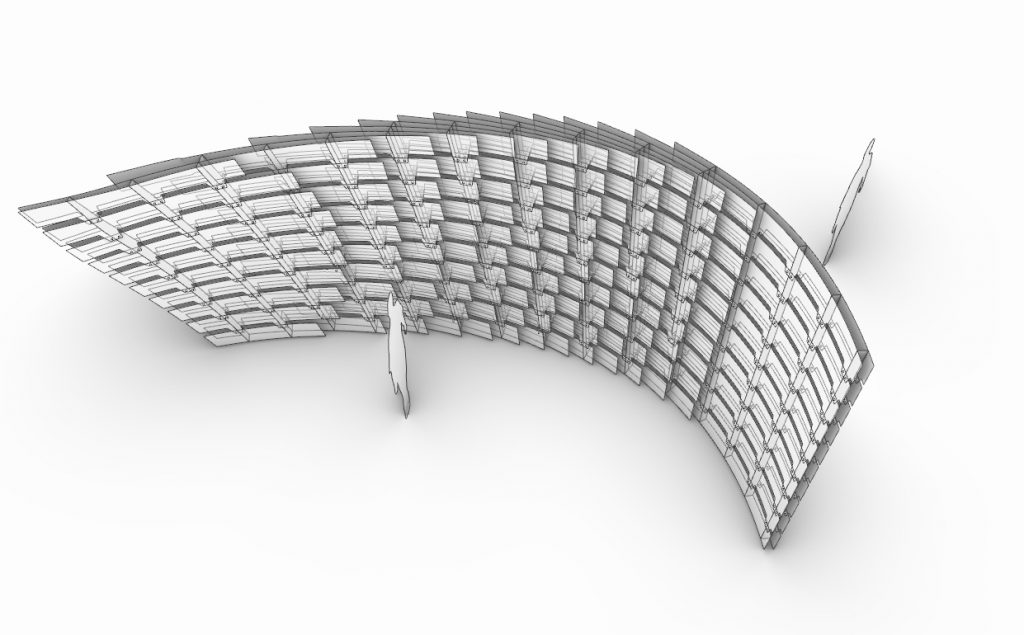 Design & Development
David Correa
University of Waterloo: uwaterloo.ca/architecture/people-profiles/david-correa
llLab. – Design Laboratory: www.lllab.net
Oliver David Krieg
Intelligent City: www.intelligent-city.com
odk.design: www.odk.design
AnnaLisa Meyboom
UBC SALA: sala.ubc.ca/people/faculty/annalisa-meyboom
UBC Project Leads
Jason Chiu
Brandon Chan
Claudia Ediger
Lief Eriksen
UBC Centre for Advanced Wood Processing: http://cawp.ubc.ca/
Built by
 Student Participants:
Kenneth Anggara
Nora Boone
Meena Chowdhury
Adrian Chiu
Sarah Garland
Marina Ibrahim
David Kalman
Nicholas Krahn
Sahar Kazemeini
Yuxiang Liu
Isabelle  Luisser
Aïden Mézidor
Lorena Polovina
Sarah Pitoscia
Changwei Qiu
Esraa Saad
Tyler Solu
Piero Sovrani
Jay Starnino
Carissa Tzeng
Industry Participants:
Marc-Antoine Chartier-Primeau – 3XN Architects /GXN InnovationJesse Cotey
Kurt Drachenberg – Fast + Epp structural engineering
Dave Dunn – BCIT
Tobias Fast – Fast + Epp structural engineering
Eytan Fiszman – Fast + Epp structural engineering
Michael Frazier – Christine Lintott Architects Inc.
Ben Hayward
Greg Hoffart – Tree Construction Inc.
Alan Hung
Ainsley Jackson
Breena Jackson – BCIT
Danny Jacobsen – Fast + Epp structural engineering
Katherine Kovalcik – MGA | Michael Green Architecture
Nazlee Markowsky – studioHuB architects
Sebastien Sarrazin – Perkins & Will
Esaly Wu
Billy Ying Wai Ma
Dazhong Yi – IBI Group
Teaching Assistants:
Julieta Alva
Maverick Chan
Angela Gmeinweser
Parastoo Varshosaz
Funding
Forest Industry Innovation
Support:
UBC School of Architecture & Landscape Architecture
UBC Faculty of Forestry
UBC Campus & Community Planning
Film Production
Shabaan Khokhar