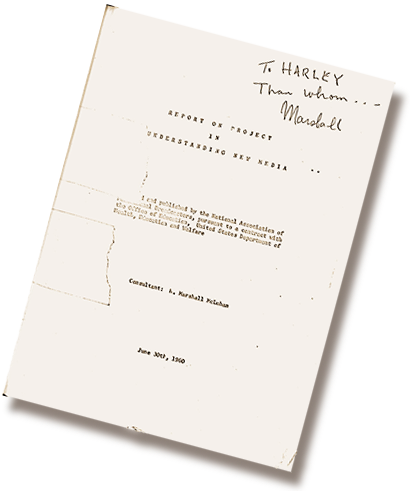 This two-volume text was commissioned by the National Association of Educational Broadcasters. In the opening paragraph, McLuhan refers to it as "Project 69," and memorably explains its purpose as follows:
Project 69 in Understanding Media proposed to provide an approach to media and a syllabus for teaching the nature and effects of media in secondary schools. A new tactic was used, namely to consider not so much the constituents nor the "content" of media, as their effects. I therefore raise the question at once: "Why have the effects of media, whether speech, writing, photography or radio, been overlooked by social observers through the past 3500 years of the Western world?"
In the cryptic note at the top right (on p. 2), McLuhan writes to Harley Parker, with whom he later co-authored Through the Vanishing Point: Space in Poetry and Painting (1968) and Counterblast (1969). Parker also appears with McLuhan in the 28 min 1969 film Picnic in Space, directed by Bruce Bacon.
This text reflects McLuhan's then-coalescing thought as it relates to both education and to multiple media forms; and the text serves as relatively direct and clearly-written precursor for the 1964 Understanding Media.
The full text of this report is available as a 7.5 Mb PDF file.