April – May
Cocinando en Canadá is ready to go!
Cookbook and food skills for newcomers, based on Cooking in Canada. Food Skills for Families by the Canadian Diabetes Association.
Project done by 54 students from the Spanish 302 class Community Based Language Learning option and Spanish 402 and 365 sutdents volunteers coordinated by  instructors, Olga Albarrán Caselles, Maria Carbonetti (Spanish 302, sections 201 and 202) and Maria Adelaida Escobar Trujillo (volunteer coordinator). The book is ready to go for the course in Spanish on food skills  for families at Little Nountain Neighbourhood House starting on Saturday, May 11th running until the end of June. Stay tunned for news and reports from Kata, Gagan, Lorantiya and Liz, our students that will be also on site to assist participants and Mariana Gassmann, the teacher.
Would you like to take a pick? Click the image and access the document: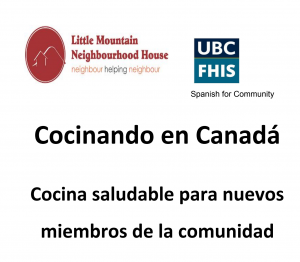 Felicitaciones!
Chanel Larrabure – AndreaAtanacio – Leticia Vianna -Jiyoun Le e- Elena Munk – SafiyaAyhen – Kiana Olafson -MariposaCasida – Joan Wong – Diego Lasner​-​Amy Marleau – Kelly O'Keefe – Helen Koenig- Esmé Graziani- Katerina Viskotova  – Nicolas Harrington – Larissa Ruiz – Zach Kaurgialis – Jenny Kwak – Rebecca Roth – Jackie Molnar – Andrea Fast – Amy Isak- Ryan Saunders – Shoshana Cooper – Stephanie Kletas -Ragini Jain – Tom Chang -Kathryn Leach – Hanna Mosher- Jessica Maddox – Hari Lavalle- Elise Juncker – Liz Vermunt- Stephanie Steevie – Madeleine Deis- Julia Bowman – Lucero Rivas – Sarrah Virji – Brenda González- Aleksandra Kucinar – Stephanie Scheufler Santoro – Daniela Lobato – Sofia Gray – Laurel Neufeld – Blakely Browne – Justin Engel – Sebastian Lee – Misa Gillis -Pamela Lozano – Joshua Douglas – Justine Engel – Brodie Kuzmuk -Laura Worang –
___________________________________________________________________________________________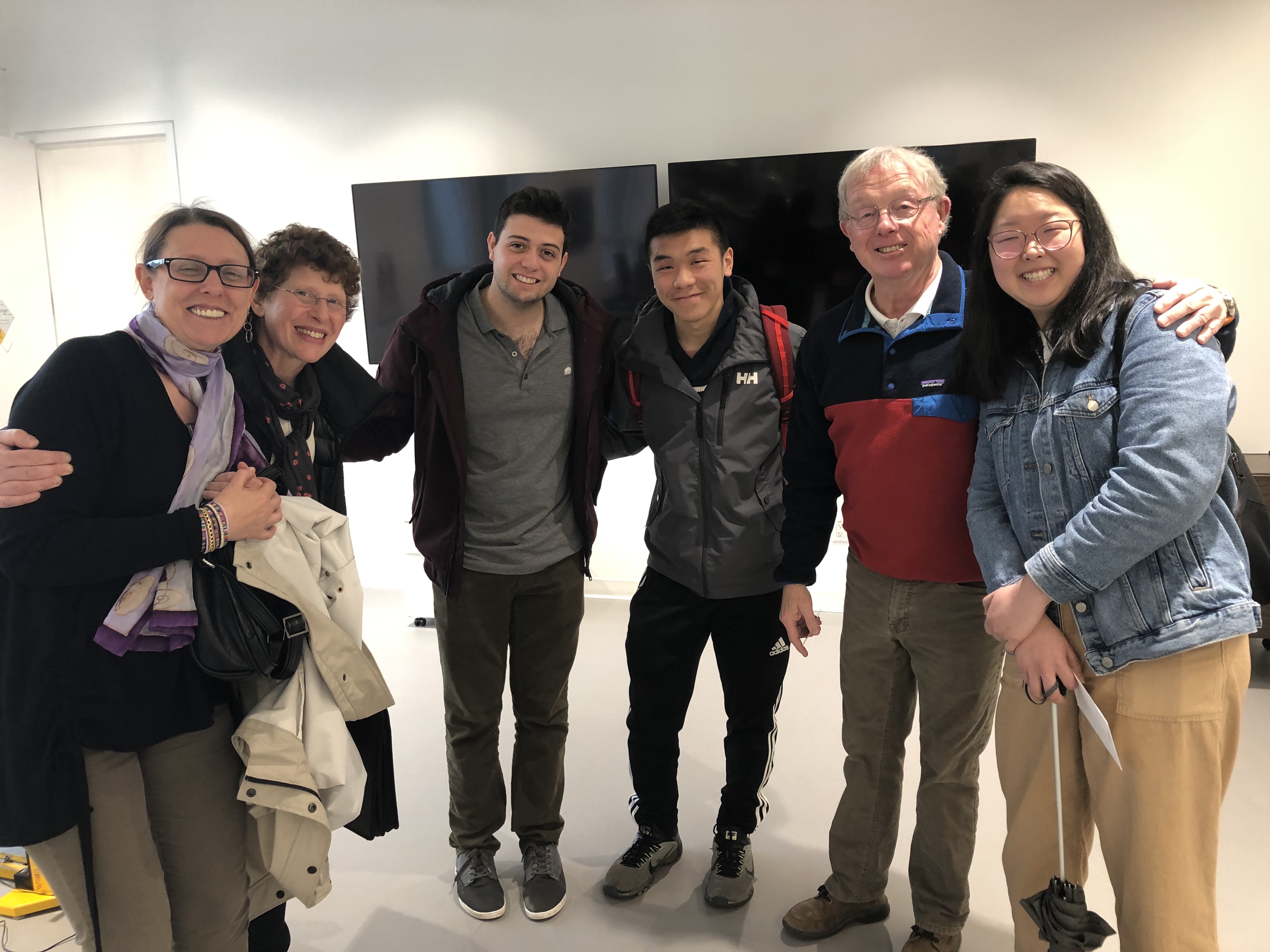 Our Translation Team had the opportunity to meet with Abreast in a Boat members  on April 18th: Adriana Bártoli, AIAB rep. in charge of the South American outreach, Jane Frost former president and one of the program's pioneers, and Dr. Don Mckenzie who created and developed this life changing program for breast cancer survivors. Dr. Don gave us a tour and explain their work and cutting edge technology at the new building of the Center for Sport Medicine at the Chan Gunn Pavilion, UBC.
Students translated into Spanish two brochures and two medical articles to be disseminated in Central and South America. The materials were also review for accuracy by Dr. Maria Alejandra Bartoli, oncologist and Vice Director of Oncology at the Universidad Nacional de Rosario (Argentina), we are grateful for her generous gift of time and knowledge.
Celebrating our students achievements, big congratulations to Cristina, Bruno, Sebastian, Missa, Pamela and Allison for a fantastic job translating medical articles and information materials. You guys are awesome!!
Take a look at one of the brochures, click below for a full view: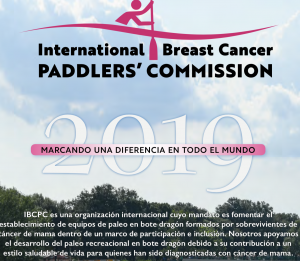 March
On Monday March 4th we had APALABRARTE brought by Spanish for Community, at FHIS, a 2 hours workshop on  second language learning through embodiment and art making.
What happens when the learning process moves from the mind to the body?  With our facilitator, expressive arts therapist, artist and counsellor Matias Hacker students had the opportunity to connect their creativity and inner life with their language learning while interacting together in a cross-level explorations. What a delightful evening of creativity, play and words through embodiment and art making with instructors Maria Adelaida Escobar,  myself and the coolest group of students from 402, 207, 302, and 365, a full workshop! Thank you Matias for sharing your talent and knowledge with us. Experiencing and learning a language, having fun and taking a look at our inner life, you can't get this with an app!!!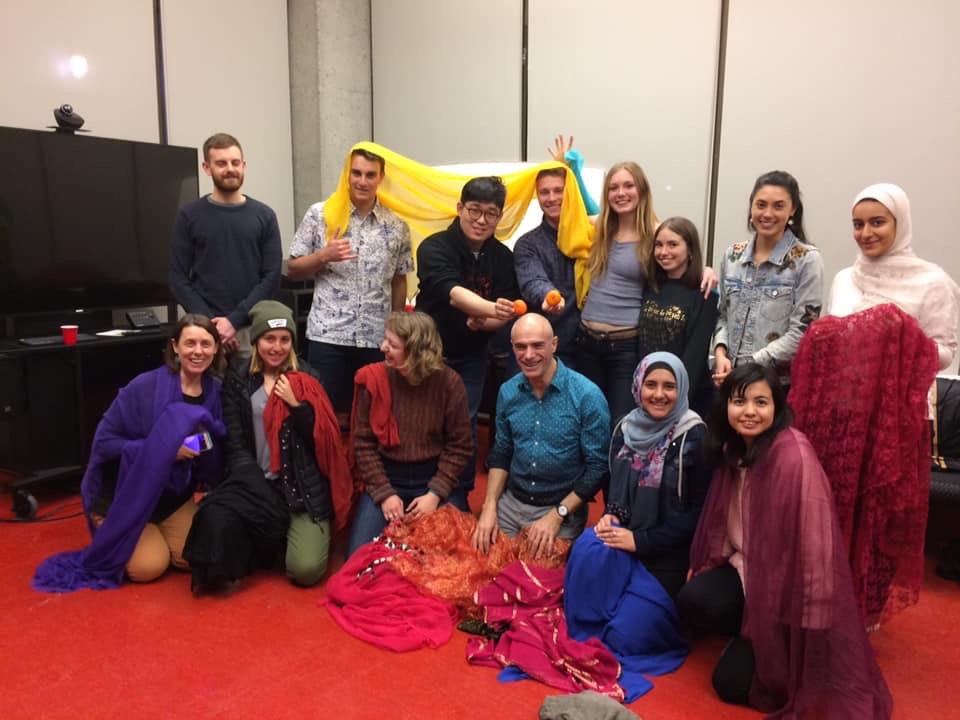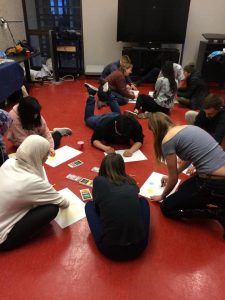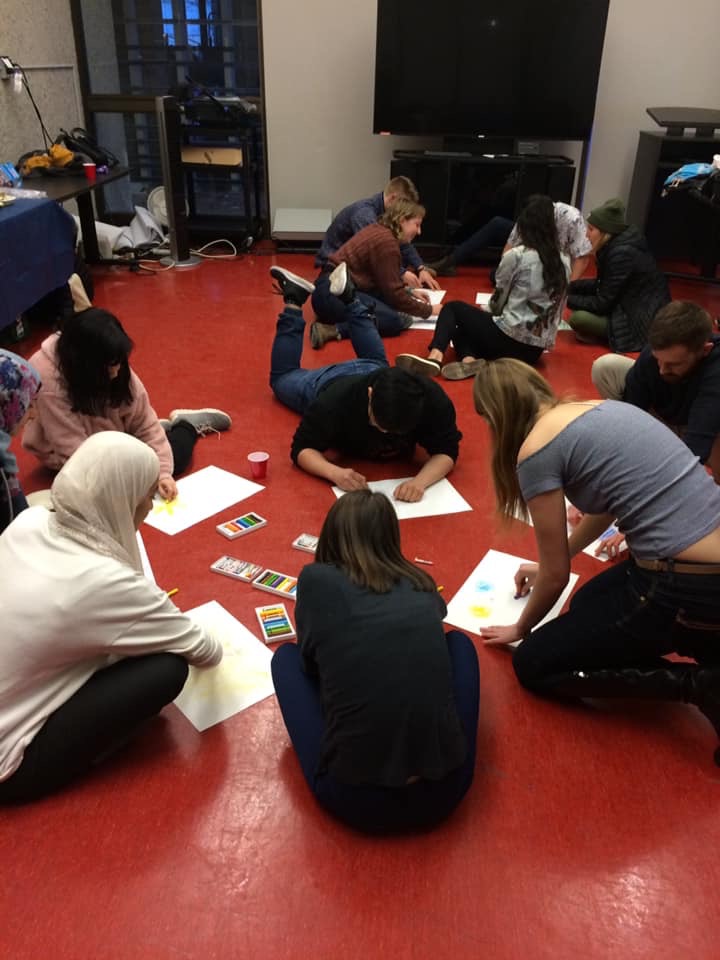 January – February
Meet our brand new Translation Services Team,  a group of advanced level students at the FHIS  working currently in 2 awesome projects for the following organizations: Mosqoy.org (a continuation of a course-based large project with Spanish 401, and Abreast in a Boat. These two service-projects  support communities abroad in Latin America. The first one is the website translation  for Mosqoy, a non profit organization supporting Andean  weavers from communities in Perú; the second project, the translation into Spanish of instructional, institutional and medical materials to support new and future branches in Latin American countries of Abreast in a Boat a dragon boat initiative for women with a breast cancer diagnosis created by  UBC profesor Dr. Don McKenzie that positively impact women's physical and mental health,  and improves their quality of life.
You guys are incredible! Profesional, enthusiastic, talented and truly generous, working so hard  for others in the middle of your super busy lives with your studies and work! Spanish for Community is so lucky to have you! 
A BIG THANK YOU! 
Meet in the first row from left to right, Bruno Belevan, Allison Cortes, Missa Gillis, and below, Pamela Lozano Fernandez,  Sebastian Lee and Cristina Lee.
If you would like to deepen your linguistic skills, have challenging opportunities to apply what you have studied and make a difference working with community organizations  let us know! Send us an email at spanish.for.community@ubc.ca
OCTOBER – NOVEMBER
In preparation for GUACAMOLE FOR JUSTICE ON NOV. 16TH we are raising money for the event,  working for the workers with the most delicious cookies. The best cookies made with love by Maria Adelaida (Instructor)  and Pan de Muerto made by Georgia (Span 301), and with the help of many students from 301 classes. We have one more day Monday Oct.. 29th, you will see us, come for the best Colombian Grandma's Cookies.
SEPTEMBER
New Projects and Events
MARCH
MARCH 12TH
And more "GIFTS FROM LIVES", thank you Irving, Regina and Jorge for sharing the gift of your lives with us! Thank you Mariana Martinez Vieyra for teaching our students about the support groups for refugees and asylum seekers in Metro Vancouver, about VAST, Mosaic, I belong and Rainbow Vancouver. We are looking forward for the new projects and partnership possibilities!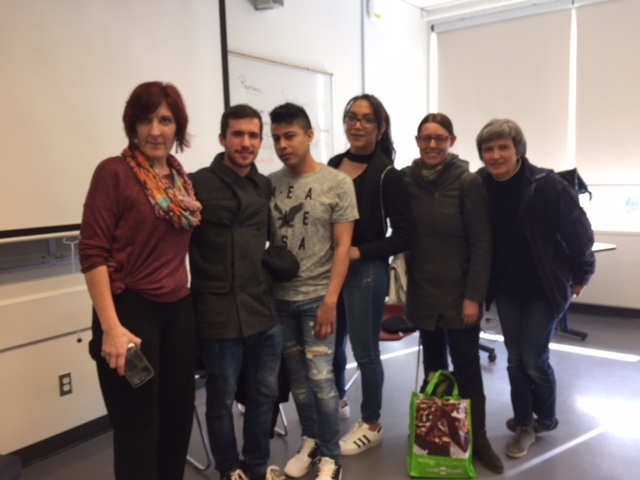 Video streaming: https://mediasitemob1.mediagroup.ubc.ca/Mediasite/Play/c25d510b39a248ad934678d54cd0d4f91d
Presentation by new partner VAST
Members of the LGTBQ refugee applicants Rainbow Vancouver, Lorge, Irving and Regina, along with Mariana Martinez Vieyra
Provincial Refugee Mental Health Coordinator at Vancouver Association for Survivors of Torture (VAST) and MOSAIC I Belong Program
visited two sections of Spanish 207.  The pannel gave a presentation followed by a discussion with our students about the extreme challenges that members of the LGTBQ suffer in different countries in Latin America, the difficulties of the refugee application process and the support they have found in Vancouver.
FEBRUARY
FEBRUARY 15TH
This year, UBC is having its biggest celebration of International Mother Language Day, a day marked by the UN to celebrate linguistic diversity all over the world!
The event will feature a
keynote
address by Dr. Mark Turin, Director of the First Nations Endangered Languages (FNEL) Program, followed by a
panel
discussion titled "Towards a Multilingual Society". Finally, students are invited to present anything from their mother language in an
open mic session
(e.g. a song, poem, favourite word).
Light dinner
will be served.
Entry is free
and for all.
Here
is the event link. 
I will be one of the panelists, and will have a chance to speak about my work on Spanish for Community with reference to a multilingual society. I will be happy to have you all come and join the celebrations.
FEBRUARY 14, Talk
Would you like to know more about Spanish for Community and Community Engaged Learning for language learners? Come to the FHIS Research Seminar on February 14th to a presentation by Maria Carbonetti, learn about us and ask questions.
FEBRUARY 7TH
February 7, Students from Span 207  shared a Musictherapy session (thank you for having us Perla Barabak!) and interview them after the session. Special thank you to the student volunteers from third and fourth year that helped! Camille, Luis and Gaby! Thank you very much Marina Sanz Vara the Seniors Hispanic group coordinator for her generosity organizing the event and sharing her knowledge. And a very very special thank you to my dear colleagues that are the driving force for this project, Maria Adelaida Escobar (FHIS), Iris Escuer-Riera (FHIS) y Laura Levera (Corpus Chirsti College)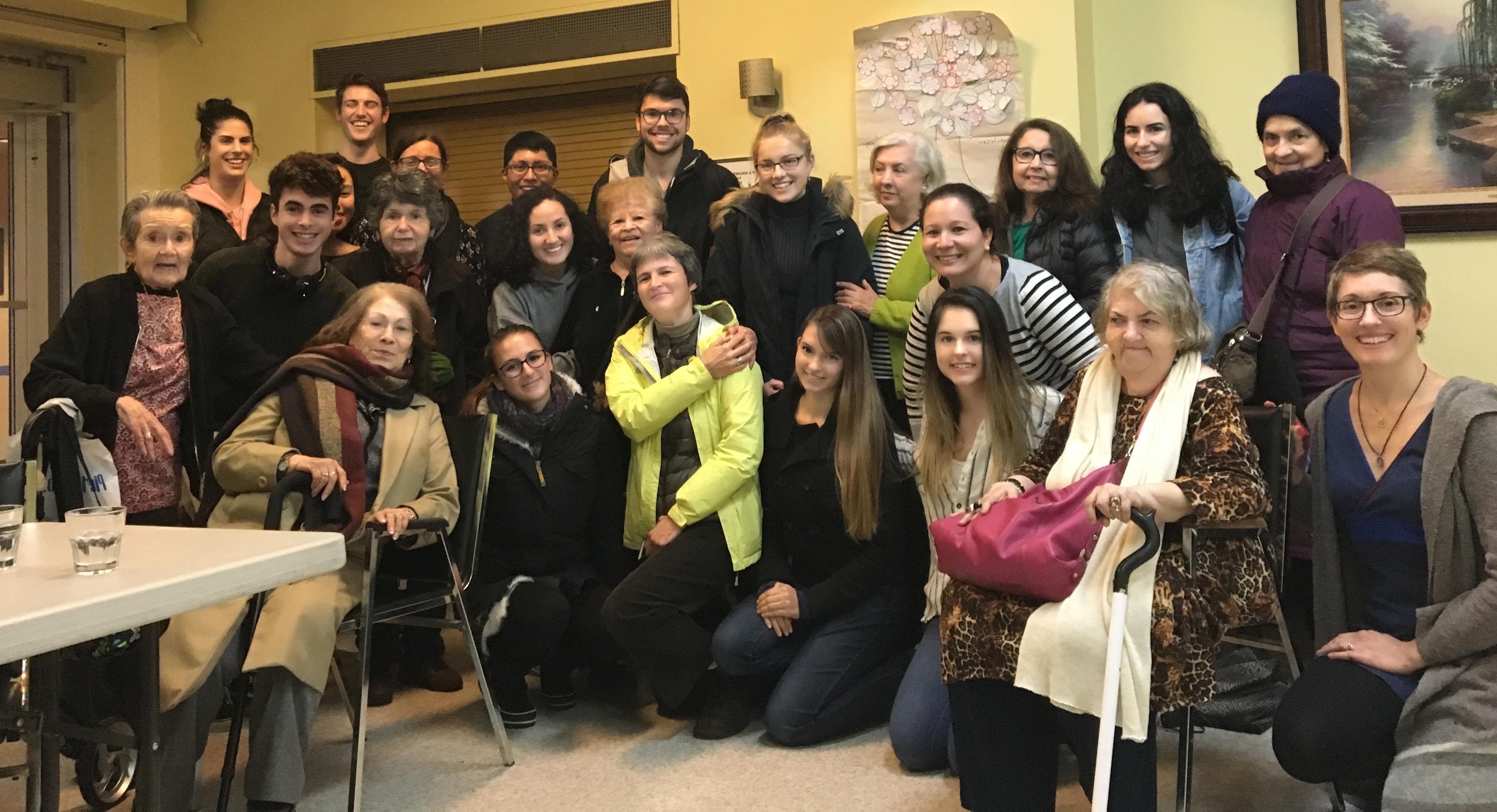 FEBRUARY 14, Talk
Would you like to know more about Spanish for Community and Community Engaged Learning for language learners? Come to the FHIS Research Seminar on February 14th to a presentation by Maria Carbonetti, learn about us and ask questions.
JANUARY
"GIFTS OF OUR LIVES" 2018, WORKSHOPS
January 22th and 25th Guest Speaker, Spanish for community,  Dr. Maria Adelaida Escobar (Colombia, Medellín) Span 207-201 -202
Host: Dr. Maria Carbonetti, Spanish for Community, coordinator.
Talleres de la memoria, I y II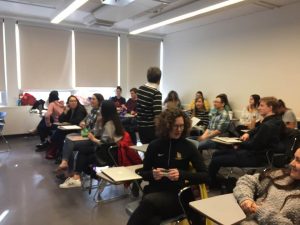 January 19th,Guest Speaker, (Co-teaching component), South Granville Senior Center Hispanic Group, Coordinator, Marina Sanz Vara, MA (Peninsular Spanish, Madrid)
Host: Iris Escuer Riera, MA Instrutor, Spanish for Community
Spanish 207-201 -202
Working with Seniors: Who are they? What they need? What can they offer us? What can we offer us?
2017-2018 News, Events and Volunteer Opportunities (for inquiries spanish.for.community@ubc.ca)
OCTOBER – NOVEMBER
Mini project with  BCCASA for CCDA Guatemala Café Justicia,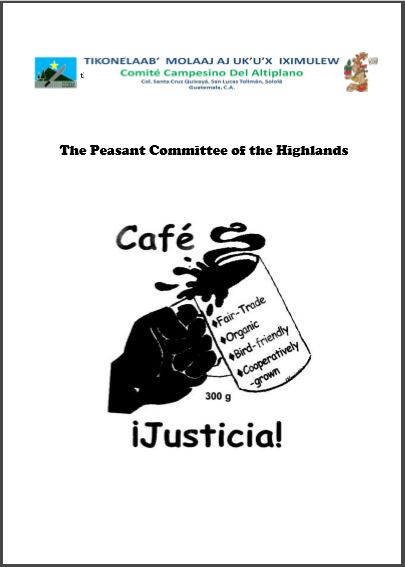 http://cafejusticia.ca/bc-casa
BC CASA is a Vancouver-based volunteer group that works in solidarity with human rights and community organizations in Guatemala. In particular, we work with HIJOS, an organization of youth whose relatives were disappeared or murdered during the country's 36-year civil war, and with the Campesino Committee of the Highlands (CCDA), a Mayan rights and development movement that is active in 100 communities around the country.
We are very happy to renew our contact with BCCASA and the Comite Campesino del Altiplano, CCDA and Cafe Justicia, in Guatemala whose partnership was at the heart of the Spanish for Community Initiative between 2012 and 2013. Seven of our students volunteers Camille Porcioncula, Cemre Barsbay, Ariel Ozdemir, Skylar Zkarin, Ricardo Zatz, Luiza Shroeder and Alex Kim are helping with tranlations of materials to sponsors for the CCDA sholarships.  Gracias a todos!
Know more about the organization: https://coopcoffees.coop/ccda-3/
Volunteers needed! Check these two new opportunities to learn while serving the community.

Help with a bilingual (English-Spanish) radio show:
Would you like to be part of a radio program? You can help!
Dear Students,
I am part of a collective that produce and broadcast a bilingual radio show on one of the Alternative Radio Stations here in the West Coast.Our show airs every Saturday from 12:00 to 1:30.WE are a collective made up Latin Americans and Canadians who have a passion for alternative media.  Our goal is to bring the voices of people who are from the social movements in Latin America. Usually through phone calls, but also we cover issues affecting the community here in Vancouver.Our show is called America Latin al Dia, and has been on air for more of 40 years.  We broadcast live from the studios of Vancouver Cooperative Radio, we are not commercial, we are an alternative media radio station.
Please see details in our webpage:
---
Volunteer helping new inmigrants to learn computer skills, during computer literacy class, in Spanish and English
"Computer Literacy" para personas de habla Hispana, seis sesiones Martes y Jueves de 6:00 – 8:00 p.m. y será las siguientes fechas:
Noviembre                            1
Noviembre          7                8
Noviembre       21               22
Las personas que asistiran no saben nada de computadoras y se les enseñara lo básico, el vocabulario será en Ingles pero toda las explicaciones la Maestra las dara en Español. Estamos interesadas en dos voluntarios para que asistan a los estudiantes.
Por favor avísame si me puedes ayudar, Gracias de antemano.
Contacto:
Arely Rodriguez
Spanish Settlement Worker
3981 Main Street l Vancouver BC
604.879.7104 ext. 413/323 (p) l 604.879.7113 (f)
www.lmnhs.bc.ca
"Neighbour helping Neighbour"
---
We are ready to start the new year 2017-2018 with Spanish for Community!
We will continue with our project the Gifts of Our Lives, in partnership with South Granville Senior Center, and working on setting up new partnerships with community agencies while participating in community event.
Come and join us!
We have our first event supporting Karuara (People of the River): Indigenous Amazonian Resistance tour –  on Monday Oct. 23th,
Date: Monday October 23rd, 2017
Time: 6:30 pm
Place: Roundhouse Community Centre (181 Roundhouse Mews, Vancouver BC)
The tour features Mari Luz Canaquiri, e leader of  the Kukama Indigenous people who has organized resistance against pipeline plans and a massive Water Highway project on the Marañón River in Peru. Mari Luz will be speaking and the tour will also present short films and a book of Kukama origin stories illustrated by Kukama children.
April 25th, Center for Community Engaged Learning, CBEL, Celebration at Kits House
The celebration of the Center for Community Engaged Learning, UBC for faculty, students, and partners. We were invited for our project "Gifts from our lives" that was featured with pictures and students testimonies in the slide presentation. Here we are with Madeleine Zammar from CBEL (our true champion!!) and her beautiful baby, María José Torrejón from South Granville Senior Center and Carolina Navarrete, our Community Liaison, (these two are our Chilean Fierce Warriors
😉 ) We missed you Maria Adelaida Escobar but you were with us in spirit!! What a fun event, company, wine and food amazing!
April 5th
March 17th:  Spanish 207, Art, Artivism and Community. The Rights of the Earth. A visit to MOA's new exhibit "Amazonia" with the guidance of its curator Dr. Nuno Porto that gave the students a private tour in Spanish! Thank you Nuno! Gracias Nuno, un privilegio!
http://moa.ubc.ca/portfolio_page/amazonia/
________________________________________________________________________________________________________

March 8th and 15th
Spanish 207 class, 26 students plus 7 students volunteers, first and second rounds of interviews for "Gift from our lives" projects.
Seniors share their lives, their memories, and their wisdom with our students. Beyond the assigned questions from the interview template, that conversation got wings and went far beyond our expectations. Thank you to all participants and volunteers. Particularly to Dr. Maria Adelaida Escobar that volunteered her time and knowledge and most of all her enthusiasm!, Dr. Carolina Navarrete our community liaison for her incredible energy, talent, and kindness  and our wonderful host and program coordinator, Dr. Maria José Torrejon. Last and not least thank you to the seniors that open their hearts with such generosity. We have accomplished Part I of this project, more to come next academic year. Check out this images and volunteers feedback on the experience and soon pictures and comments on  our end of part one party at the center coming soon on April 5th:
Images by Rocío Hollman (Span 402 volunteer) and Carolina Navarrete.
________________________________________________________________________________________________________
Spanish 207, Friday , March 3rd. 12 to 1pm
Project 2
Opportunity to learn about a community-based art center in Cojutepeque, El Salvador,  a town suffering gang violence at daily basis, by helping Canadian-based initiatives supporting the young Salvadoran artists, educators, students and their projects.
Art, community and "artivism": Amigos de FundArte, FundArte, Cojutepeque, Salvador. Guest speaker, Anna Sedo from Amigos de Fundarte. 
Friends of FundArte is a Canadian-based initiative to raise funds for the Salvadoran community arts organization FundArte Cojutepeque (Foundation of the Arts Cojutepeque).
FundArte Cojutepeque was started by a dedicated group of young Salvadorans in the summer of 2013 to provide a vibrant, multifaceted arts space, educational opportunities for youth and children and a safe place for the community to gather in the midst of growing violence and social problems in El Salvador.
El Solar Community Theatre is the center of FundArte's activity. Past events at El Solar have included dance, music, theater, circus, poetry, painting and drawing exhibitions, films and cultural/historical discussions. What they have accomplished in a few years on a shoestring budget is truly amazing, from humble beginnings in a vacant lot destroyed by a massive 2001 earthquake to an oasis of arts and culture
______________________________________________________________________________________________________
Intergenerational Spanish-speaking workshop on Memory and Brain fitness, at the South Granville Senior Center. March 1st, SSCS, 2 30 to 4pm
The students paired with the seniors will participate in activities related to brain health and memory. This workshop will be facilitated by a Spanish speaker occupational therapist. This is a pre-interview social and learning opportunity for interaction and collaboration between students and seniors.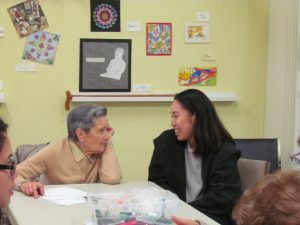 ________________________________________________________________________________
February 2017
Partner presentation, Grupo Latino de Adultos Mayores en el South Granville Senior Center, its history, mission, demographics. February 6, UBC. 
Presenter, Dr. Maria José Torrejón coordinator.
Workshop on memory and oral history, Friday,  February 1oth, UBC .  First steps and discussions regarding interview design. First interview drafts.
Facilitator and presenter, Dr. Carolina Navarrete (FHIS)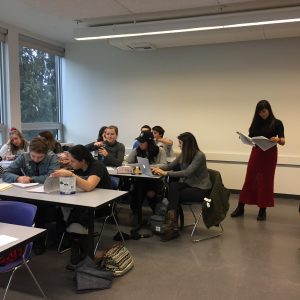 January 2017
Celebration at the Senior Center, with a Tango demonstration and lesson. Wednesday, January 25th at 3pm
Students will participate in the Celebration of birthdays at the Senior Center, helping, interacting, participating and gathering information in preparation for the first interviews with participants for our project Gifts from our Lives.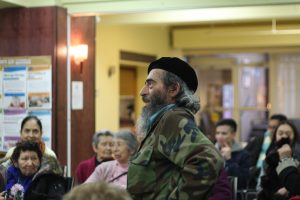 December 2016
Experiential Workshop on Memory and Connection
Students and Seniors gathered on December 3th, 2016 to participate in an experiential, expressive art-based workshop where they shared memories. movement activities and art making.

Image by Patrick Gillin (December Event)