UBC FHIS Spanish for Community – Fundación Ratón de Biblioteca (SPAN 301_2022_W1)
Overview
As part of their community-engaged learning component, in partnership with Fundación Ratón de Biblioteca, Medellín Colombia, 76 students from SPAN 301: Intermediate Spanish I coordinated group visits to their local community library to learn about their activities, community engagement and their services to the community. The students prepared a summary of their findings and shared this with representatives from Ratón de Biblioteca, through an oral presentation and also a written summary of their findings. The overall objective was to provide this information to Ratón de Bilblioteca to help them learn about services provided by Vancouver libraries, to motivate students to reconnect with their community libraries and to reflect on the role of libraries in their student lives and in the community.


Spanish for Community Partner
Fundación Ratón de Biblioteca.org (Medellín, Colombia) is a community organization that facilitates and supports access to library services as well as reading and literacy programs for families, children, and youth living in challenging areas of Medellín. They aim to foster community
and civic engagement for a more creative and peaceful society.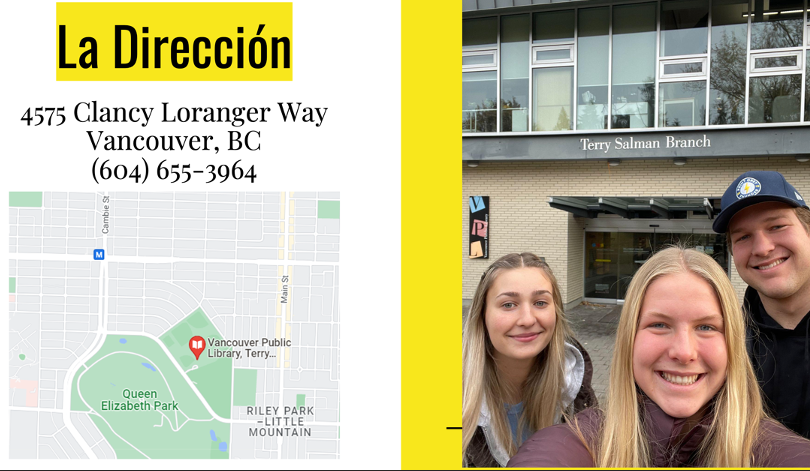 ---
Description, curriculum alignment and highlights
FHIS Spanish for Community
Course, sections: SPAN 301, sections 101 and 102
Number of students involved: 76
Type of project:  Service-learning (CEL)
Modality: Course-based mandator
SFC design and coordination: María Adelaida Escobar Trujillo and Anna Casas
FHIS Instructors: Anna Casas and María Adelaida Escobar Trujillo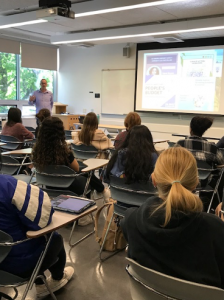 Co-Teaching
Kyle Nelson, "Community Engaged Learning Orientation"
Sandra Zuluaga, "Colombia to the Virtual Community: A Conversation with Sandra Zuluaga Sánchez"
Project Objectives/Learning Outcomes
Learn about the origin and history of the organization and its contribution to the peace process from its foundation until today, in the current social context of Medellín.
Provide an opportunity for the organization to learn about the services and activities coordinated by community libraries in Vancouver.
Offer hands-on experience for students to learn about their community libraries in Vancouver and to reflect on the role and future of libraries in their academic experience.
Provide an opportunity for students to familiarize the language related to communities, programs, and services offered by libraries.
Allow students to learn first-hand the value of libraries, the importance of engaging with their local communities, and the value of helping libraries from resource-limited settings.
Highlights
Partner organization leader gives a 1-hour Zoom presentation, explaining the history of the organization and the project they are developing around.
UBC CCEL 1h tailored training on community-engaged learning.
Final presentations.
As part of the final assignment (self-reflection) for the course, the students were invited to reflect on the impact of this project on their lives and their learning process.
These included reflections on Vancouver Public Library

materials (types of books, languages)
spaces (common spaces, meeting rooms)
accessibility (gender-inclusive washrooms, space accessibility, online materials)