UBC Mix is pleased to announce the launch of the UBC Mix Community Portal on the UBC Wiki. At our Mixer event in April 2011, attendees suggested some ways to improve the communication side of the program. The general consensus: UBC Mix needed "technology for people to throw out ideas and look for people."  At that event, the UBC Wiki was put forward as a possible platform. After exploring our options, we've worked in consultation with the UBC Wiki team to get the ball rolling on a community portal that will fill those needs.
On the Community Portal you can browse profiles for potential matches, create your own, check out examples of previous Mixes, access relevant scholarship and case studies, and most importantly, log in using your CWL to add and edit content! If the UBC Mix website is our storefront, we like to think of the Community Portal as the UBC Mix kitchen – a collaborative, creative space for sharing.
The simplest way to get involved is to create a profile. There are several ways to do it.  Depending on your comfort level with the UBC Wiki you can either use our template to create your own profile, or simply download and return a profile request form and we'll do the rest. The portal contains instructions, examples and help pages.
We eventually envision populating the portal not only with profiles, but also with even more examples, case studies, advice and scholarly materials. We welcome your contributions to the portal. Either sign in and edit away, or contact us, let us know what you want to see, and we'll work on a way to make it happen.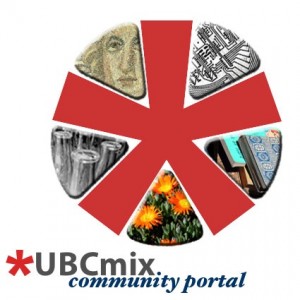 Finally, for folks new to the UBC Wiki, there is free, friendly support available. The UBC Mix Student Coordinator is always happy to help, so don't hesitate to get in touch. As of summer 2011, she is even making "office calls" to help you get started. Simply email ubc-mix@interchange.ubc.ca to make an appointment. Also consider checking out the Learning Technology Institute (LTI) event listings at the Centre for Teaching, Learning and Technology (CTLT).  The LTI regularly includes Wiki workshops for all levels. Drop in Wiki Support Clinics are held in the CTLT Fraser River Room in Irving K. Barber Learning Centre every Thursday from 1:00-3:00.
See you on the Portal!
Quick links:
Photo credits: tin can by colindunn, portal logo by Lydia Jones (image credits: mosaic by RBerteig schematic by webtreats books by austinevan flowers by cobalt123 test tubes by Daniel*1977)