Meet our 2017-2018 UBC PDA Executive Officer Candidates, and review our proposed constitutional amendments!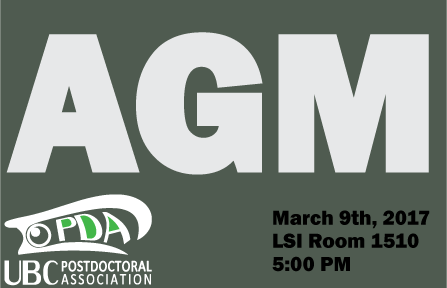 Candidates:
---
Constitutional Revisions:
It has been a number of years since the last revision of the PDA constitution. The current executive is proposing a number of modifications to improve clarity in the roles and eligibility of the executive, as well as a number of minor formatting changes to increase readability of the document. We have also proposed the creation of a 7th Officer position specific for Research Associates, while limiting the eligibility of the other Officer positions to PDFs due to the requirement that they be able to liaise with the PDFO.
Please examine our proposed changes, and prepare to vote on our modifications at the AGM on March 9th!