Summer programming has officially begun at the Woodhaven Eco Culture Centre.  Last night's inaugural Woodshed Reading (May 21) was small but successful.  What a great place to read and listen to poetry, surrounded by green, accompanied by the music of Bellevue Creek.  Thank you to everyone (including the Whitetail deer) who attended!
UBCO Creative Writing student Jessica Bonney
We hope to make the most of the summer weather, and the wonderful Woodhaven facility,  with many more readings, presentations, concerts and workshops.  Upcoming events will be listed on this blog, and on the Woodshed Readings facebook page.  And on posters!  And tell your friends!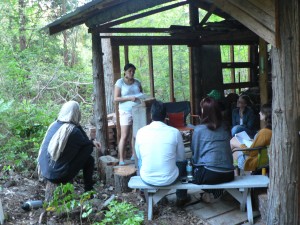 Award-winning children's book author and UBCO MA student Nicola Campbell
(photos by Kelly Shepherd)