" 'Woodshedding' is what you do when you hole up and practise your art … to the exclusion of all else."     —-   Diane di Prima, Memoirs of a Beatnik, 1969
It's been a wondrous summer here at Woodhaven. Russell Thornton, Joanne Arnott, Fred Stenson, Jeff Latosik, Sarah de Leeuw, Theresa Kishkan, these were our headliners, but we were also honoured to host local artists, musicians, poets and authors. These photos are but a small sample of the good times and great characters that gifted Woodhaven this summer.
"In the depth of winter I finally learned that there was in me an invincible summer."
—Albert Camus
"One swallow does not make a summer,
neither does one fine day;
similarly one day or brief time of happiness does not make a person entirely happy."
― Aristotle, The Nicomachean Ethics
Jeff Latosik reads The Piñata: http://thewalrus.ca/tv-the-pinata/
"Green was the silence, wet was the light,
the month of June trembled like a butterfly."
—Pablo Neruda, 100 Love Sonnets.
And so with the sunshine and the great bursts of leaves growing on the trees, just as things grow in fast movies, I had that familiar conviction that life was beginning over again with the summer."
― F. Scott Fitzgerald, The Great Gatsby.
"Press close, bare-bosomed Night!
Press close, magnetic, nourishing Night!
Night of south winds! Night of the large, few stars!
Still, nodding Night! Mad, naked, Summer Night!"
—Walt Whitman
Pablo Picasso said that, "The purpose of art is to wash the dust of daily life off our souls." Now, none of you seem all that dusty to me, in fact you all seem to have cleaned up quite nicely, but there can be no doubt that we all occasionally grit our teeth and feel a little dusty from time to time, a little worn down, sand in the joints, gravel in the heart, daily life can be a dusty affair, from dust to dust and so on.
Art can be a great solace. But then so can alcohol, a good wine. Wine those rose-coloured glasses, the perfect fit for an Okanagan summer. But alcohol, they say, is bad for the liver. And good wine costs money. But poetry readings are free. Sometimes there is even cheese.
Poetry readings have to be free, or else patrons would demand comfortable, reclining seats equipped with cupholders, 3D projections of metaphors, and behind-the-scenes looks into the glamor-filled lives of Canadian poets. Also if poetry readings were not free, you'd have to choose between your poems and your wine, and poetry doesn't want to force you to give up your wine.
A life of Rhyme doesn't pay, as Kurt Vonnegut wrote, "The arts are not a way to make a living. They are a very human way of making life more bearable. Practicing an art, no matter how well or badly, is a way to make your soul grow, for heaven's sake."
Being an artist is like wearing very nice silky underpants. You won't turn any heads on the street. But you'll feel the difference. Inside.
So that's why you're here, to wash the dust from your soul. To open your heart wide to the beauty of language. To heed the wisdom of the trees. Or maybe you're just here for the free cheese. That's fair. No judgment. Cheese is delicious.
Speaking of cheese. Here's two bad jokes about poetry:
Question: What is a simile?
Answer: It's like a metaphor.
Question: How do poets say hello?
Answer: Hey, haven't we metaphor?
Tonight is the final Woodshed event, the end of what has been a wonderful summer here at Woodhaven Eco Culture Centre. These Woodshed readings have been full of verse, music and wonderful people, some of whom are here tonight, (the rest are no doubt busy being wonderful somewhere else).
We've had the honour of playing host to literary luminaries Russel Thornton, Joanne Arnott, Fred Stenson, Jeff Latosik, Sarah de Leeuw, Jon Lent, and now Theresa Kishkan. These readings were made possible by Canada Council for the arts. In July we threw a party, Beat Salad, an poetry event with seven poets, two bands, and over a hundred attendees; it was the poetry equivalent of a bacchanal. There was even a magic school bus.
We were privileged this summer to hear from many talented local poets, musicians and authors. Thank you, to everyone who shared your voice here. The arts are flourishing in the Okanagan. It seems fitting that there should be poetry and music in a place of such striking natural beauty, just as there should be bears eating berries, and peaches ripening in the orchards.
None of these readings would have been possible without the wonderful Nancy Holmes. She's cared for Woodhaven and for these readings as if they were an extension of her beloved garden. Thank you Nancy for all that you have done for Woodhaven.
I'd also like to thank Matt Rader for securing the Canada Council grant, which I understand was a hellish, Kafkaesque process. I'd like to thank Toby Wesenberg and Shauna Oddelifson at UBC Okanagan for all their help and patience.
And finally I'd like to thank everyone who has come out to support these events. You could have been anywhere in the world, but you're here right now. So without further waffling or any more bad puns, I'd like to call our first reader to the stage.
—Last Woodshed reading of 2015, intro by Connal McNamara
Toads Are Us

I just read this:
"The planet's health can be measured
by the state of its amphibians."
So, I am proud of the toad in my garden.
My grass and dew are clean.
My shade is certified organic.
The dandelions in the lawn
sing like canaries
in their light green cages.
But toad,
I watch you cling to the lip
of my flowerpot,
and feel a little worried.
You are
trembling and
you look like a piece of my lung
torn out.
…
Nancy Holmes The Flicker Tree, Okanagan Poems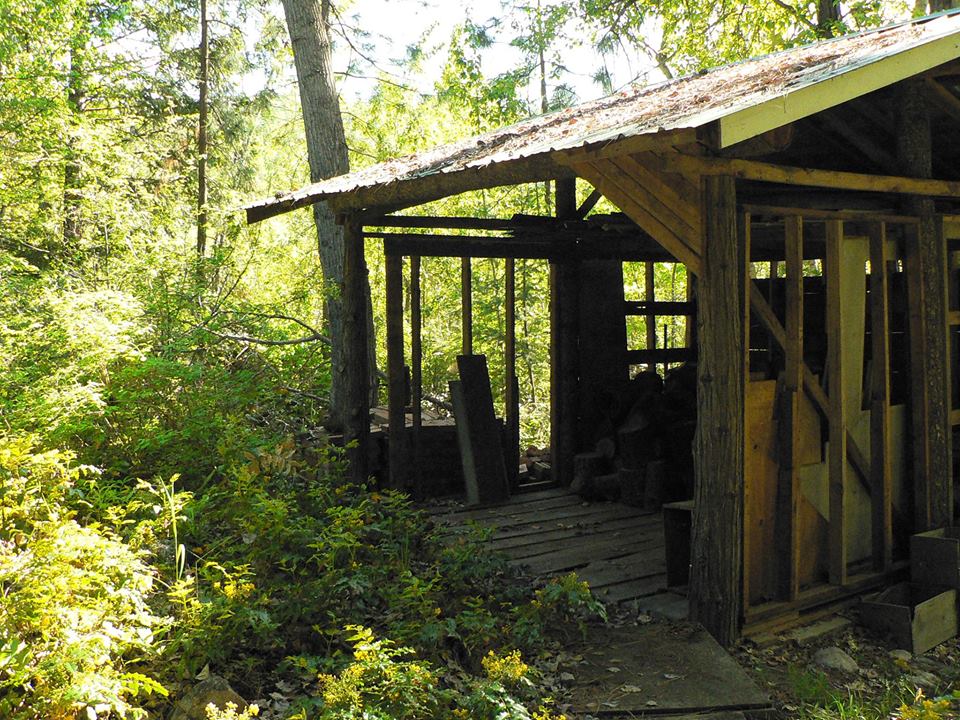 The Woodshed Reading Series is a regular literary and music event that occurs approximately every two weeks from May to August. The Woodshed Reading Series info can be found on Facebook at "The Woodshed Readings" .
WATCH FOR THE SUMMER SEASON TO BE UNVEILED SOON!