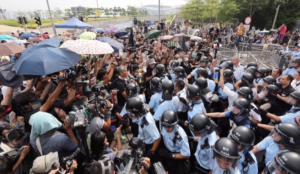 Wall Street Journal, China Real Time, October 3, 2014– Toward evening on the seventh day of protests that have rocked Hong Kong, fears grew of a confrontation. Protesters were giving the city's chief executive until midnight to resign and said they would block him from going to work; police vowed to stop them. How the next hours played out; times are approximate:
5 p.m. Thursday: Crowds swell outside the offices of Hong Kong Chief Executive Leung Chun-ying. Photos on social media show police carrying supplies of rubber bullets and tear gas into the building.  Students block a van from entering the compound.
6 p.m. Police spokesman Steve Hui says police is prepared to take "resolute" measures.
7 p.m. Organizers tell people with children and pets to clear the area around the chief executive's office and the adjacent People's Liberation Army complex. Students start donning gas masks and goggles. "I'm afraid, just hoping for the best," says student Ashley Yeung, 22, who was at the protest on Sunday when tear gas was fired into the crowd by riot police.
8 p.m. Student leader Joshua Wong pleads for calm on Twitter: "Those we oppose are crazy. We don't want to be mad like them."
9 p.m. The Hong Kong Federation of Students, one of the student groups leading the protests, posts an open letter on Facebook to Carrie Lam, the No. 2 official in the Hong Kong government, seeking negotiations.
Some protesters near a PLA garrison on Hong Kong island block traffic but others try to stop them, "It's the only road Hong Kong has!" shouts one woman through a loudspeaker.
10 p.m. Crowds are now huge at the government buildings. Police again warn protesters not to charge police lines.
11 p.m. As the midnight deadline protesters have set for Mr. Leung to resign approaches, the mood is apprehensive but crowds are orderly: They have heard Mr. Leung will speak and are waiting. Periodically chants erupt when student leaders speak.
11:30 p.m. The presidents of the University of Hong Kong and the Chinese University of Hong Kong appear at the government buildings to appeal for calm.
Midnight: The word from the chief executive mere minutes before midnight: He will appoint Ms. Lam, to meet with student protesters. He won't resign.
Early morning hours Friday: Crowds start to disperse but many stay, saying they're far from satisfied. "What they said was so distant from what we wanted," says 26-year old Lawrence Chak, who still plans to spend the night with his friends at the main protest site.
The leaders of Occupy Central, two college professors and a Baptist minister, welcome talks between students and the government, but say the chief executive must still step down.
As many protesters sleep on the lawns and sidewalks, others sit with textbooks on their lap, trying to catch up with their studies after days of protesting.
5 a.m. Some protesters holding red traffic sticks try to prevent others from blocking the main roads outside the government buildings as morning nears and people start going to work after a two-day holiday.
Police plead for protesters to allow through a truck they say is loaded with food for police officers. Protesters shout back that they will pass the food in: "We can give you what you need–food, not the truck."
8:30 a.m. The Hong Kong government says the city's government offices will be temporarily closed.
9:30 a.m. Hong Kong stocks fall 1.2% as markets open after a two-day holiday and are down around 4.6% on the week, with crowds still in the street and many government workers unable to work normally.
Read More: Wall Street Journal, China Real Time