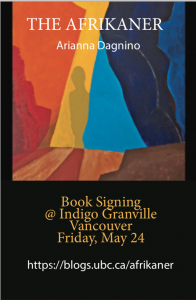 Join me for a chat and book signing of my novel "The Afrikaner" (Guernica, Toronto, 2019)
WHERE:
Indigo Robson Bookstore (1033 Robson St, Vancouver)
WHEN:
Saturday, June 29, 1.30 pm-7.00 pm.
The Afrikaner: "A tale of hate, love, guilt and redemption under African skies"
The book was inspired by the five years I spent in the southern African region as an international reporter for the Italian press. I now live in Vancouver.
BOOK WEBSITE: https://blogs.ubc.ca/afrikaner/
BOOK TRAILER
:
https://www.youtube.com/watch?v=GXmKFWMLgKM
Check it out and share wildly!
Follow me  on Facebook: https://www.facebook.com/arianna.dagnino