Habitat
Calypogeia muelleriana is typically located in very moist areas on soil and rotten logs.
---
Gametophyte
Overall Structure:
Calypogeia muelleriana is typically a green color and irregularly branched.
It has incubous leaf insertion.
Leaf Structure:
Lateral leaves are unlobed, assymetrical, and incubous. Here is a photo of a lateral leaf.
Underleaves are shallowly bilobed.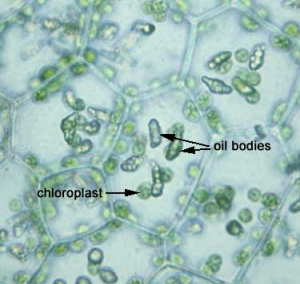 All leaves contain segmented oil bodies and chloroplasts.
Rhizoids:
Rhizoids may be found intermixed amongst the bilobed underleaves.
---
Sporophyte
The sporophytic generation of Calypogeia muelleriana has a characteristic marsupium. This white pouch is located on the undersurface of the liverwort, penetrating the substratum.
Sporangium:
The mature sporangium is elongate.  Spores are released via four lines of dehiscence of the sporangium.