Habitat
---
Gametophyte
Overall Structure:
Kindbergia oregana forms loose creeping mats of interwoven green shoots.  It is pinnately-branched, with branches occurring in a single plane.
Leaf Structure:
The squarrose nature of the stem leaves is a useful feature to distinguish Kindbergia species from other similar-looking pleurocarpous mosses in the field.
---
Sporophyte
Sporophytes are red-brown when mature in the spring. The sporangium is ovoid in shape and capped with a beaked (rostrate) operculum.
Sporangium: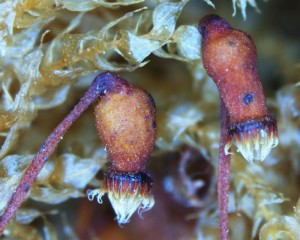 Seta: