Listed below are selected resources for teachers related to using Inquiry-Based Learning in grades 7-12.
Guided inquiry design in action: Middle school, by Leslie K. Maniotes, LaDawna Harrington, and Patrice Lambusta
Grades: 7-8. This guide offers ready-to-use templates and models for implementing Guided Inquiry Design (GID) in the middle school learning environment, with each supplied lesson laid out according to the session plan templates from GID and a thorough description of the ideal inquiry process from beginning to end. Intended to be used alongside Guided Inquiry Design.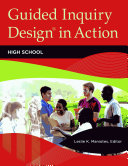 Guided inquiry design in action: High school, edited by Leslie K. Maniotes
Grades: 9-12. This book explains the nuances of GID in the high school context. It also addresses background research, explains guided inquiry and the information search process, and shows how GID serves to heighten student engagement at the high school level by going beyond fact-finding to foster deeper understanding and knowledge creation. Intended to be used alongside Guided Inquiry Design.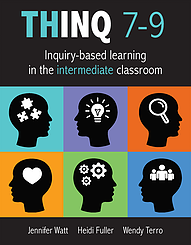 THINQ 7-9: Inquiry-based learning in the intermediate classroom, by Jennifer Watt, Heidi Fuller, and Wendy Terro
Grades: 7-9. This book applies the ideas of inquiry-based learning to the specific needs and characteristics of intermediate learners, teachers and classrooms.
–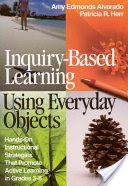 Inquiry-based learning using everyday objects: Hands-on instructional strategies that promote active learning in grades 3-8, by Amy Edmonds Alvarado and Patricia R. Herr
Grades: 3-8. This book explores the concept of using everyday objects as a process initiated both by students and teachers, encouraging growth in student observation, inquisitiveness, and reflection in learning.
–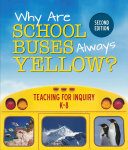 Why are school buses always yellow? Teaching for inquiry, K-8, by John F. Barell
Grades: K-8. The author shares simple yet systematic ways to develop authentic student inquiry that fosters deep learning. This new edition features updates based on the latest research around inquiry-based teaching; examples for grades K–8 across subject areas; and an emphasis on critical thinking about technologies.
Moving from what to what if?: Teaching critical thinking with authentic inquiry and assessments, by John Barell
Grades: 7-12. This book outlines how teachers can challenge students to grapple with complex problems and engage more meaningfully with information across the content areas, rather than rely solely on rote memorization and standardized testing to measure academic success. (E-book only)
–
Authentic learning in the digital age: Engaging students through inquiry, by Larissa Pahomov
Grades: 7-12. The author outlines a framework for learning structured around five core values: inquiry, research, collaboration, presentation, and reflection. For each value, she presents a step-by-step outline for how to implement the value, with examples from teachers in all subject areas; solutions to possible challenges and roadblocks that teachers may experience; and anecdotes from students, offering their perspectives on how they experienced the value in the classroom and after graduation.
A guided inquiry approach to high school research, by Randell K. Schmidt
Grades: 9-12. This book provides a holistic approach to guided inquiry that guides students step-by-step through the cognitive, affective, and social processes involved, including building critical study skills, time management strategies, collaboration techniques, and communication and presentation skills.
–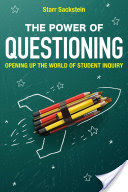 The power of questioning: Opening up the world of student inquiry, by Starr Sackstein
Grades: 9-12. Teaching and learning cannot happen without questions, but in the age of Google, teaching needs to change and students need to be reconnected with their early childhood curiosity. This book helps teachers to make students partners in their own learning. (E-book only.)
–
Inspiring curiosity: A librarian's guide to inquiry-based learning, by Colette Cassinelli
Grades: 9-12. This book provides strategies for using memorable events to activate students' natural curiosity and activities for generating essential questions for exploration. Includes ideas and resources to help librarians (and teachers!) be more effective in research and inquiry; tips for developing search strategies and for locating and curating resources; and ideas on evaluating sources and celebrating students' inquiry beyond the traditional research paper.
Science as inquiry in the secondary setting, edited by Julie Luft, Randy L. Bell, and Julie Gess-Newsome
Grades: 7-12.  In 11 concise chapters, leading researchers raise and resolve such key questions as: What is inquiry? What does inquiry look like in specific classes, such as the earth science lab or the chemistry lab? What are the basic features of inquiry instruction? How do you assess science as inquiry?
–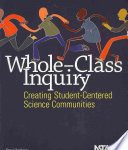 Whole-class inquiry: Creating student-centered science communities, by Dennis Smithenry and Joan A. Gallager-Bolos
Grades: 9-12. The authors describe their experiences in implementing a student-led, multi-day, project-based whole-class inquiry model in the science classroom. Students consult with one another, make decisions for themselves, and carry out their own investigations to solve the complex problems posed to them.
---
Finding More Resources
To find more resources in this area, try the following:
Search using the General tab on the UBC Library website to look for material in all UBC Library branches.
Search using "Search Education Resources" box in the left hand bar on the Education Library website to limit your results to materials in the Education Library.
Use specific search terms to narrow your results, such as "inquiry based learning", "inquiry-based learning", or "inquiry".
To find lesson plans, include "lesson plans", "lesson planning", or "activity programs" in your search terms.
For more help with searching, please visit the Library Service Desk or e-mail ed.lib@ubc.ca.