Listed below are selected teacher resources, picture books, and non-fiction related to outdoor education.
Teacher Resources
Educating young children through natural water: How to use coastlines, rivers and lakes to promote learning and development, by Judit Horvath
Grades: K-3. This books explores the ways in which natural water sources can be used as a unique learning environment for students. Covers the history, benefits, and practices of Natural Water School and offers practical tools and techniques for taking learning to the water. eBook only.
–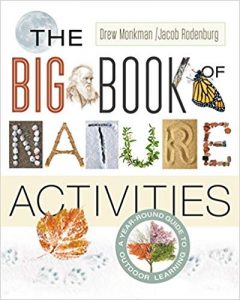 The big book of nature activities: A year-round guide to outdoor learning, by Jacob Rodenburg and Drew Monkman
Grades: K-10. This book aims to reconnect children with nature and learn skills and facts that will help them develop a deeper appreciation of the natural world and their impact on it. Includes games, activities, photos, and connections to broader topics such as climate change and evolution. Also available as eBook, here.
–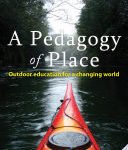 A pedagogy of place: Outdoor education for a changing world, by Brian Wattchow and Mike Brown
Grades: K-12. This book articulates a renewal of philosophy and practice for outdoor education in keeping with the educational needs of today's young people as they grapple with considerable social and ecological changes in a rapidly changing world. The authors explore the mismatch between traditional notions of proving oneself 'against' the challenges of the outdoors and the development of an empathetic relationship with outdoor places which today's world demands.
–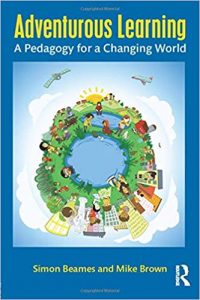 Adventurous learning: A pedagogy for a changing world, by Simon Beames and Mike Brown
Grades: K-12. This book interrogates the word 'adventure' and explores how elements of authenticity, agency, uncertainty and mastery can be incorporated into educational practices. It outlines key elements for a pedagogy of adventurous learning and provides guidelines grounded in accessible theory. Teachers of all kinds can adapt these guidelines for indoor and outdoor teaching in their own culturally specific, place-responsive contexts. eBook only
–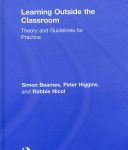 Learning outside the classroom: Theory and guidelines for practice, by Simon Beames, Peter Higgins, and Robbie Nicol
Grades: K-12. The authors provide both academic justification and practical support for K-12 educators working in a wide variety of environments and with diverse populations of students to incorporate more meaningful outdoor learning opportunities into their daily teaching activities. The idea of adaptation of activities for personal relevance is central. The principles and examples presented in this book are intended to be adapted by teachers to suit the needs of their students in ways that draw upon content offered by the local landscape and its natural and built heritage.
–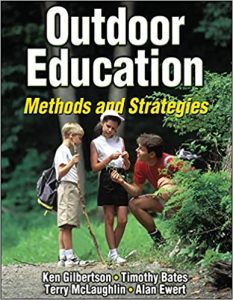 Outdoor education: Methods and strategies, by Ken Gilbertson et al.
Grades: K-12. This book offers a set of educational methods and applications to foster optimal outdoor education. Part I defines outdoor education is and explores educational theories that support it, including developmental stages, learning stages, and constructivism. Part II covers teacher preparation, including understanding the backgrounds and abilities of participants, creating a successful learning environment, and teaching effectively in a variety of outdoor settings. Part III provides six ready-to-use sample lessons, and helps readers reflect on, evaluate, and improve their lesson plans through experimentation.
–
Interdisciplinary teaching through outdoor education, by Camille J. Bunting
Grades: 5-10. This book provides teachers with outdoor activities as well as the expertise to expand students' understanding of the outdoors and develop their character. Part I explores the foundations and methods for using outdoor education and highlights its interdisciplinary connections. Part II provides detailed instructions for conducting outdoor education lessons as well as unit plans for seven outdoor education areas. Part III delves into school programming, including planning field trips and starting a school-based outdoor education program.
–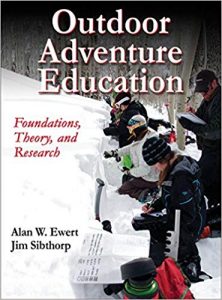 Outdoor adventure education: Foundations, theory and research, by Alan W. Ewert and Jim Sibthorp
Grades: 9-12. The authors present theories, concepts, and developments of outdoor adventure education.Topics include the history of the field, contemporary theory and practice, development across the lifespan in relation to outdoor adventure education, and evolving trends and issues.
–
Picture Books
Bringing the outside in, written by Mary McKenna Siddals, illustrated by Patrice Barton
A rhyming story that encourages children to get out and play in the great outdoors.
–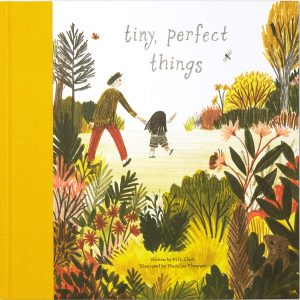 Tiny, perfect things, written by M.H. Clark, illustrated by Madeline Kloepper
As a young girl takes a walk outside her grandfather teaches her how to notice and appreciate even the tiniest of things. A great book to introduce young children to the idea of celebrating your surroundings, appreciating the outdoors, and practicing gratitude.
–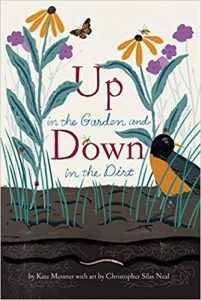 Up in the garden and down in the dirt, written by Kate Messner, art by Christopher Silas Neal
Explore all the excitement of a garden, the leaves sprouting, vegetables growing, and fruit ripening. Then dive down into the dirt and meet the earthworms, snakes, and skunks, who make the garden their home. Showcases that when it comes to the outdoors, sometimes the most exciting things take place below the surface.
–
A stick is an excellent thing: Poems celebrating outdoor play, written by Marilyn Singer, illustrated by LeUyen Pham
A book of poems that follow a group of kids from the neighbourhood as they play games and explore outside on a summer day.
–
–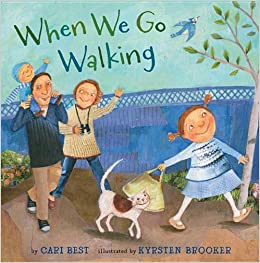 When we go walking, written by Cari Best, illustrated by Kyrsten Brooker
Wendy and her family love to go walking no matter the weather and when they do Wendy notices all the little details, picking up treasures along the way. On a snowy day when the family can't go walking Wendy uses her treasures to build her very own walking route for everyone to use.
–
Non-Fiction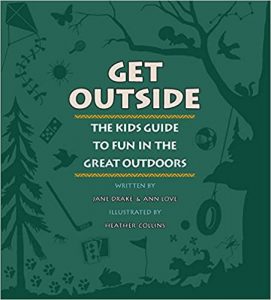 Get outside: The kids guide to fun in the great outdoors, written by Jane Drake & Ann Love, illustrated by Heather Collins
Grades: 3-7. The book's four sections – Nature Lover, Outdoor Fun and Games, Cozy Inside, and Look to the Sky – provide a variety of games and activities that will connect kids with nature and keep them engaged. Activities are accompanied by helpful instructions, fun facts and scientific, historic, and cultural context.
–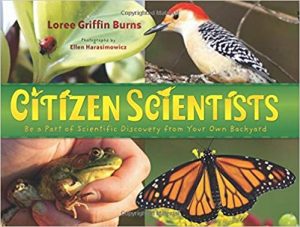 Citizen scientists: Be a part of scientific discovery from your own backyard, written by Loree Griffin Burns, photographs by Ellen Harasimowicz
Grades: 4-6. This book shows children that they can be a part of scientific discovery anywhere, including their own backyard. Focuses specifically on observing and counting butterflies, birds, frogs, and ladybugs. See also, Get Into Citizen Science.
–
---
Finding More Resources
To find more resources in this area, try the following:
Search using the General tab on the UBC Library website to look for material in all UBC Library branches.
Search using "Search Education Resources" box in the left hand bar on the Education Library website to limit your results to materials in the Education Library.
Use specific search terms to narrow your results, such as "Outdoor education", "Adventure education", "Outdoor recreation–Juvenile literature"
To find lesson plans, include "lesson plans", "lesson planning", or "activity programs" in your search terms.
For more help with searching, please visit the Library Service Desk or e-mail ed.lib@ubc.ca.