Listed below are selected teacher resources, picture books, fiction, and non-fiction related to seeds and gardening.
Teacher Resources
by Ann Watts
Grades: Preschool-6.
A garden can be a magical place for young children and offers them rich and engaging learning experiences as they interact with a variety of plants and wildlife throughout the year. This book guides you through the process of creating a garden, however small, for young children. It looks at the impact a garden area can have on children's overall development and the benefits of using natural materials as learning tools.
Roots and Research in Urban School Gardens,
by Veronica Gaylie
Grades: K-12.
Through a comprehensive history of school garden practice rooted in Eastern industrial cities, to case studies from four Pacific Rim regions, this book examines the practice and culture of the urban school garden as a central symbol for environmental learning. As poetically described by students, teachers, and community members in both historical and contemporary gardens, the story of the urban school garden inspires a new narrative in connecting learners to the land.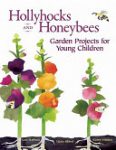 Hollyhocks and Honeybees : Garden Projects for Young Children,
by Sara Starbuck, Marla Olthof, and Karen Midden
Grades: Preschool.
This practical guide introduces teachers–with or without green thumbs–to the rich learning opportunities found in gardening with children. Learn how gardening provides a full curriculum, incorporating language and literacy, science and math, social sciences, and the arts, as well as physical, cognitive, social, and emotional development. Covers everything you need to know about planning, preparation, plant selection, growing zones, and pest control.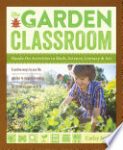 The Garden Classroom : Hands-on Activities in Math, Science, Literacy, and Art,
by Cathy James
Grades: Preschool-6.
Every garden offers children a rich, sensory playground, full of interesting things to discover and learn about. There's a whole lot of science happening right before their eyes. The garden can also be a place to develop math and literacy skills, as the outdoors offers up plenty of invitations to weave learning into everyday gardening. The garden classroom is a place where plants grow, and where children grow too.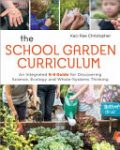 School Garden Curriculum: An Integrated K-8 Guide for Discovering Science, Ecology, and Whole-Systems Thinking,
by Kaci Rae Christopher
Grades: K-8.
The School Garden Curriculum offers a unique and comprehensive framework, enabling students to grow their knowledge throughout the school year and build on it from kindergarten to eighth grade. From seasonal garden activities to inquiry projects and science-skill building, children will develop organic gardening solutions, a positive land ethic, systems thinking, and instincts for ecological stewardship.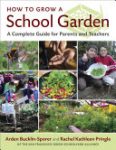 How to Grow a School Garden: A Complete Guide for Parents and Teachers,
by Arden Bucklin-Sporer and Rachel Kathleen Pringle
Grades: K-8.
Today both schools and parents have a unique opportunity—and an increasing responsibility—to cultivate an awareness of our finite resources, to reinforce values of environmental stewardship, to help students understand concepts of nutrition and health, and to connect children to the natural world.
Big Ideas in Outdoor Primary Science: Understanding and Enjoying the Natural World,
by Peter Loxley
Grades: K-6.
Big Ideas in Outdoor Primary Science takes a fresh approach to learning science in outdoor contexts. It combines new thinking in science teaching using big ideas, with our growing need to look after our planet, and encourages children to learn from what scientists have to say about issues which will impact their lives today and in the future.
Picture Books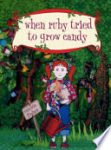 When Ruby Tried to Grow Candy,
by Valorie Fisher
Grade Level: Preschool-3.
Ruby Louise Hawthorne can't believe her eyes. Right there, in Miss Wysterious's garden, teacups are growing on trees, shoes are sprouting like weeds, and eggbeaters are jangling from branches. So maybe Ruby should listen when Miss Wysterious tells her all the important rules of gardening–like watering and weeding and labelling what you plant. That way, when Ruby plants her jellybeans, they really just might grow.
by Kevin Henkes
Grade Level: Preschool-2.
A girl helps out in her mother's garden, but in the garden of her imagination, there are chocolate rabbits, tomatoes as big as beach balls, flowers that change colour, and seashells.
by Eric Carle
Grade Level: Preschool-3.
Dazzlingly colourful collage illustrations and a simple but dramatic text tell the fascinating story of the life cycle of a flower in terms of the adventures of a tiny seed.
by Christie Matheson
Grade Level: Preschool-3.
Beautiful collage-and-watercolor art follows the seed through its entire life cycle, as it grows into a zinnia in a garden full of buzzing bees, curious hummingbirds, and colourful butterflies. Children engage with the book as they wiggle their fingers to water the seeds, clap to make the sun shine after rain, and shoo away a hungry snail.
written by Mary Ann Hoberman; illustrated by Jane Dyer
Grade Level: Preschool-3.
The gardener says the garden belongs to him. But the woodchuck insists that it's his. And so do the rabbit, the butterfly, the squash bug, and the bumblebee. Even the tiny seeds and whistling weeds think the garden just couldn't grow without them. As they stroll through the exquisite plants and flowers, Mrs. McGee and her child listen and wonder: Whose garden is it?
Non-Fiction
Maker Projects for Kids who Love Greening up Spaces,
by Megan Kopp
Grades: 4-8.
Creative readers with a green thumb and an eye for design will be inspired to create their own gardening and landscaping projects in unique spaces. From vertical gardens to urban parklets, this title will motivate readers to "green up" spaces in their communities in a way that promotes environmental awareness, collaboration, and group planning.
Plant, Cook, Eat!: A Children's Cookbook,
by Joe Archer and Caroline Craig
Grades: 2-5.
For beginners and green-thumbed foodies, this unusually all-inclusive garden-to-kitchen cookbook is part lesson in gardening and part collection of healthy, delicious, kid-friendly recipes.
The Children's Garden Book: Instructions, Plans & Stories,
by Olive Percival
Grades: 2-5.
A gardener "ought to have a little make-believe," the Southern California garden maven Olive Percival mused more than eighty years ago. Inspired by this principle, she devised plans for whimsical gardens that could be created by children and adults alike.

The Amazing Life Cycle of Plants,
written by Kay Barnham; illustrated by Maddie Frost
Grades: Pre-K-3.
How do plants grow? Explore the journey from seed to sapling and beyond. Children have lots of questions about the world around them, and this book helps them discover many amazing and wonderful scientific facts about nature.

Seeds of Change: Planting a Path to Peace,
written by Jen Cullerton Johnson; illustrated by Sonia Lynn Sadler
Grades: 1-6.
Though most girls in Kenya were not educated, curious hard-working Wangari was allowed to go to school. There her mind sprouted like a seed. Blazing a trail in the field of science, Wangari used her knowledge and compassion to promote the rights of her countrywomen and help save the land, one tree at a time.
written by Rita Golden Gelman; illustrated by Yangsook Choi
Grades: 1-3.
In Bali, life revolves around the planting and harvesting of rice. While eels slip through the mud and dragonflies flutter overhead, farmers plant seedlings in the wet rice field, or 'saweh.' From planting the seeds to harvesting the ripe grain, this beautiful, poetic book tells the story of rice and of the Balinese people, for whom rice is life.


It's Our Garden: From Seeds to Harvest in a School Garden,
by George Ancona
Grades: Pre-K-3.
At an elementary school in Santa Fe, the bell rings for recess and kids fly out the door to check what's happening in their garden. As the seasons turn, everyone has a part to play in making the garden flourish. From choosing and planting seeds in the spring to releasing butterflies in the summer to harvesting in the fall to protecting the beds for the winter.
by George Ancona
Grades: 1-4.
The students in this book are learning about gardens. One grade is planting a pizza garden, and another grade is planting a storybook garden. Although they are planting different things, they will all use patterns in their planning! With vibrant photos, math charts and diagrams, grade-appropriate text, and informational text features to help navigate the text, students will learn about practical, real-world applications of math skills as they learn about mathematical patterns and build their STEM skills.
---
Finding More Resources
To find more resources in this area, try the following:
Search using the General tab on the UBC Library website to look for material in all UBC Library branches.
Search using "Search Education Resources" box in the left hand bar on the Education Library website to limit your results to materials in the Education Library.
Use specific search terms to narrow your results, such as "garden", "seeds", "plants", or "school garden".
To find lesson plans, include "lesson plans", "lesson planning", or "activity programs" in your search terms.
For more help with searching, please visit the Library Service Desk or e-mail ed.lib@ubc.ca.