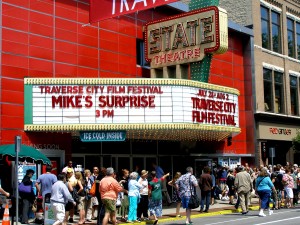 Michael Moore, michaelmoore.com, Reader Supported News, 8 June 2013– This past week, the Motion Picture Association of America (MPAA), the main federation of Hollywood's six major studios, posted on their web site a list of what they believe are some of the best movie theaters in the world.
And listed as #1 is the historic State Theatre of Traverse City, Michigan, an incredible movie palace which I restored and now run as a nonprofit theater – along with a few hundred great volunteers!
This month, we will sell our one-millionth admission ticket since we opened five-and-a-half years ago. What makes this statistic even more remarkable is that Traverse City's year-round population here in remote northern Michigan is only 16,000 people. And mostly we show only "smaller" indie and foreign films that open nationwide on less than 200 screens.
Even with those limitations, in the 289 weeks we've been open, for 78 of those weeks, the State Theatre has been the #1 grossing theater in the country for the movie we happen to be showing. We've placed in the top 10 grossing cities for 171 of those weeks (the other cities on that list are usually New York, Los Angeles, Chicago, D.C., Dallas, Boston, etc.).
So how in the name of trees that are right height does this happen?
Here is our basic recipe:
We only show really good movies. Nothing that aspires to the mediocre is shown at the State.
We reject the need to make a profit and, by doing so, we've been in the black since day one.
We don't rip people off. You can see a first-run movie for $8 and $6 (kids are less). Late night on the weekend is 2 for $5. We have 25-cent kids matinees on Saturday mornings (often packed with 580 people in attendance) and 25-cent classic movie matinees on Wednesdays. As for the concessions: No $10 popcorn at our place! Popcorn is as low as $2, soda $2 and candy as low as $1. We believe everyone should be able to afford to go to the movies.
This is the community's theater. Like in a co-op, everyone pitches in as a volunteer. Volunteers pop the corn, take the tickets and run the box office. Community groups pick the shift they'd like to work each month, which means on any given night you'll have a county judge and a single mom working the concession counter, the high school English staff working as the ushers, and the Boy Scout troop on clean-up. Everybody gets free movies tickets for this – and the knowledge that they are the true "owners" of this theater. (The paid positions, like the theater managers and our professional projectionists, are paid a good livable wage with full health benefits.)
This theater has perhaps the best projection and sound in the country. We show movies the way they were meant to be seen (and on a huge 50-foot screen). We have the most comfortable theater seats that you'll ever sit in (made in Michigan, like many things in the theater). There's a theater organ that rises out of the stage. A red velvet curtain ascends at the beginning of every movie, and the ceiling above you has 3,000 tiny lights that make up the constellations as they actually appear in the night sky over Traverse City in the fall.
 Filmmakers from Wim Wenders to Paul Mazursky to David O. Russell have shown their films in person at the State, and they will tell you that the State Theatre is one of a kind. I tell them, "If they'd let us filmmakers design the theaters, the public would be amazed at the difference in the theater-going experience."
Other than our coming attractions, we will never show a commercial before any of our films. You came here to see a movie, not watch TV.
Our cell phone policy is simple: If we catch you talking on the phone, texting or checking your mail, you will be banned from the theater for life. Zero tolerance for those who are there to annoy the people who are there to watch a movie in peace.
Each summer we present the Traverse City Film Festival at the State Theatre and seven other venues. We have 100,000 admissions each year and and this year's fest will take place July 30-August 4.
There's a lot more, but you get the picture. We've created a comfortable, pleasant place to disappear into the dark and be transported by an excellent movie. Shouldn't every town – especially the small ones – have this? We'd be happy to share with anyone who'd like our help.
In three years, in 2016, we'll celebrate the 100th anniversary of movies being shown on the site of the State Theatre in Traverse City, Michigan. If you love the cinema and if you are ever in our area, please stop by to experience what going to the movie palace was like many, many years ago.
We offer our deep appreciation to the Motion Picture Association of America for this honor of being named one of the best places in the world to see a movie.
Sincerely,
Michael Moore
President, State Theatre and Traverse City Film Festival
Board of Directors
Terry George (director, 'Hotel Rwanda,' Oscar winner)
Larry Charles (director, 'Borat')
Christine Lahti (actress, Oscar winner)
Rod Birleson (co-producer, 'Roger & Me,' 'Sicko,' 'Capitalism: A Love Story')
Sabina Guzanti (acclaimed Italian filmmaker and satirist)
John Robert Williams (photographer)