The March Point official site includes a link to the trailor and  a synopsis of the story of how the became to be made.  The creation of the March Point documentary is an excellent example of how the use of technology can facilitate a more balanced education and healthier student .    The filmmakers, three once ambivalent and troubled teens from the Swinomish Indian Tribe, combined film production skills with traditional knowledge to heal and gain vision for their lives as they created a documentary centered around the disastrous effects of oil refineries on their land.
Links available on the site include:
Native American Public Telecommunications
March Point logo [Online Image]. (n.d.). Retrieved November 17, 2009, from March Point website. http://marchpointmovie.com/
October 24, 2009 No Comments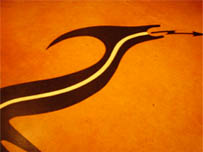 The mission of the Indigenous Education Institute (IEI) is to preserve, protect and use Indigenous knowledge in current settings.  They have developed projects to preserve  Indigenous knowledge and protocol to protect it.  It is governed by a board of directors, International Advisory Council, and an IEI Elders' circle.
Current projects include:
Cosmic Serpent, a National Science Foundation (NSF)-funded professional development project developed to increase the capacity of museum practitioners to bridge native and western science learning in informal education settings.
Sharing The Skies: Navajo Astronomy, A Cross Cultural View.Also available are the CD Stars Over Dine Bikeyah, and the poster Dine (Navajo) Universe and original and giclee paintings of Navajo constellations
Paradox and Transformation is published in a peer reviewed journal, the World Indigenous Nations Higher Education Consortium, Volume 2, 2006, by
Dr. Nancy C. Maryboy, Dr. David Begay and Mr. Lee Nichol.
The site provides links to:
Aboriginal Education Research Centre
Aboriginal Learning Knowledge Centre
The Cosmic Serpent [Online Image]. (n.d.). Retrieved November 17, 2009, from Indigenous Education Institute website.  http://www.indigenouseducation.org/index.html
October 24, 2009 No Comments