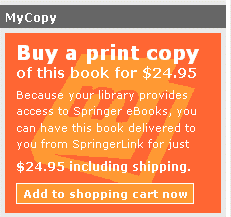 UBC Library subscribes to hundreds of electronic books from SpringerLink.
Prefer a print copy? Springer now offers a Print on Demand service for UBC faculty, staff and students wanting a personal copy from the library's collection of Springer ebooks. You can have a black & white softcover copy delivered to your doorstep for $24.95 USD (includes shipping & handling) plus GST & PST.
Browse these collections for ebooks in your discipline
Books that can be delivered in print are indicated by the orange MyCopy logo. Simply click on Add to shopping cart now to begin the ordering process.
If you have any questions or comments, please contact UBC Librarians, Joy Kirchner or Aleteia Greenwood, or the publisher Springer.
Jan 30th, 2009 by Sally Taylor | No Comments »