Sean Graham Term 1, Section 110
Sean is a prof in the Department of Botany who works on plant phylogeny and evolution. He grew up in Bangor, Northern Ireland, and started out as an undergrad in genetics at the University of St Andrews, in Scotland. He was lured to the dark side (plant systematics) during his PhD at the University of Toronto with Spencer Barrett, and a stint as a postdoc at the University of Washington with Dick Olmstead. He finds all branches of science fascinating, but his research specialty is in land plants and their diversification and biodiversity. His lab includes graduate students and undergraduate assistants, and has a strong emphasis on applying molecular tools, including various genomic methods. His teaching interests include vascular plants (BIOL/APBI 210) and graduate courses in communication and phylogenetic analysis. He also volunteers as an editor for several botanical journals, including American Journal of Botany. His office is in the Biodiversity Research Centre (the 'Blue Whale' building) where he is the associate director and an herbarium curator in the Beaty Museum. He is also the research director at the UBC Botanical Garden and Centre for Plant Research. His favourite plants to consume includeSolanum tuberosum, Theobroma cacao and Hordeum vulgare, but he also quite likes kale pesto.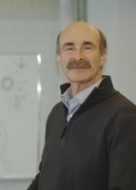 Edward Grant Term 1, Section 111
Dr. Edward Grant is a professor in the Department of Chemistry at UBC. He is interested in the development of new molecular beam techniques to study ultracold plasmas. It is hoped that the plasma physics uncovered studying these systems may provide information about similar plasmas at the core of dense white-dwarf stars or thermonuclear fusion.
Bruce Dunham Term 1, Section 112
Dr. Bruce Dunham is a senior instructor in the Department of Statistics. Prior to arriving at UBC in 2005 he held positions at the universities of Nottingham and Derby in England, his native country. Dr. Dunham studied at the University of London for his PhD in probability theory. After several years pursuing a traditional research-oriented academic career, he decided his interests resided in education and pedagogy. He has taught over thirty different courses in the areas of mathematics and statistics, and is delighted to be contributing to the Communicating Science course. When not working, Bruce enjoys his time with his daughter and is also an avid follower of his home-town soccer club, Blackpool FC.
Robin Stoodley Term 1, Course Coordinator
Dr. Robin Stoodley is a senior instructor in the Department of Chemistry at UBC. There, he manages and teaches analytical chemistry laboratories for 2nd, 3rd and 4th year students as well as teaches a lecture section of Chem 211. His research background involved both chemistry and pharmaceutical sciences, specializing in a mixture of electrochemistry, models of drug action, spectroscopy and surface science. His teaching interests include complex problem-solving strategies and techniques for integration of clear communication with scientific content. He previously taught courses in chemistry, engineering chemistry, scientific writing, research proposal projects, and science and society at the University of Calgary. Prior to earning his Ph.D., he dabbled with various forms of gainful employment: in high-energy physics, in semiconductor physics, and in law enforcement.