Memory loss has long since been correlated with age, due to a common deficiency of a certain protein in the dentate gyrus (region of the brain involved in memory) observed in elderly patients. Previously, this was just accepted as a hard truth; as you age, you're destined to have to deal with various parts of your body slowly starting to become less functional, including your brain, which shrinks over time.
However, a recent study at the Columbia University Medical Centre has found that age-related memory loss, at least, is one thing that doesn't necessarily have to impact you in your old age any longer.
Not only were the effects of age-related memory loss reduced in the study, they were actually reversed! How?
A group of otherwise healthy adults aged 50-69 were divided into two groups with different diets, which they followed for 3 months. The key difference was the level of flavanols (plant-based antioxidants) each group was consuming. The participants who followed a high-flavanol diet performed better on memory tests than those who followed a low-flavanol diet, and brain imaging showed that flavanols improved function in the dentate gyrus.
So what? Well, flavanols aren't just a mysterious chemical reserved for scientific experiments…they are already readily available to us, and have been for a long time. Flavanols are found in tea leaves, blueberries, grapes and broccoli, so while it's important that you do as you've been told and eat your fruits and veggies, flavanols are also found naturally in cocoa, which is present in chocolate.
A similar study in 2012 showed that drinking cocoa-containing beverages daily helped to indirectly improve blood flow in the brain, resulting in increased cognitive function, including improved memory.
However, this isn't an excuse for everyone to just turn to a chocolate-only diet and claim that it's in their best interests to eat as much of it as they can. Research shows that the cocoa-flavanol works best when paired with regular exercise, so it is important that a healthy lifestyle is maintained, while including flavanol-containing foods as part of a balanced diet.
That being said, chocolate can provide many other health benefits if eaten in moderation, as described in the video below.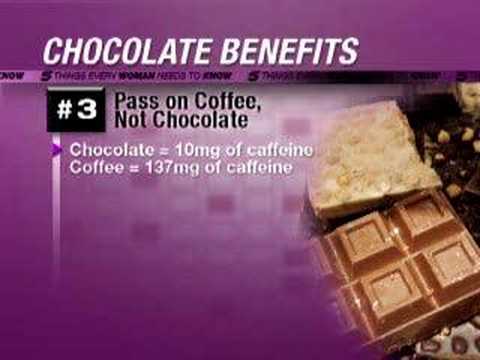 Video Source: YouTube user WLWT
So what are you waiting for? Go grab some tea, blueberries…what was the other thing? I can't remember…
– Mikaela