Have you ever heard that baby powder is actually bad for babies and you shouldn't use it for a long period of time? Talc is used in the powder and talc is a mineral composed of hydrated magnesium silicate. The issue is that talc is a small particle that is small and light enough to travel in the air which can weaken babies' lungs. When it is inhale, talc can dry a baby's mucous membranes can cause serious lung damage.  Study have shown that talc can cause shortness of breath and blockage of the airway in babies. Some babies have developed pneumonia, and some have died as a result of respiratory failure.
Some people might think they can replace corn starch with talc, but corn starch is not ideal either. However, the particles are large enough and won't be able to travel in the air compare to other particles such as talc. What are the other alternative? We can use over the counter ointments or petroleum jelly which can be found in any drug stores.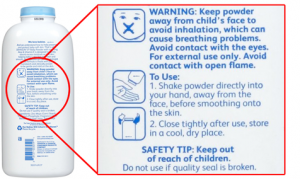 The most important question is that is there a link between talcum powder and lung cancer? An American cancer society stated that there is no increased risk of lung cancer if customer uses talcum powder, but it is suggested that customers should not use talcum powder too often. However, if customer decided to use baby powder, it is suggested not to sprinkle it directly on babies' body and keep it as far away as possible. It would be ideal to apply some powder on hands away from babies before applying on babies.