Between March 3 – 6, we had a most productive 4-day meeting with colleagues from Central Asia, Europe, Canada and USA. Here is a brief summary: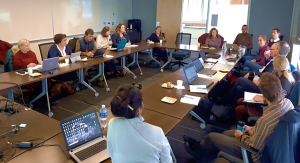 Prerequisite course developers at UBC met and discussed curriculum and course details with review committee members visiting UBC from Seneca (Toronto), U. Montana, Universität Siegen (Germany), ZHAW Zurich University, and U. Central Asia (Kyrgyzstan and Tajikistan).
Detailed presentations and discussions about prerequisite courses (chemistry, physics, biology), followed by very productive discussions about courses themselves as well as the review process.
Developers of core Earth and Environmental Sciences program courses attended to meet reviewers. They provided valuable insight and creative suggestions for all aspects discussed during this meeting.
The upcoming visit of UBC team members to Central Asia was discussed with some progress made regarding priorities, timing and potential activities to support contextualization of the courses.
Updates were provided regarding personnel, students, faculty, campuses and curriculum at UCA.
Useful discussions were had regarding aspects of EES curriculum and course scheduling. Details still to be finalized, but meeting face to face has been crucial for helping consider and discuss options, challenges and opportunities in light of all stake holders.
A persistent theme – keep courses manageable – or at least indicate the "minimal" version. New faculty may have to teach with little preparation time (at least for the first time they teach a course).
Pros and cons of 3hr or 1.5 hr classes, and 6wks or 13 wks courses. Schedules for prerequisite and core courses largely determined, although additional circumstances may result in adjustments. Courses developed by UBC can (mostly) be taught in either format.
UCA visitors met with UBC experts to discuss approaches and strategies regarding teaching of mathematics, managing student progress or difficulties, professional development for faculty, supporting educational initiatives, and specifics of running unique aspects of UBC's Environmental Sciences Programme.
UCA faculty stayed to met with a range of UBC faculty to discuss mutual research interests. UBC instructors also gave generously of their time to discuss evidence-based, student-centric, post secondary instructional practices for science courses. There were also several visits to observe classes and discuss with specialists several aspects of student management.
This whole partnership project is a most rewarding experience, benefiting all who participate, at both personal and institutional levels. Thank you everyone for a very productive time!