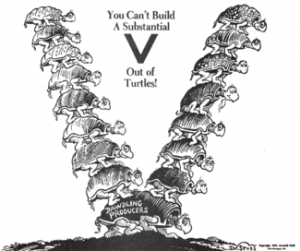 Well, it turns out that Dr. Seuss's initial impression during the war that you can't achieve a substantial victory out of turtles turns out to be wrong! This past week, after 3 years or a decade, depending how its measured, the BC Teachers' Federation scored one of the most substantial court victories in academic and intellectual freedom for teachers in the last thirty years. The victory provides a substantial defense of educators' civil liberties and free expression, critical education methods of instruction. And what's more, it is a significant victory for students' rights to critical content in the schools.
On 21 May, the BC Court of Appeal released its decision on the BCTF v. BC Public School Employers' Association (BCPSEA) / Board of Education of School District No. 5.  The case concerned "the extent to which teachers' expression of political views on education issues in public schools is protected freedom of expression under s. 2(b) of the Canadian Charter of Rights and Freedoms:"
The political expressions in issue were messages critical of specific government education policies, contained on posters posted on classroom doors and school bulletin boards, and on buttons worn by teachers. Pursuant to a directive from the school district that political posters and information should not be displayed in school hallways, classrooms, or on school grounds, some principals told teachers to stop displaying the posters and wearing the buttons.
This case dates specifically to January 2009, when campaign materials, such as posters and buttons, were circulated by the BCTF to teachers across the province. On 23 April 2009, the Director of Instruction and HR from School District No. 5 (Southeast Kootenay) forwarded a directive principals in the district advising them that the BCTF's political materials had no place on school grounds other than the staff room. On 1 May 2009, the Cranbrook and Fernie Teachers' Association forwarded a note to the Director advising that it disagreed with the 23 April directive.  Following a grievance filed by the BCTF, an arbitrator heard the case in March 2010 and denied the grievance, awarding in favour of the BCPSEA in October 2011.
The BCTF appealed the decision. Within Tuesday's BC Court of Appeal decision is some of the strongest language for a defense of academic freedom for teachers and critical education methods:
There was no evidence in this case of any actual or potential harm to students from being exposed to the materials about educational issues, nor any facts from which an inference of harm could be drawn. On the contrary, Canadian jurisprudence, including Munroe, stands for the principle that open communication and debate about public, political issues is a hallmark of the free and democratic society the Charter is designed to protect. Children live in this diverse and multi-cultural society, and exposing them to diverse societal views and opinions is an important part of their educational experience.
Simply put, "the law supports the exercise by teachers of their right of free expression in schools."
Court of Appeal Justice Hinkson provides a caveat:
I see no reason why students should receive less protection from the monopolization of the discourse of a societal issue than adults who are subjected to a flood of discourse on an electoral issue by proponents of one side to that issue. In the case of the students, the monopolization on the issue may deprive them of their right to be educated in a school system that is free from bias.
Where the issue upon which teachers choose to exercise their rights to free speech is a political one, their rights must be balanced against the rights of their students to an education that is free from bias. That brings into play, as it did in Harper, the concern that if a group is able to monopolize its message on any issue, competing views will be deprived of a reasonable opportunity to be heard…. However, the proportionality aspects of s. 1 of the Charter reserve for another case the evidence required to establish and the point at which teachers' rights of freedom of expression in schools must yield to the rights of students to be educated in a school system that is free from bias.
This landmark decision  will certainly be put to test, as the case more generally dates back to over a decade of to-and-fro decisions over academic freedom for BC teachers and their right to free expression. Indeed, one of the best case studies of political speech and symbolic speech is that of the BCTF v. the BC Ministry of Education and BCPSEA from about 2002 to this present decision. Throughout this decade, BC teachers have progressively and systematically tested their rights to political and symbolic speech: posters on school bulletin boards, black arm bands, buttons, letters to parents, t-shirts, bumper stickers on cars in the school parking lot, and wearing black clothes.
"Your Majesty, please… I don't like to complain,
But down here below, we are feeling great pain.
I know, up on top you are seeing great sights,
But down here at the bottom we, too, should have rights."
In April 2012, amidst another round of disputed bargaining practices and the government's imposition of the controversial Bill 22, teachers raised questions: "A Prince Rupert elementary teacher has been told a quote from Dr. Seuss's Yertle the Turtle is a political statement that should not be displayed or worn on clothing in her classroom. The teacher included the quote in material she brought to a meeting with management after she received a notice relating to union material visible in her car on school property."
Eight teachers in the Prince Rupert district received letters warning of "discipline for displaying political messages." Joanna Larson, president of the Prince Rupert District Teachers' local said "the administration doesn't want students to see the messages." "We feel very censored here right now. We have feelings that our rights to freedom of expression have been violated."
To accent the 11th anniversary of BC government's oppressive bills 27 and 28, which prevented the teachers from bargaining on issue such as class size, the BCTF and teachers organized a protest for January 28, 2013– a "Dark Day for Education" and "Wear Black Day." Teachers wore black in their classrooms while the BCPSEA cautioned that "regardless of the colour of attire worn, teachers should not engage students in discussion about their political views." Some teachers in Prince Rupert responded with new black t-shirts, this time remediating Shakespeare and quoting section 2(b) from the Canadian Charter of Rights and Freedoms. But three teachers  were told to remove or cover the shirts.
The BC Civil Liberties Association (BCCLA) weighed in on 4 February 2013 by forwarding a letter to the Prince Rupert School Board and arguing that the ban was unconstitutional: "The school district's decision to ban free speech about free speech reminds us of a badly-written comedy sketch. But this isn't an Air Farce skit, it's a troubling violation of teachers' constitutional right to free expression," said Lindsay Lyster, President of the BCCLA. "The School District has an obligation to respect free speech, and there is no lawful justification for the District to ban these t-shirts."
Of course, quoting or paraphrasing one's civil liberties in defiance has been part and parcel of protests throughout the past 300 years. And arguably one of the best political works in the Dr. Seuss catalog, Yertle the Turtle has for five decades been used for purposes of instruction in the classroom and symbolic and political speech, inside and out. Notoriously, the Red Hot Chili Peppers first rocked their expressive version of Yertle the Turtle in 1985. Most recently leading up to the Prince Rupert teacher's utilization of parts of the text, Yertle the Turtle was used in the protests at the Wisconsin legislature in 2011 and the Occupy movement beginning in September 2011.
ICES colleague E. Wayne Ross recently articulated the necessity of "dangerous citizenship"— "critical citizenship, or social justice oriented citizenship" and civil liberties citizenship— in opposition to liberal notions of "good citizenship" that somehow pass for education in the schools. "There is a misguided and unfortunate tendency in our society to believe that  activities that strengthen or maintain the status quo are neutral or at least non-political," Wayne observes, "while activities that critique or challenge the status quo are 'political' and inappropriate."
A breath of fresh air, Tuesday's decision from the BC Court of Appeal changes the tide for teachers. BCTF President Susan Lambert was buoyed by the decision, noting that
it's about the right of teachers to express their concerns about the working conditions that they teach in and the learning conditions the students are taught in… It's very important that we as a society encourage teachers to express their views and that we take those views seriously…. You don't discuss and encourage critical thinking in children by shielding them from diverse views.