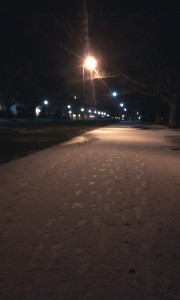 Arriving at the YVR airport, a strange feeling came over me.
I hadn't stayed at my parents' place for such an extended period of time (exactly a month) ever since I started my masters. Coming down the escalator and going through the now-all-too-familiar automated customs booth, I felt a sense of reality sink in. Even just a few hours ago, I had this illusion that I could do everything I wanted to do. For example, I was sure that I could carry back two suitcases, my ski, and ski boots, and my carry-on bag all by myself. When I got to the Toronto Pearson airport though, I had to leave my ski and ski boots behind because of the realization that carrying five heavy and bulky things with my two hands is not going to be easy. I no longer have access to a car, my family conveniently sharing the load with me, and other things from home that make me feel as though I am invincible in some way. I contemplated taking the skytrain and bus 99 back to campus with the three bags full of stuff, but decided against it. There was no guarantee that I would find a seat in the busy bus.
I let out a sigh.
After a taxi driver dropped me off at the residence, I fumbled for a moment before opening the door, and entered the house that is now quite obviously lacking human presence.
I was glad to find the house tidy though. I don't know about you, but cleaning the house before leaving for a trip is my number one rule. Because I find that coming back to a messy house after a tiresome journey is one of the most disheartening experiences — the reality just screams out at you, saying that you made the mess, you are the only one to blame, and are the only one who gets to clean it up, on top of unpacking and cooking and feeding yourself from the fridge that is certainly empty of useful ingredients.
Anyway, my friend Jee understands this feeling of 'coming back' very well and takes a good care of me whenever I come back from a trip. She and I ended up going for groceries and having dinner together that day, making the 'coming back to an empty house' type feeling a little less obvious.
There was no time to remain droopy though. Over the winter break, I had written a gigantic journal paper that needed a lot of work before the late January deadline. After quickly unpacking and washing up, I headed to the lab.
Tagging my fob by the lab door and hearing the familiar beeping sound, I felt another sense of reality sink in. Just steps away from the door were my labmates busily typing away on their keyboards, chatting away about something funny they found on the Internet, and putting on a serious face by a robot that sat speechless and immobile. Soon enough, I found myself happily chatting with them about my winter break, my trip to New York, and my upcoming deadlines, and the events from their winter break. The reality that sank within me was that, despite being away from home, this is a great place to be.
Since my coming back to Vancouver, not everything remained the way I had left it back in December of 2011.
I have decided to change my routine and to not consider deadlines, papers, and projects as occasional things that suddenly take over all other items of priority in my life. I mean, if I am to go on and successfully finish my PhD, then I should consider my research life as a marathon rather than a 100km race. This is my long winded way of saying that my new year's resolution for 2012 is to learn to pace myself.
I am going to try and wake up consistently on time everyday. Rather than going to bed super late and waking up late just to feel the guilt of having wasted a half a day sleeping, I am going to wake up by seven at the latest. AND I am going to try and exercise a little more often. Crazy, eh? These two things are going to make me feel so much healthier! 😀
…
Man, these things sound like something that other people take for granted.
Well, whatever. It's hard enough for me to wake up at seven every morning, so give me some credit here.
Anyway, I am taking small steps to keep up with my new year's resolutions and really looking forward to seeing what the rest of the year at UBC has in store for me. And I am really looking forward to spending another year with the MEGA members (although I am no longer part of the execs), CARIS lab members, and my Vancouver friends. It will also be exciting to meet new members to our Department in September. Oh, oh, and did I tell you about the new summer course being offered from our Department? It's a course on Roboethics (MECH 550R) — crazy awesome is what it is! It's going to be an epic year. I know it!
I hope you all have had a chance to think about your plans for 2012 and are also excited about what's to come (despite the rumours of the world ending this February or something). 😀
For those of you who weren't here for a couple of weeks in January, I took a couple of pictures of the beautiful snow that coloured the campus in white. I was absolutely delighted to wake up to snow, although those of you commuting may have had some difficulty getting in.
With best wishes for the new year,
AJung