Teaching Assistants:

Teaching Assistants are an integral part of undergraduate education.  They are generally the ones who instruct in small, experiential class settings and serve as role models.  I encourage them to share their research interests with their students.  TAs often have expertise in the areas we are studying so routinely make valuable contributions to courses. My primary duty as a TA supervisor is to provide them support they need to teach their classes. 
I supervise between 13 and 14 graduate student teaching assistants per year.  Before the beginning of term, TAs are welcomed to the course and given a detailed schedule that outlines the hours and dates they are required to work (see Appendix C-III, pg A-248).  Each week there is a formal prep session for that week's lab.  I present them with an overview and TA Guide that point out the important concepts and any additional information.  We go through the materials the students will be seeing and discuss strategies of instruction.  Each TA is generally assigned two lab sections (3 hours each).  In their lab sessions they give a brief introduction (lesson) and then the students begin working through the lab activities.  I strongly believe that TAs should be given freedom to develop as teachers, so general layout and presentation is up to them (with guidance).  During lab sessions I support TAs by answering student questions. When difficult situations arise I generally try to resolve them through direct discussion with the TA before pursuing disciplinary avenues.  Thankfully these are very rare.  TAs are required to attend lectures.
---
Directed Studies Students – Biology 448
26 students since 2005: 3 (2005w), 3 (2006w), 5 (2007w), 5 (2008w), 5 (2009w), 2 (2010w), 3 (2011w)
Include: one honours project I co-supervised for a student in Forestry in 2008w
(a)  Directed Studies – Research:
Students carry out various investigations.  Most include microscopic, field, or tissue culture, as my research facilities are limited.  Examples include: Garry Oak Woodland Vegetation Inventory, Germination of Bryophyte Spores and Propagules, Mycorrhizae in Local Plants, Scanning Electron Microscopy of Pollen, Poaceae Investigation (project though UBC Herbarium), Fungi/Bryophyte Interactions, Survey of Stem and Root Modifications (microscopy, imaging), Nuxalk Plant Use.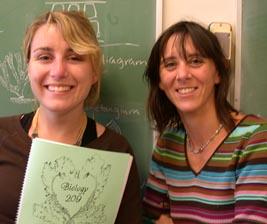 (b)  Directed Studies – Peer Teaching:
Students gain experience in classroom teaching.  In Biology 209, 210, and 321 undergraduate student have the same teaching duties as graduate TAs such as teaching lab lessons and facilitating lab activities.  They do not do any marking, but are required to do a term project.  The projects vary based on student educational goals.  Examples include designing a lab for a course, a unit for a course website, and a teaching journal that incorporates reflection and literature evaluation.
---
Undergraduate Assistants:
Workstudy students have been an invaluable resource and I try to make their job interesting and varied.  This year I have not only received Workstudy support for lab assistance, but coordinated a Workstudy assistant for plant collections with Kevin Kubeck (Horticulturist with UBC Botanical Garden).  We also have a Workstudy student to help develop the Biology website.  Funding for Undergraduate assistants is part of all grants that I write.  For example, in the most recent Skylight grant I hired an undergraduate student to do website development as well as work in the UBC Bioimaging Facility learning how use the confocal microscope to generate picture for the bryophyte website.
---
Volunteers:
Students are very eager to volunteer.  I offer them a number of activities over the school year and summer.  Their contributions include website development, lab assistance, teaching garden maintenance, and participation in outreach programs (see outreach section).