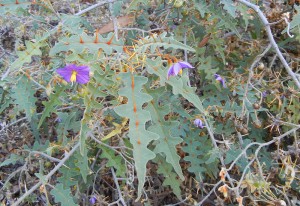 Solanum pyracanthos or S. pyracanthrum (Gk: pyro = fire, akantha = thorn) is native to tropical Africa and Madagascar.  I came across this lovely specimen in the Mildred E. Mathias Botanical Garden at the University of Los Angeles.  Prickles develop on the leaves and stems from trichomes (small hairs).
It has typical solanaceous flowers with yellow, connivent anthers (a little divergent here as the pollen has already been released) with poricidal dehiscence. The pores are at the tips of the anthers.  Buzz pollination is a common way in which pollen is transferred from anther to stigma in Solanum.  Bees hang down and buzz, liberating pollen through sonication from the anthers to collect on their underside.  They collect it (well…not all of it) to take to their hives to nourish the juveniles.  The uncollected leftovers on their underside can be brushed onto a stigma when they visit another flower.
The back side of the flower is pretty nifty too, with whitish lines.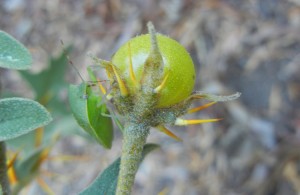 Each berry produces many seeds so it is important to pick the fruit before it ripens in warmer climates where it can become a bit of a pest.  Like many members of this family it contains tropane alkaloids in its leaves, stems, and fruits.