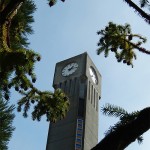 Welcome to the BIOL 210 Conifers of UBC Website!  BIOL 210 (Introduction to Vascular Plants) is an undergraduate course at the University of British Columbia.  As part of the lab there is a fieldtrip to the Old UBC Arboretum.  Construction of the Ponderosa Commons has impacted our fieldtrip this year as a number of the trees are not accessible and couple of the trees have been removed (Cupressus nootkatensis formerly known as Chamaecyparis nootkatensis and Thuja plicata).  Check out this site for information about construction at UBC.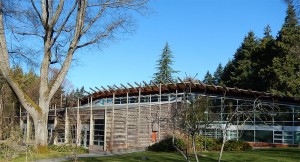 For the Conifer Walk activity each pair of students makes a presentation to the rest of their lab section on a conifer in UBC's Old Arboretum and Fairview Grove (Main Mall next to the Fisheries Centre).  The Old Arboretum spans from University Boulevard to the Fraser Parkade between West Mall and Lower Mall.  A number of the conifers are adjacent to the First Nations House of Learning (the Longhouse).  This is what remains of the original UBC Botanical Garden.
Fairview Grove was the site Leonard Klinck (UBC's first Dean of Agriculture and second president) made an office in a converted dynamite shack.  Most folk are distracted from the trees by Beaty Biodiversity Museum and its whale skeleton.  For the tree project, each student is required to also submit a paper on their tree.  Most of the information about the trees presented on the site is developed from these reports.  If you walk around the Old UBC Arboretum and  Fairview Grove (as well as a few choice sites on campus) you will be able to access this information using QR codes and weblinks.
Many thanks to the enthusiastic and creative students who contributed to this site.
Please pass along any comments or questions to Shona Ellis (shona@mail.ubc.ca).  The site is currently under construction.