2015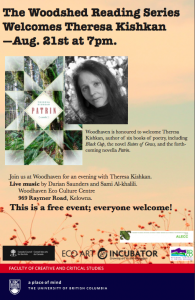 Theresa Kishkan, Aug.21st 2015

Thistledown Press Night, August 14th, 2015.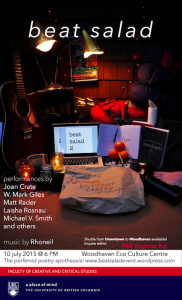 Beat Salad July 10th, 2015— the perfect poetry apotheosis!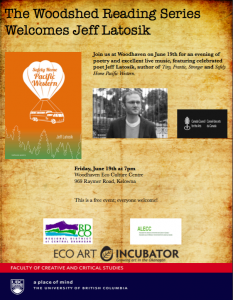 Jeff Latosik, music by Darian Saunders and Syren and the Waves, June 19th, 2015

Fred Stenson, music by Birds of Cray, June 12th, 2015
Joanne Arnott and Nicola Campbell, June 5th, 2015.
Gothic Fiction with Dania Tomlinson. May 28th, 2015.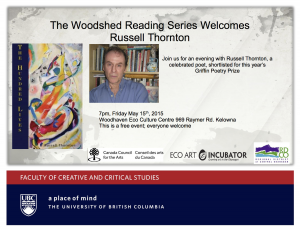 Russell Thornton, May 15th, 2015.
2014
Daniella Roze "Living Wild in the Stone Age" presentation, June 12 2014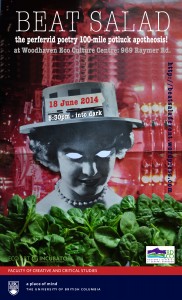 "Beat Salad" live poetry and a 100-mile potluck, featuring performance poet Ali Riley and musical guest Rhoneil (and more), June 18 2014
Summer Solstice Concert – with vocalist and multi-instrumentalist Karen Donaldson Shepherd, and featuring Canadian folk-blues legend Herald Nix, June 21 2014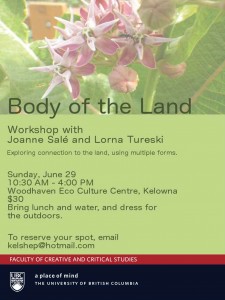 A workshop by Woodhaven artist in residence Joanne Salé and UBCO alumnus Lorna Tureski — "Exploring connection to the land, using multiple forms" — June 29 2014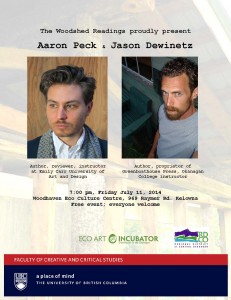 The Woodshed Readings special guests Aaron Peck and Jason Dewinetz, Friday July 11 2014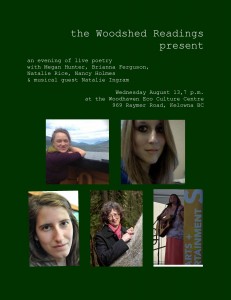 Wednesday August 13, 2014, featuring Megan Hunter, Brianna Ferguson, Natalie Rice, Nancy Holmes, and musical guest Natalie Ingram.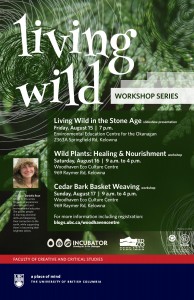 2014 workshop series with environmental educator Daniella Roze. Friday Aug. 15 Living Wild in the Stone Age presentation; Saturday Aug. 16 Wild Plants: Health and Nourishment workshop; Sunday Aug. 17 Cedar Bark Basket Weaving workshop.
Friday August 22, 2014, Woodhaven artist-in-residence poet and painter Laurie MacFayden will read from her new book Kissing Keeps Us Afloat. Musical guest Karen Donaldson Shepherd.
Wednesday, August 27, 2014. The Woodshed Readings season finale featuring Matt Rader, Laisha Rosnau, Kelly Shepherd and Michael V. Smith. Musical guest Darian Soulsamurai Saunders.