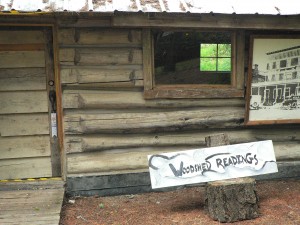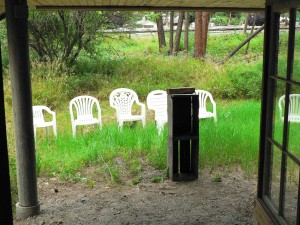 On July 2, the Woodshed Reading series featured Woodhaven's own Lori Mairs and Sandra Lynn Lynxleg from Vernon. Sandra read from Glass Beads, her recently-published first volume of poems. We tried out a new reading space — with grassy seating area and covered stage, behind the little studio building — which might be the best location yet except on this particular evening it started to rain. So we moved inside.
The rainfall itself didn't last long but the weather was intense. Dark as night early. Lightning close by, loud thunder, and high winds; text messages "Are you okay? Storm is serious" and then "There's a tree down across the driveway"! We might have been stranded, and the residents of the house unable to get home, but fortunately someone had a saw in their vehicle.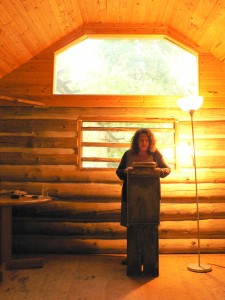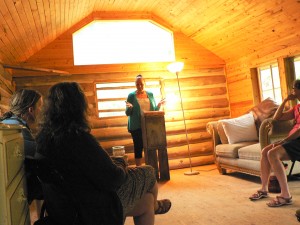 The readings themselves were wonderful: two gentle and powerful storytelling voices that harmonized with the explosions and lightning-flashes going on above and all around us. Thank you to everyone who braved the elements to make this memorable evening possible. And thank you Lori and Sandra for your poetry!