Introduction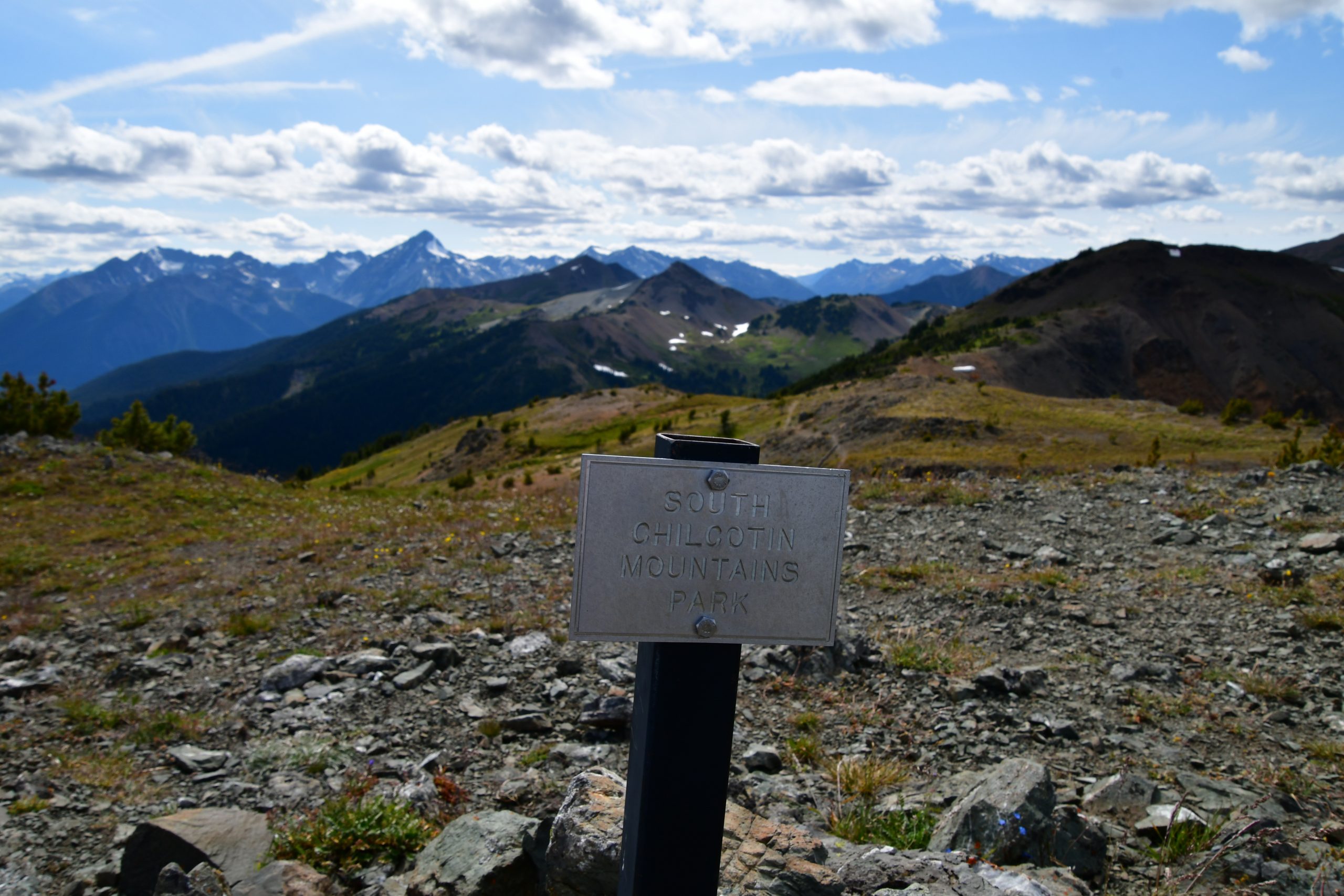 Welcome to the Alpine Ecosystem VR field trip. The tour takes place in the mountains north of Carpenter Lake Reservoir, just at the southwest boundary of the Southern Chilcotin Mountains Provincial Park (50°58'11" N, 122°48'54" W). It is an immersive digital tour of the species and ecosystems, as well as some of the landforms features of this alpine region in southern BC.
Land Acknowledgement:
We are grateful for the opportunity to have been able to visit and study this place, which is within the traditional, ancestral and unceded lands of the Tšilhqot'in, St'át'imc and Secwépemc peoples who have lived on this land since time immemorial. They hold the traditional knowledge of the region's plants, animals, and environment, which they have passed down through the generations.
Google Earth Overview of Tour Locations
Before running the immersive VR, take this Google Earth Web tour of the locations on the tour. Once the trip loads, click "Present" to start the tour. Visit each stop by clicking on the right arrow beside the Table of Contents button. At each stop, explore the main window. View the images, read the text and watch any embedded videos in the information panel on the right. You can double-click the images to enlarge them. You can return to any stops using the Table of Contents.
Alternatively, a quick Google earth video of the tour route is available below (simply hit play)
VR tour
Below is a window that contains an interactive 360 tour. It is best viewed on computer in full-screen. Follow the Instructions at the start of the tour to navigate forward and back through the tour and to open the information panels and linked resources. Scroll around each scene in 360 degrees using your mouse/cursor (we are still working on navigation arrows). There are nine 360 photos in all. A summary of the content of each is given below. Let us know if you have any questions. We welcome any feedback! Email: nina.hewitt@ubc.ca
Note: Videos and "read more" links in the VR will open in a new browser tab. You will need to return to this page to continue the tour. If you use the "Open in Full Screen" button (recommended) you will need to click that again every time you return to this page. If a black screen appears, simply use your mouse/cursor and scroll.
Troubleshooting tips, below
Troubleshooting:
if the window does not load (and says "unable to find Unityloader"), simply refresh your browser and repeat. It should then load the Webgl — just needs more time;
If you are unable to open videos or external links (e.g., if your browser states "popups disabled for this site"), you may need to adjust your security settings for this site: Go to the "UBlock" or "Noscript" icons at the top right of the browser window, and allow for this site by manually changing to, e.g., "trusted", or "pause for this site".
Content Key for Photospheres 1-9:

The following summary indicates the resources for each 360 photo, and links to any reading resources and videos so that you may return to them quickly after the tour. Note that "clickable" pop-ups within the tour ("i" icons with details of, e.g., "ESSF Zone", "Parasitic Plant") are simply noted, not linked below, so you must view those within the tour itself.
1.  Four Information Panels (IPs), 1 Multiple Choice (MC) Questions:  ESSF Zone (Read more), Introduction (Read more), Instructions, Land Acknowledgement, Parasitic Plant, Vaccinium Species – Huckleberry, Plant Growth MC
2.  Four IP, 1 MC:  Citizen Science (Read more), Glacial Retreat (Read more #1, Read more #2, Read more #3; and see 2022 research about BC glacier retreat here and discussed at CBC.ca: BC glacier-melt-climate-change); Krummholz, Local Wildlife (Read more), Citizen Science MC
3. Four IP, 1 MC: Alpine Grass and Sedge Species (BC Alpine Taxa Pages), Alpine Treeline (Read more #1, Read more #2), Aspect,  Shulaps Range, BEC Zone MC
4.  Three IP, Instructional Video 1, 1 MC: AT Zone (Read more), Human History (Read more #1, Read more #2), Instructional Video 1, Logging (Read more #1, Read more #2, Google Earth; **NEW: and recent study on logging in the alpine here) Plant Densities MC
5.  Two IP, Instructional Video 2, 1 MC:  Indigenous Lands (Read more), Instructional Video 2, Stress-tolerant Species (Read more), Wind MC
6.  Five IP, 1 MC:  Alpine Species on Ridge Top, Alpine species downslope on south facing aspect, Geology (Macrostrat), Lichen (Read more), Protected Depressions MC
7.  Three IP, 1 MC:  Local Landforms and Geomorphology (Explorer), Mt. Dickson & Gun Lake, Tree Patches (Read more), Patchy Distribution MC
8.  Four IP, Instructional Video 3, 1 MC:  Cirque Basins, Cushion Plants, Instructional Video 3 (Snowpacks), Slope Processes (Read more), Watersheds (bcwatertool), Mass Movement MC
9.  Three IP, UAV Video 1 and UAV Video 2, 1 MC:  Alpine Species in the Meadow, Bogs, Climate Change in Alpine Ecosystems (Read more #1, Read more #2, Read more #3), UAV Footage – North Side of Valley, UAV Footage – South Side of Valley (focussing on views of boggy and frost-churned terrain plus stream channels in boggy areas along the valley bottom), Cirque Basin MC
Note to Instructors: A second version of this field trip is available that has multiple choice questions removed, designed for senior/capstone courses on alpine ecosystems. Learning objectives and problem sets for the tour are also available upon request. Let us know if you would like to try these out, or if you have any questions. We welcome feedback! Email: nina.hewitt@ubc.ca
Sources and Resources:
References cited and additional readings and resources for the tour
Maps of geology and topography included in the tour
Instructional videos included in the tour
Learning objectives and additional learning activities for the tour
Overview of alpine (and arctic) plant adaptations
Information panels included in the tour [Under Construction]
Steps used to Program this VR Tour using Unity (Technical guide, prepared by Emily Ballon, BSc., Project Assistant)
Student response? I piloted this digital experience in my GEOS 307, Biogeography and Global Change course during Winter 2020. Here is a poster summarizing the student feedback and takeaways, which I presented on during Celebrate Learning Week (UBC CTLT, May 17, 2021).
_____________________________________________________________________________
Project Lead: Nina Hewitt, Assistant Professor of Teaching, Department of Geography
Undergraduate Project Assistant; Unity Programmer: Emily Ballon, BSc. Candidate, Geographical Sciences, UBC
Acknowledgements: A special thanks to Stepan Wood for photographic and field assistance, and for portering a weighty drone up 600 m of elevation gain! This field trip would not have been possible without him. We thank Brian Wilson, collaborator on a related project, our Pacific Spirit Forest AR, and for his advice and support on our team. We acknowledge Undergraduate Project Assistant, Kelly Hurley for feedback on early versions of the VR. We gratefully acknowledge the financial support for this project provided by UBC Vancouver students via the Teaching and Learning Enhancement Fund.
Alpine Ecosystem VR: South Chilcotin Mts by Hewitt N and Ballon E (2020) is licensed under a Creative Commons Attribution-NonCommercial-ShareAlike 4.0 International License. Based on a work at  https://blogs.ubc.ca/alpineplants/alpine-vr-southern-chilcotins/ ‎