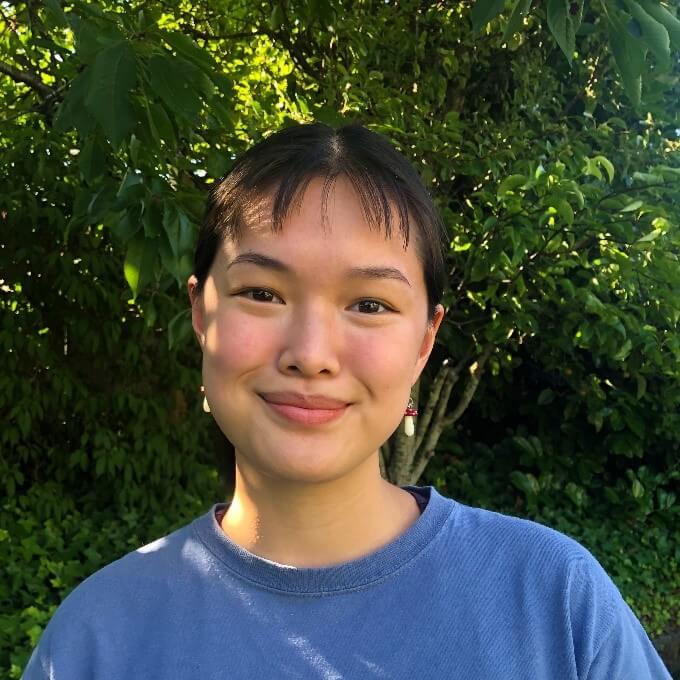 I'm Sophia (she/her), a second year MSc student in the Tseng lab at UBC Zoology. I'm from Snuneymuxw land over on the island, a small city also known as Nanaimo. I moved out east to the University of Toronto for my undergraduate degree in Ecology & Evolutionary Biology, where I lived on land home to the Anishinabek, the Mississaugas of the Credit, the Chippewa, the Haudenosaunee, and the Wendat peoples. Toronto is where I was lucky enough to receive much of my first research experience, including getting to "interview" bees in apple orchards!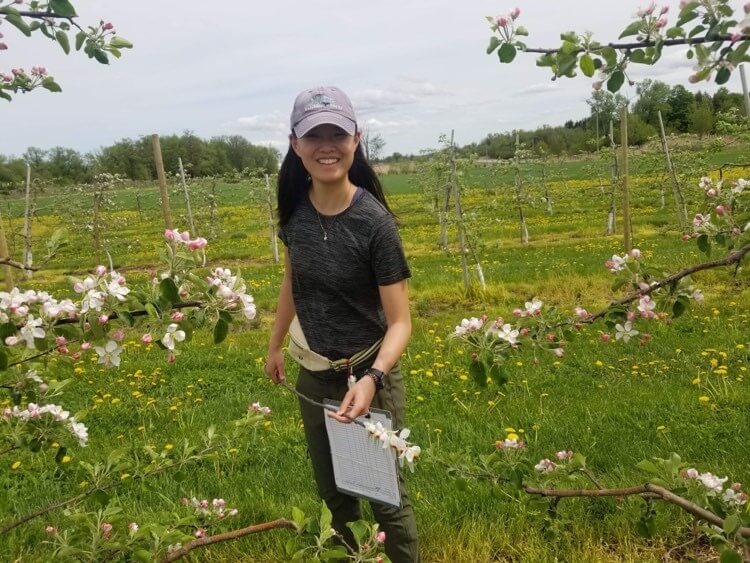 I conduct my current research in what is known as Metro Vancouver, including the traditional, ancestral, and unceded territories of the Musqueam, Squamish, Tsleil-Waututh, Tsawwassen, and Semiahmoo First Nations. I'm a pollination biologist examining urban bee-floral associations in the David Suzuki Foundation's Butterflyway gardens, and I'm also interested in the social factors that influence gardener behaviour. My work is primarily in the field, where I conduct pollinator surveys in the summer identifying bees and garden plants. I am also administering a survey questionnaire to Butterflyway gardeners to get at things like gardening effort and motivations. My favourite part so far is getting to work with gardeners! These are fantastic gardens tended to by wonderful and passionate people, and I hope to use my work to inform and support community engagement in urban insect conservation.
BIOL180 (Thinking Like a Life Scientist) is the course I have TA'ed the most, along with BIOL230 (Fundamentals of Ecology) for a summer term.
How has your unique background influenced your TA experience?
I volunteered for the Royal Ontario Museum during my undergrad for 3 years, and that experience really helped me become an effective science communicator and facilitator for folks of all age groups and backgrounds. I really enjoyed talking to the public about fun biology that interests me, and I think that has transferred over to my role as a TA when communicating concepts in a classroom. The "discovery learning" pathway is still something I pull from for teaching.
What is your teaching philosophy?
I believe that what we teach and how we teach it should be aligned with why we're teaching it. Thinking about what exactly it is that we're preparing students for, and how classroom activities align with learning objectives is important to me. I think approaching teaching from a more holistic view of centering the student as a person – their needs, their views, and their experiences – will ultimately make the learning experience more impactful and memorable. In doing so, I hope to make classes as engaging, accessible, and inclusive as possible. Some more traditional methods may not be the most effective way of teaching a subject and different students will have different learning goals for each class, so I try to prioritize cultivating classroom communities that are safe for students to inquire about things that interest them personally, in a way that works for them.
What is a memorable anecdote from your own undergraduate experience?
I tore my ACL in my third year of undergrad and had significant difficulties getting around to in-person classes for a while. Thankfully, the teaching staff in most of my classes were understanding and tried their best to make my life easier, which is something I really appreciated. In particular, I was taking an insect diversity course at the time that required sampling in the field, and being on crutches made it difficult to net faster insects like dragonflies. I had classmates help me out by sharing their samples, professors who helped me get around, and lots of sitting options with sorting and cataloguing that still allowed me to participate where I could. That sense of fun and support really stuck with me and inspired me!
What do you like to do in your spare time?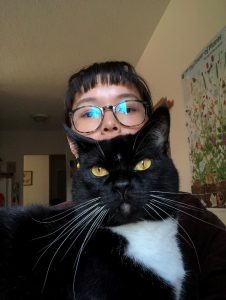 I like to hang out with my cats, go for walks, and watch food/cooking YouTube videos! I also have a million unfinished crochet projects and video games, one of which is the first Hades game that I'm (still) trying to beat before the second one comes out. Occasionally, when I feel like getting up off the couch, I play ultimate frisbee when I can.
What are your plans following graduation?
I haven't taken a break from school since grade school, so I'm feeling a little burnt out. I'm interested in eventually returning to academia and teaching, but I'll probably take some time off to work for a while first! I would love to travel more when it's possible to do so relatively safely again, and knock off some bucket list items before thinking farther ahead.