Hi! My name is Ruhi Mander and I am a 4th year student in the Faculty of Science, specifically in the Biology Program. I am originally from Surrey, B.C. where I lived with my parents and younger brother, and am now living here at UBC as I pursue post secondary.
Throughout my degree I have had the opportunity to be involved in various fields of research. This past summer I worked with parasitic protists through the Keeling Lab, employing techniques such as fluorescence in situ hybridization (FISH). In September, I began my directed studies in the Kramer lab at ICORD, an interdisciplinary research center focused on spinal cord injury. Some other things I am involved in include volunteering with the UBC Wellness Center and UBC Enrollment Services.
What are you researching?
My work at the Kramer Lab focuses on the relationship between brain structure and pain. It is hypothesized that the cortical thickness of brain regions which are correlated with pain perception, such as the insular cortex, may have an impact on pain sensitivity. Therefore, my project synthesizes the current literature with results obtained in the Kramer Lab to better understand the role of brain structure in determining responses to painful stimulation.
Why is this research important?
While the literature currently suggests that there may be a relationship between brain structure and pain sensitivity, there are some key unknowns. Firstly, there is not a consensus that the relationship is indeed significant, secondly, there is not a clear understanding of which regions of the brain are involved, and thirdly, of the regions that are generally agreed to have a correlation with pain sensitivity, whether the relationships are positive or negative is not agreed upon. Therefore, my work aims to do a systematic review of the existing data to help organize the literature and see common trends, while analyzing additional data collected at the Kramer Lab.
What do you most enjoy about doing research?
One aspect of conducting research that I really enjoy is presenting the findings through visuals. An essential part of research is being able to communicate the data effectively. I find it both satisfying and beneficial to explain a large chunk of collected data in a clear and concise visual that the reader can quickly glance over to understand the general trends. Adding colours and making the visual aesthetically pleasing are some of my favourite parts!
What advice would you give to other students considering doing a research project?
Getting involved in research can be a daunting and rejection filled experience. It is important for students to acknowledge that they are not doing anything 'wrong', it can just be an inherently competitive environment. I strongly believe that if one keeps trying and reaching out, they will be successful! Something I learned is that while reaching out to professors can result in exciting opportunities, it may also be very beneficial to speak to master's and PhD students. Getting involved in their work can be a great starting point.
What do you like to do in your spare time?
I love going out for walks and runs! It is a great way to get some fresh air, exercise, and see gorgeous views. This is especially helpful in busier times during the term where large chunks of my day are spent studying indoors at a desk. I also enjoy spending time with my family and friends. I love being around people, and staying connected allows me to feel relaxed and recharged.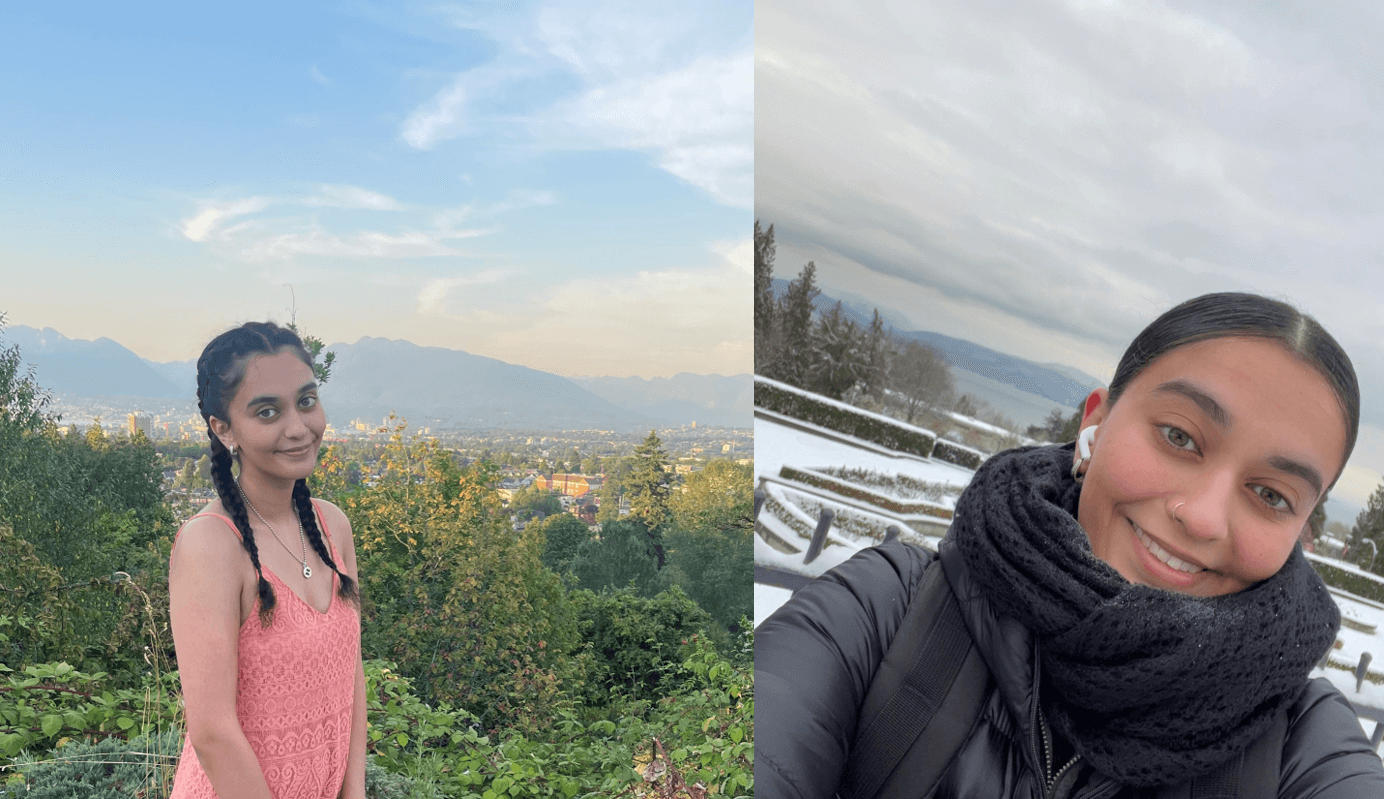 What is a fun fact about you that people may not know?
A fun fact about me is that I was a figure skater for 12 years. It was an extremely enjoyable and memorable experience of my life. I learned skills that ranged from intricate footwork to time management and many things in between.