Hello everyone, my name is Annie Cai and I spent most of my childhood in Nova Scotia (Sydney Crosby's hometown!), but moved here due to the weather. I am currently in my second year in the Dental Hygiene program at UBC and I am a peer mentor for the BIOL 155 class. I was very honoured to receive the Impact of Ten award this year, which is offered to the top 2 students in first and second year of Dental Hygiene at UBC.
How has your unique background influenced your peer tutoring experience?
I used to work at an emergency animal hospital, then moved to the oncology department at a specialist animal hospital. A lot of cases were relevant to the course material for BIOL 155 since there is a lot of overlap with animal physiology and human physiology. However, it was meaningful to learn the mechanisms behind some physiological and pathological processes, such as the rigor mortis phenomenon. I sometimes use examples from previous cases (or from my own dog) to help people understand concepts, such as "what would happen if a tumour is pushing on the posterior pituitary gland and inhibiting vasopressin release." Sometimes having "characters" and a "storyline" helps people remember things better.
What do you most enjoy about being a peer tutor?
It's been very interesting to meet so many different people taking this course and learn about their background and how they learn best. BIOL155 tends to have a more mixed variety of students compared to other courses, ranging from first year students who are aspiring to go into the midwife or nursing program, to mature adults who wanted a change in career or are curious about the subject. I've been making online practice quizzes and hope the anonymity of the quizzes will encourage more students to practice answering questions even if they are not confident in their response. Doing well in anything requires effort, so I can really appreciate when people put in the time and reach out for help. It is also very rewarding when people begin to understand concepts if I explain it in different ways or use different examples. I remember when I was first putting everything together, so it's like reliving that moment myself.
What did you like most about BIOL155 when you took it?
The collaboration with my peers and teaching each other the subject made this course really engaging. We had set up weekly discord study sessions that anyone was able to join. There were also in-person sessions where we had chaotic white board drawings of action potentials. I still keep in contact with my peers from last year and we will send each other BIOL155 related memes. This course is extremely applicable to every day life and I think that's why it is a prerequisite to many healthcare related programs, and it's also what makes this course fun and fascinating!
What do you like to do in your spare time?
In my spare time, I volunteer with the BCSPCA to help socialize the rescued animals and tire out the high energy dogs. There is a pretty high adoption rate in the Lower Mainland, thankfully, but some dogs may be difficult to re-home due to their past so socializing with them really improves their chance of finding a family. I also do wildlife photography for fun, it's been a great way to get outside and explore the beauty of British Columbia.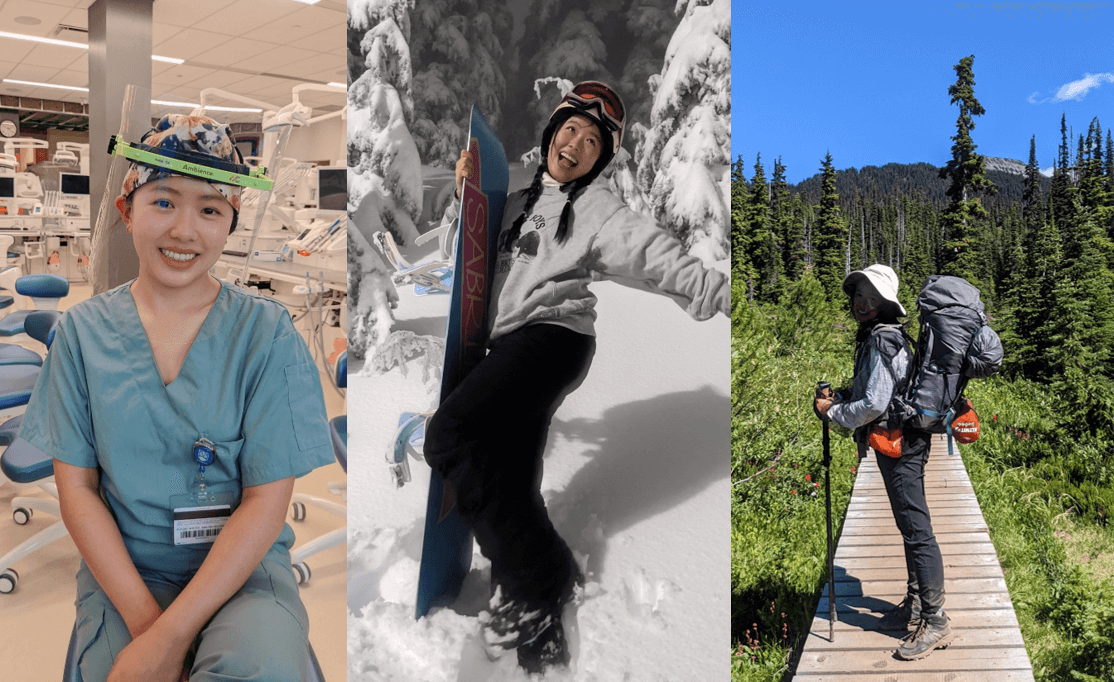 What are your plans following graduation?
I am currently planning to go into private practice after graduation, but I would also be interested in designing products and services that will create better accessibility to dental care for everyone. The world is changing every day and new career paths may open up as technology advances. Perhaps a toothpaste that is cheap to manufacture while retaining the remineralization and desensitizing qualities of a higher end toothpaste? There are so many opportunities for creating meaningful change, and even small changes can mean a lot to someone.