Hi! My name is Ina (she/her) and I am a fourth year PhD candidate in the Keeling Lab where I study the diversity and evolution of a widespread group of parasites called the apicomplexans that includes Plasmodium spp. (causative agent of malaria) and Toxoplasma gondii. I completed my undergraduate degree at UBC in Biology with a minor in Health and Society. I have a broad interest in research; however, I find evolutionary history particularly intriguing because a large part of how the living things we see today got here remains a mystery.
My current research involves discovering new apicomplexan species and using sequencing techniques and bioinformatics tools to better understand how they are related to each other. I also study how traits in apicomplexans have changed over time to unravel the evolutionary history of this group of organisms. At UBC I have had the pleasure of TAing BIOL 200 (Fundamentals of Cell Biology) and BIOL 203 (Eukaryotic Microbiology).
What do you most enjoy about being a TA?
I very much enjoy working with students and witnessing their confidence in themselves and the course material grow throughout the term. I like to interact with my students and get to know them because I feel that it contributes to creating a welcoming learning environment. I think it is important for students to feel supported and that they can ask questions or reach out for help when needed without feeling like they are being judged for doing so. My favourite moments as a TA are when I can get a discussion going with the class during a lecture period and when I can help a student understand a concept they have been struggling with.
What has been an interesting outcome of your TA experience?
I did not expect to enjoy being a TA as much as I did. It got me really interested in thinking about how we communicate complex, detailed information in accurate and concise ways, especially when new research is constantly being produced as we learn more about the world around us and what we know is constantly changing. I had not considered a career in science education prior to this, but I now see it as a possibility in the future.
How has your unique background influenced your TA experience?
Having completed my undergraduate degree at UBC, and even previously being a student in the courses I have TA'ed, I often draw from my experiences as a student to help guide my approach to teaching and engaging students. I recognize that this can be subjective and that each student may have their own preference, so I usually try a few different approaches to see what appears to be most effective.
Outside of being a student I have dabbled in a variety of extracurricular activities, including engaging in student government, working in different science disciplines in laboratories across Canada through the Science Co-op Program, holding part-time positions in healthcare, and running a start-up. This allows me to take on a mentorship role and pass down knowledge and advice to the next generation of undergraduate students, as well as point out connections between course content, other courses, current research, potential career paths, and everyday life to demonstrate why what is being taught matters.
What opportunities relating to teaching and learning have you been a part of?
This summer I attended the Biology Teaching Retreat. I learned about so many valuable resources that I could take advantage of to build up my teaching skills. It was also a very insightful experience as I was able to learn about the extent of thought and planning behind the development of course assignments and activities I was given as an undergrad or facilitated as a TA. The teaching faculty were incredibly welcoming and supportive — I was even lucky enough to lead a session about the role TAs can play in engaging students and forming connections! I highly recommend TAs to attend the Biology Teaching Retreat, especially those who are interested in pursuing teaching, as it is an excellent learning experience.
What is something you are currently doing that you are excited about?
Last fall I ran a case study to test out a pipeline to collect and recycle needle caps. Plastic waste is a huge issue in healthcare, but it is usually hard to address due to the need for sterility and disease control. My team and I had a pharmacy sort out sterile needle caps they were discarding, and we would come by to collect them. We ended up with 7 pounds of plastic from this one pharmacy's needle cap waste over a period of 4 months. It was exciting to see this pipeline work out. The amount of plastic waste we collected just from discarded needle caps far exceeded our expectations. My team is now searching for a suitable plastics recycling facility in the local area to process this plastic and I have been connecting with sustainability and environmental stewardship groups within our provincial healthcare system to discuss uptake and expansion of our pipeline. I am looking forward to seeing how this project plays out in the future because there is a lot of plastic waste that is being generated that we do not usually think about, and it is currently not being addressed as much as it should.
What do you like to do in your spare time?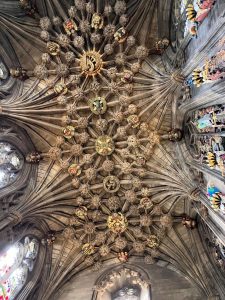 I really love travelling. Last year I went backpacking in Europe and fell in love with the architecture and artwork in longstanding church buildings across the continent. There is something about being in a new place with so much history, experiencing a new culture, seeing a different aspect of nature, and trying new foods that is so exciting and enjoyable.
I also really enjoy getting the chance to go on a set by being casted as a model or background actor. It is very exciting to be assigned a character, get dressed up, meet new people, and see shows or movies being made in front of your eyes.
When I find myself with less free time, I enjoy baking, hiking, playing board games, catching up with friends, amateur photography, learning about protists, biology, and evolution, watching a good movie or show to relax, or trying something new like painting. I have been wanting to get back into reading lately and love hearing about book recommendations.