We have all had the experience of rummaging through the fridge, only to realize that the package of food has passed the expiration date. Or we may even neglect to discover this fact until after eating the food and our taste buds do the job our eyes did not!
This may all come to an end, as a colour-coded programmed tag is among the newest technology to detect how fresh perishable products are.  This tag is called a Time-Temperature Indicator (TTI), and a new version has recently been developed by researchers in China.  It is the size of a corn kernel and once placed on a jug of milk or a can of tomatoes, can change colour to indicate whether the product is fresh or already past the optimal edible duration.
This tag is gel-like and undergoes sharply contrasting colour changes to represent product quality due to temperature change as well as from microbial growth.  Over time, colour changes from red for "fresh", when there are very few microbes, to green for "spoiled", after temperature-dependent microbial growth has occurred.
This Time-Temperature Indicator is constructed with nanocrystals, which allow perishable products to be tracked and the deteriorative processes taking place to be mimicked in time with colour change.  The accuracy of its indicator colour to microbe activity has been tested in the study with E.coli growth, with successful results. The "programmable" part of the tag is the adjustment of its chemical properties to be tailored to the energy range that the food processes happens in.
This video from the American Chemical Society (ACS) shows how the tag is used: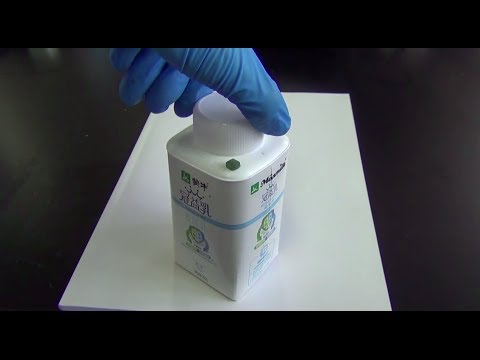 The Time-Temperature Indicator is not a new invention, but low cost (less than one cent!) and increased sensitivity of nanocrystal technology in this version may lead to its availability to the general public in the near future.
By identifying when products are nearing or past the safe consumption period, TTIs can benefit society by reducing the amount of food waste if marketed for widespread use.  Food waste is a major issue in developed countries and the top reasons for throwing away food are all associated with food spoilage.  Sometimes shelf-life of perishable food is not accurate if there is improper handling, so this marker can minimize such risks to public health. On the flip-side, food may still be edible past the expiration date marked on the container, and the tag would be able to tell that.
Despite its small size, simple technological advances like this Time-Temperature Indicator can prove to have a large impact on our daily life, or at least help us eat our food in time.
Madeleine Tsoi